Danilo Gallinari Injury: Thumb Fracture Will Doom Nuggets' Playoff Chances
March 20, 2012

Doug Pensinger/Getty Images
Currently sitting in seventh place in the muddled Western Conference, 1.5 games ahead of the ninth-place Phoenix Suns and Utah Jazz, the Denver Nuggets aren't in the most comfortable position. Losing star forward Danilo Gallinari certainly won't make things any cozier.
According to Benjamin Hochman of the Denver Post, Gallinari left Monday's 112-95 loss to the Dallas Mavericks with a fracture of his left thumb.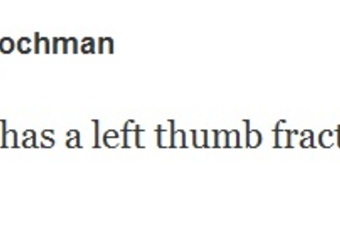 Gallinari, who is the team's leading scorer at 15.2 points per game, missed 13 games earlier in the year with an ankle injury as well. In those games the Nuggets went 6-7 overall, so they were able to remain afloat, but their potent offense was held in check in many of those games.
With that said, the last thing head coach George Karl wants is for Gallinari to be out long term. That is precisely what will happen, however. According to Aaron Bruski of NBC Universal, Gallinari's injury usually takes four weeks to heal, although he hopes to return sooner.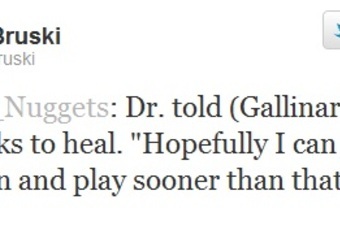 There is no guarantee that Gallinari will need the full four weeks to recover, but he is most definitely out for Wednesday's game against the Detroit Pistons. According to the Nuggets' official Twitter feed, he will be unable to play, which was obviously to be expected.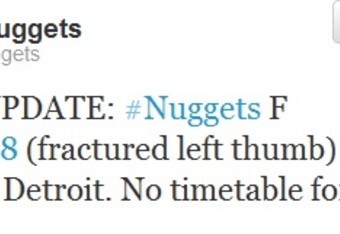 Such a timetable means that Gallinari likely won't return until the last few games of the regular season as it ends on April 26. With that in mind, Denver is going to have to maintain its spot in the playoff race without its best offensive player.
The Nuggets have perhaps the deepest team in the league and that has been bolstered even further with the return of Wilson Chandler. Even so, Gallinari is a major loss. Denver leads the league in scoring with 103.5 points per game and Gallinari is a huge reason for that.
His shooting percentage from long range is down this season as he is only connecting at a 32 percent clip from downtown, but he is quite capable of getting red hot and knocking down everything in any given game. Even when he isn't on, the threat of him shooting opens up things for everyone else.
Also, as good as Denver is offensively, the Nuggets are also one of the worst defensive teams in the league, allowing 101.5 points per contest. Allowing that many points is simply a product of the Nuggets' uptempo system, but it forces them to put up a ton of points offensively.
Denver will still be able to score without Gallinari, but losing him also means losing a certain dimension of the offense. Teams that are chasing the Nuggets like the Suns, Jazz and Minnesota Timberwolves may not have comparable rosters, but they are going to hang around until the bitter end.
There aren't many teams in the league that can recover from losing perhaps their best player. Denver seemingly has the depth to do just that, but its schedule down the stretch is certainly no cakewalk. The Nuggets aren't likely to go deep in the playoffs even if they make it, but being without Gallinari will ultimately knock Denver out of the postseason race.