Bob Knight's Disrespect of Kentucky Wildcats Is Despicable
March 19, 2012

Bob Knight hasn't hidden the fact that he dislikes John Calipari and the Kentucky basketball program.
The difference now is he's a college basketball analyst for ESPN. As an analyst, it's his job to give credit where credit is due.
Knight refused to say "Kentucky" during weekend segments on ESPN, instead referring to the Wildcats as that "team from the SEC." Kyle Tucker of The Courier-Journal was among those who noticed Knight's omission of the word.
Knight's former team, the Indiana Hoosiers, plays Kentucky in the Sweet 16 on Friday. This is bias at its worst.
Kentucky is the best and most dominant team in college basketball this season. Offensively, the Wildcats are a scary combination of athleticism, strength and skill.
Defensively, they held opponents to under 40 percent shooting during the regular season. They have a premier shot-blocker in freshman sensation Anthony Davis, who figures to be the No. 1 overall pick in the 2012 NBA Draft.
There is such a thing as giving respect where it's due. If Knight doesn't like Calipari and Kentucky off the court, that's fine.
As a college basketball analyst, even a college basketball fan, he can't deny what the Wildcats have done this season. They are perhaps the most talented team in the country, but that talent also has to play well together, and the Wildcats have worked hard to do so.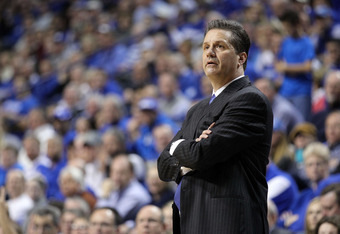 Andy Lyons/Getty Images
In the end, Knight doesn't come off as an analyst at all, but a whining crybaby who is jealous Kentucky is getting more attention than his Hoosiers.
As Richard Deitsch of Sports Illustrated wrote on Monday, "Knight's de facto refusal to say the name of a certain SEC school is the kind of petulance I'd expect from a seven-year-old denied a second cup of chocolate ice cream."
Kentucky can't do much right now to silence Knight. He's delusional, and delusional people say and do crazy things.
If Calipari and the Wildcats really want to shut Knight up, they'll do so on the hardwood against Indiana on Friday.
Perhaps then, he'll start talking some sense.