David De Gea: How Sir Alex Ferguson Is Transforming Keeper into a World-Beater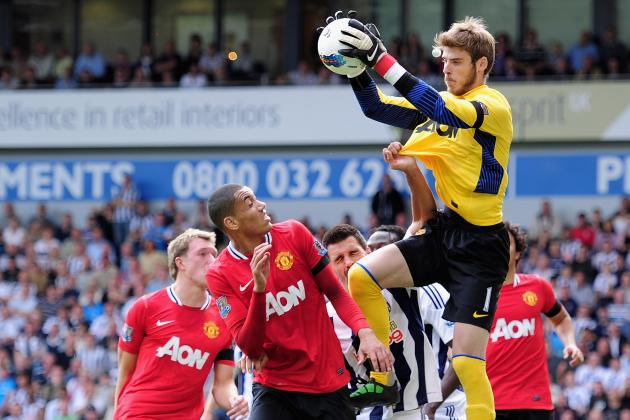 Shaun Botterill/Getty Images

David de Gea has certainly had a baptism of fire at Old Trafford.
Almost from the off, he was making errors under the harsh gaze of the cameras, ready to be dissected by expert and fan alike.
Manchester United took three years in their pursuit of a goalkeeper good enough to walk in the footsteps of Edwin van der Sar and Peter Schmeichel. Not surprising really with bloopers like Massimo Taibi and Ricardo in the past.
According to rumours, the final choice came down to Manuel Neuer, Marten Stekelenburg and De Gea. That's some group. In the end, Eric Steele was certain that Sir Alex had made the right choice.
Steele, the United goalkeeping coach, had scouted across Europe and watched De Gea many times. He even started to learn Spanish so as to be able to coach the young Spaniard when he arrived.
Yes the lad was young, but there is no denying his talent. He seems to be carrying the £18 million price tag with no apparent stress. Along with Buffon, he is one of the most expensive goalkeepers in history.
More significantly, by the time he arrived, he still hadn't played for the Spanish national side, where he is probably only third- or fourth-choice keeper behind Casillas, Valdez and Reina.
However, when he signed for United, he had already played 84 top-level club games, despite being only 20. He had a total of 61 caps up to U21 level, where he has also won the European Championships. He had also won both the Europa League and the European Super Cup.
Apart from having fantastic reflexes and being a great shot-stopper, he has a good spring which, at 6'4" should give him command of every penalty area as he develops.
He is in the process of turning around his critics with a string of stunning performances, and his future prospects are mouth-watering.
Begin Slideshow

»
De Gea came ready-made as a shot-stopper. His reflexes are second to none.
The only risk attached to that might be complacency. If he knows he has great reflexes, he can relax—but not in the Premier League.
De Gea's save from Juan Mata to deny Chelsea victory is up there with Gordon Banks' memorable save from Pele.
The clip also reaffirms Sir Alex's acknowledgement of the young keeper's talent, the early errors and his almost limitless potential.
David de Gea is 6'4", but has excellent flexibility and agility. From a standing start on the wrong side of the goal, he springs like a cat to finger tip the ball around the angle of the goal. A save which brought a million gasps when it was first executed.
So much was expected when Sir Alex paid £18 million for a 20-year-old keeper who didn't even have a full international cap to his name.
The upped level of City's performance this season and their flying start meant United not only had to perform much better away from home. In a year of transition they could hardly afford a slip-up.
And yet both in the league and Europe they have made terrible gaffes. Naturally, in the likes of the Blackburn and Basel matches, they could ill-afford their mega-expensive goalkeeper slipping up. But that's what he did.
If anything was going to find out the strength of his mind these were. Eventually, he was dropped to the bench and Lindegaard embarked on a run which ended in injury.
But as this and other videos show, De Gea has responded in the way Sir Alex would have hoped. His mental strength hasn't waned and he has got better and better. He has turned the doubters around and can surely only grow from strength to strength.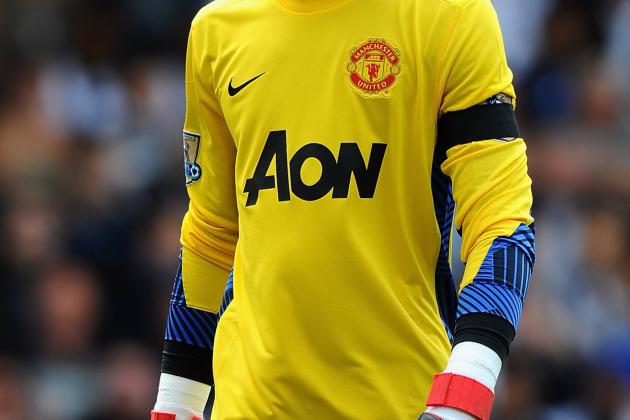 Mike Hewitt/Getty Images

If you'd never seen or heard of David de Gea before he signed for United, you could be forgiven for thinking Fergie had lost the plot.
The first impression of him in the West Brom match last August was one of frailty. And that's the way West Brom and United's early opposition played him.
Even the loose sweater and huge gloves can't disguise his need for bulking up to take on the much more physical challenges of the Premier League.
He must have got something of a shock in those early matches. In Spain you cannot as much as breathe on a keeper without getting the referee's whistle.
De Gea was not as frail as he looked, but against the likes of Yakubu and with attackers surrounding him, he particularly struggled in the home defeat against Blackburn.
So the first priority has been to toughen him up. He's been doing strength training since he arrived, but this has been stepped up recently, including intense gym work.
In fact, the rough and tumble was only part of the story, because the defensive personnel in front of him was changing every week. There was little organisation in evidence and, unlike van der Sar, it was easy to form the impression that De Gea was struggling to communicate with his defensive colleagues.
When he first arrived, De Gea's English was almost non-existent. Here, his first official interview is conducted in Spanish.
Since then, he has been intensively learning English as part of his commitment to being as good as Van Der Sar one day.
Communicating with teammates and especially fellow defenders is fundamental to a goalkeeper. There are signs this is rapidly improving and he looks like one day soon he will boss the penalty area just like his predecessor.
David de Gea has recently paid tribute to Eric Steele, the United goalkeeping coach.
Steele was insistent that Sir Alex should sign the young Spaniard out of all the keepers United had scouted. His belief is well summarised in comments here.
You can also see how Steele works with De Gea and all the keepers in the earlier Training video.
Sir Alex places great faith in the people he believes in. Eric Steele is one and his new young charge is another.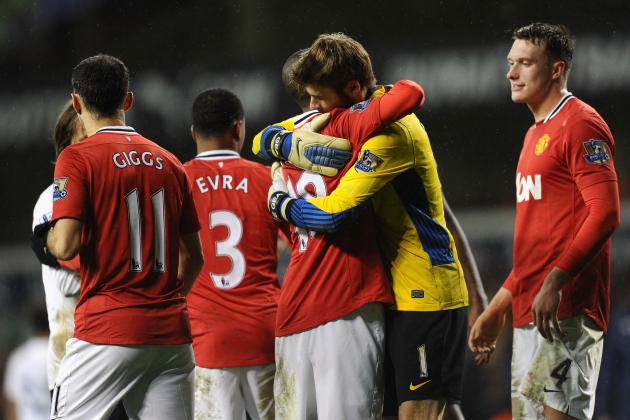 Mike Hewitt/Getty Images

David de Gea believes his rediscovered form can be traced back to the Liverpool defeat.
Helped by Lindegaard's prolonged absence and a string of great saves, he's on an upward curve.
The fans who berated him as a waste of money earlier in the season are now oohing and aahing one world-class save after another. Now he's saving or winning United points.
Most important of all, he has the strong support of his teammates and none is more important than the two veterans Giggs and Scholes.
If United go on to win the Premier League, Sir Alex's faith and that of Eric Steele will have been vindicated.
A price of £18 million is a lot to pay for most players, but for a 20-year-old goalkeeper, rather than the established Manuel Neuer or Marten Stekelenburg, it looked like a massive gamble. But then Sir Alex likes a punt.
This one might in some ways have been as big a punt as some of De Gea's massive upfield kicks, but it already seems to be paying off.
With the strength work, fluent English and better communication with his colleagues, De Gea can begin to feel totally at home, both in training and on the Old Trafford pitch, which he hopes to grace for at least another 10 years.
Whatever else, Sir Alex has nominated his No. 1 keeper. He has stuck by him, apart from a benching for his own confidence briefly earlier in the season.
And after the early wobbles, you can see the improvement, game by game. The raw talent has always been there. He often saves totally instinctively. You may not see every goalkeeper using his legs as much as De Gea does, but his whole body is employed to protect his goal.
If there is one other small area to improve on it is pushing drives away to the side, but he surely won't see sloth like Rafael's in the home Bilbao tie. He has a right to expect his teammates to work with him as a unit. That understanding is coming.
He is a massive star for the future who will be part of United's spine for many years to come. Above all, in this, his first season, his rediscovered form and belief could yet be the deciding factor in the title race. A match-winning save against City would certainly help—and make him an eternal hero.