Football Power AS Roma Is Going to Disney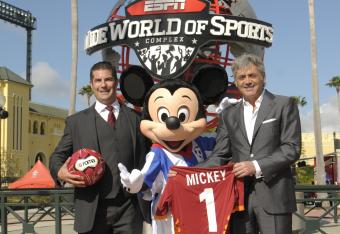 After all these years of soccer in America being considered a "Mickey Mouse" sport, it may actually be Mickey Mouse—or at least the brand that he is tied to—that helps put global soccer on the map in the United States.
Today, soccer powerhouse AS Roma announced in a press release that it has formed a partnership with the ESPN Wide World of Sports Complex at Disney in Orlando to make the facility the winter home of the legendary Serie A club.
The new multi-year agreement makes AS Roma the official professional football club of the renowned youth sports complex at the Walt Disney World Resort and brings the AS Roma brand more prominently into the U.S. market for the first time.
The groundbreaking partnership also calls for Roma's first team to train at the facility during its Serie A winter break, which is a first for an Italian-League team. AS Roma will have signage throughout the sports complex, serve as presenting sponsor of several Disney-owned youth soccer events there and have one of its youth academy teams compete in Disney's Soccer Showcase.
While other elite clubs such as Arsenal and Manchester United have discussed coming to the U.S. for winter training in places like Florida, Las Vegas and California, Roma remains the first, another positive sign for the growth of soccer in the States.
The joint venture also integrates the Italian football club, winner of nine Coppa Italia titles and two Supercoppa Italiana crowns, into the U.S. youth soccer market where it hopes to expand its fan base.
"We are extremely excited about this new partnership with Disney," said Mark Pannes, Chief Executive Officer, AS Roma in a statement. "It aligns us with one of, if not the, most recognizable and respected brands in the world. It is a priority of our new U.S.-based ownership group to form strong partnerships with world-renowned brands that provide growth opportunities for AS Roma in the U.S. and around the globe. This is a spectacular first step of what we believe will be many more for us in the U.S. and a powerful platform enabling us to engage and expand our rapidly growing fanbase."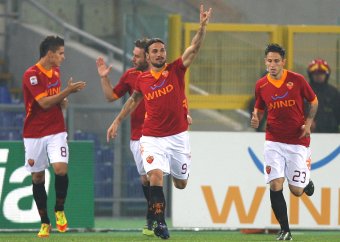 Paolo Bruno/Getty Images
"The facilities are tremendously impressive," added Franco Baldini, director general of football operations for AS Roma. "The ability to come here to train at this state-of-the-art complex in good weather during the Serie A winter break will be a big advantage."
The soccer officials stopped in Orlando to visit their winter home this past weekend. Roma defeated Genoa, 1-0, yesterday at home.
AS Roma's involvement with ESPN Wide World of Sports Complex also continues to grow the sports complex's stature as the nation's top youth soccer venue, which annually hosts pro soccer events as well as the country's most prestigious youth soccer tournament, Disney's Soccer Showcase.
AS Roma joins the Atlanta Braves (Major League Baseball), the Tampa Bay Buccaneers (National Football League) and the Orlando Magic (National Basketball Association) as professional sports franchises that have trained at the ESPN sports complex at Disney.
This article is
What is the duplicate article?
Why is this article offensive?
Where is this article plagiarized from?
Why is this article poorly edited?