Warriors Fans Should Be Embarrassed by Pathetic Display on Chris Mullin's Night
March 20, 2012

Chris Mullin didn't deserve to hear boos from the Golden State Warriors fans in attendance on his special evening.
On a night where the franchise sought to honor Mullin and his contributions by retiring his jersey, he was greeted with misguided jeers from a home crowd that didn't allow him to have his moment.
It's a moment that Mullin will never forget, and on a night that was supposed to be about the great things he did for the team, he was subjected to a wave of boos coming down from the stands.
Absolutely pathetic.
It's tough to remember a jersey retirement ceremony like this one. And that's not a good thing.
As soon as owner Joe Lacob took the microphone, it began to go downhill.
These boos were not directed at Mullin, who was greeted by a great deal of cheers when he was initially introduced.
This was the fans letting Lacob know that they have been unhappy.
This was pent-up frustration being unleashed by a fan base that has been waiting to get the anger out for some time.
Why are the fans so upset? It's a combination of things that haven't happened since Lacob's ownership group took over and promised to change the franchise.
A failure to use the amnesty clause on the overpaid Andris Biedrins, the massive contract given to David Lee, the trade of Monta Ellis and much more.
Rick Barry attempted to come to the defense of Lacob, but it only prompted a negative response (via Marcus Thompson of the Contra Costa Times):
"One second here. C'mon people. You fans are the greatest fans in the world, as everybody has said that. Show a little bit of class. This is a man I've spent some time talking to. He's going to change this franchise. This is crazy. Seriously. C'mon. You're doing youselves a disservice. … I know he's going to do it, so give him the respect he deserves."
Lacob certainly hasn't earned any respect with restless Warriors fans desperate to see success from their beloved team.
In short, the fans and Lacob do not appear to be on the same page in terms of where this team is headed. That is a problem.
Are the frustrations understandable? Absolutely.
The Warriors have approximately $45 million tied up in four players next season: Biedrins, Lee, Andrew Bogut and Richard Jefferson.
That is not a championship core or anything close to it.
With the additions of Bogut and Jefferson at the trade deadline, the Warriors have virtually acknowledged that the team won't be players in the free agent market and this is the team that they're prepared to move forward with into the future.
But it isn't good enough. This isn't a blend of talent that is going to challenge any team for Western Conference supremacy as it's currently structured.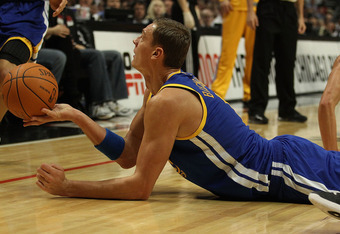 While all that can lead to a great deal of angst from a group of loyal fans who are desperate to see their team succeed, this wasn't the night to air out the grievances.
This night was supposed to be about Mullin and what he's done for the team, and it turned into a classless display by the fans in attendance.
It was embarrassing.
Lacob summed up the evening with a simple quote (via Marc J. Spears of Yahoo! Sports):
"The fans are upset I guess that we traded one of our favorites. That's all I can attribute that to. What I feel bad about is they kind of ruined a night that was very special. The organization really tried to do the right thing with Chris."
This time, Lacob was right. He hit the nail on the head in emphatic fashion.
Instead of talking about Mullin getting his jersey retired by the team, which is an incredible honor for any player lucky enough to receive it, we're talking about the fans booing Lacob.
We should be talking about Mullin.
Rather than remembering and respectfully acknowledging Mullin's past contributions and what he's done for their team, the fans in Golden State decided to use the halftime ceremony as a catharsis to illustrate their sentiment with the current state of the club.
Timing can be everything, and the fans in attendance couldn't have picked a worse time to showcase their emotions.
Now we'll remember Mullin's jersey retirement ceremony for all the wrong reasons, and he certainly never deserved that.