NCAA Sweet 16 2012 Bracket: 3 Best Matchups of the Round of 16
March 19, 2012

Andy Lyons/Getty Images
The second and third rounds of the 2012 NCAA tournament provided plenty of fireworks. Though there was a noticeable lack of buzzer-beaters, there were plenty of upsets to keep things exciting.
The Sweet 16 promises to be just as exciting, with plenty of great matchups to watch.
Whether it's a potential revenge game or two teams that have similar defensive philosophies, it'll be hard to leave the couch when basketball is on this weekend.
So, let's take a look at the three best games of the Sweet 16.
No. 1 Michigan State vs. No. 4 Louisville
This game promises to be one of the best defensive matchups of the season in college basketball.
The Spartans enter the game with one of the stingiest defenses in the country and an offense that likes to hold the ball, limiting offensive possessions for the opponents.
Louisville, on the other hand, just struggles to get shots to fall sometimes, but makes up for it with defensive intensity.
The Cardinals' full-court press could slow down the Spartans offense even more than usual, which could keep Draymond Green from getting as many good looks as he normally does.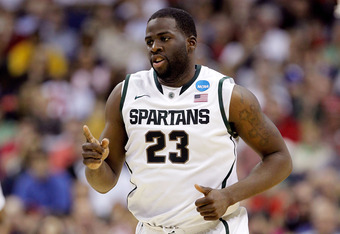 Rob Carr/Getty Images
No. 2 Kansas vs. No. 11 North Carolina State
North Carolina State has been rolling through this tournament, pulling off upsets against San Diego State and Georgetown.
Kansas, meanwhile, is lucky to even be in the Sweet 16 after almost losing to Purdue on Sunday night.
Clearly, the Wolfpack has more momentum heading into this matchup, which could help them overcome the home-court feel Kansas will experience in St. Louis.
If Thomas Robinson has as much trouble with C.J. Leslie as he did with Robbie Hummel, Kansas could experience another early tournament exit.
No. 1 Kentucky vs. No. 4 Indiana
Kentucky's only regular season loss came at the hands of the Hoosiers on December 10. A thrilling last-second three from Christian Watford gave Indiana a 73-72 win.
This time, the Hoosiers won't have Verdell Jones III, who tore his ACL in the Big Ten tournament.
The Wildcats, meanwhile, will be at full strength. If Anthony Davis can keep playing outstanding defense and keep Cody Zeller from being effective, Kentucky should get its revenge and march on to the Elite Eight.
But this is March, so another last-second three from Watford is never out of the question.