WWE Wrestlemania 28: Will Triple H vs Undertaker Be Best Match of All Time?
March 19, 2012

Though the WrestleMania 28 Hell in a Cell matchup between Triple H and Undertaker should be one of the greatest matches of all time, it's going to instead be a terrible disappointment.
As most of us have experienced during our loyalty to wrestling through the years, there are a lot of ups and downs. Many great surprises mixed with some major missteps.
On April 1 at WrestleMania 28, there is no middle ground for the Undertaker versus Triple H match. It's either going to be shockingly epic or a massive, flabbergasting letdown.
The absence of promotions leads me to believe it will be the latter. I will explain below, but first. . .
What it could/should be
Last month I wrote an article calling for the Undertaker to retire after this match. The reason being 'Taker's age and accomplishments.
Heading into WrestleMania 28, the Undertaker will be 47 years old. He possesses legendary status and is a WrestleMania god owning a 19-0 record at the event.
Whether he retires or not, the match can still be one the greatest of all time.
First, it's between two of the hardest working veterans in the business. It really doesn't get any more phenomenal than the two men who have been a part of the company longer than nearly anyone else.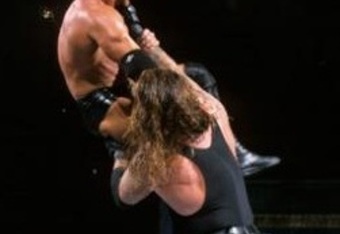 As I previously stated, Undertaker and Triple H have attained so much already that neither one can really be considered a loser in this one particular contest.
Second, the Hell in a Cell gimmick is perfect.
It's ideal because the Undertaker is the face of the Hell in a Cell competition having wrestled in these types of events 11 times, more than anyone else.
Both wrestlers have maintained a hardcore persona nearly their entire career. The no-holds-barred style is something Triple H and the Undertaker are quite accustomed to.
This one shouldn't be any different.
Danger is the element. Blood is a requirement.
Third, it's at WrestleMania, the WWE's main event. Crazy things happen at WrestleMania. Shock, awe and dazzle happen. It's basically a guarantee.
Lastly, two records are on the line.
The Undertaker is 5-5-1 in Hell in a Cell matches. Unless he draws with Triple on April 1, this match provides him with either a winning record or a losing one. It would be a travesty if the Undertaker retired with a losing record in Hell in a Cell matches.
More importantly, the Undertaker's 19-0 record at WrestleMania is on the line. He's already stated he doesn't want to retire with an undefeated streak so a loss is plausible. Though fans pine for the streak to continue, at least to 20.
The simple fact that the streak could end administers overwhelming anticipation.
Even though the result is ultimately what matters, all of us would like to be entertained in the process. No one wants the match that made Undertaker a 20-time WrestleMania winner or the match that ended the streak, to be painstakingly boring.
But it's gearing up to be just that.
What it will be
The WWE dropped the ball when it comes to promoting this matchup.
To start, there hasn't been enough.
Then for weeks rumors of a Shawn Michaels return stole the spotlight. The "Showstopper" isn't even wrestling in the event and he's already hijacked it.
Now it appears Michaels will be the guest referee. There is no way he simply sits back and enforces the match without interference. Why else would he be there?
Instead he'll live up to one of his other well-known nicknames when the "Heart Break Kid" robs us of a good, clean fight.
But it really doesn't matter anyway because both superstar participants already have one foot out of the door.
At 47 years old, the Undertaker appears 10-12 times a year, wrestling only once or twice. He may not retire after WrestleMania, but it will definitely be some time soon.
Even Triple H at 42 years old has talked openly about retiring. He's already in the midst of transitioning from the ring to backstage management.
Both men are old (for wrestlers) and banged up, respectfully so.
Just look at last year.
At WrestleMania 27 the same pair met in a one on one. The pace was slow and lacked big time, eye-popping action. In the end, both competitors limped out of the ring. The Undertaker passed out and had to be carted away.
It clearly disappointed because the WWE is trying again, this time with the addition of the Hell in a Cell and a guest referee.
At this point they can't possibly afford to go the distance a quality Hell in a Cell match requires. They couldn't even do it last year in a regular match.
They owe it to their health and future to quit while they're ahead.
In lieu of blood, pain, power and destruction, fans will see two guys doing their best not to hurt each other.
Whether you're new to professional wrestling, grew up in the thick of "Attitude" or rode the waves the entire way through, we all expect an exceptional performance when two of the best in the business meet.
Anything less is a bust.
The Hell in a Cell matchup between the Undertaker and Triple H at WrestleMania 28 is one of the WWE's last glimpses of what the "Attitude Era" was all about.
Sadly, like last year, it'll be "just another match" in terms of start to finish.
We'll all remember the final destination. It's too bad we'll forget the journey.