Flyers Trade Rumors: If Philly Falls Short of the Cup, Team Must Remain Intact
March 19, 2012

Bruce Bennett/Getty Images
The Philadelphia Flyers find themselves in a clear "glass half full, half empty" scenario. Unlike last season, the glass looked to be full as they rode atop the Eastern Conference only to fall short of a Cup—again.
This year is a completely different scenario. The team isn't led by a group of underachieving veterans. Instead, they are pushed onward by overachieving rookies.
Oh, and let's not forget a superstar goalie who looked lost but is now found in Ilya Bryzgalov.
If anything, the Flyers would be served well to get out of the $6.5 million cap hit from Danny Briere's contract, but at this point that looks to be purely wishful thinking. A player commanding such a cap hit needs to do more than be a force in the playoffs.
Other than Briere's struggles, the Flyers have a lot to be fortunate about in terms of promising youth.
James Van Riemsdyk's season was marred by injury, but before the string of injuries he was on pace for more than 30 goals back in November. Oh, and he's only three goals behind the highest-paid player despite missing half the season.
Chris Pronger's status looks grim, but fans can only hope Pronger has at least one more year in him.
Scott Hartnell is leading the team in goals scored and opponents annoyed. Just ask the Pittsburgh Penguins and Dion Phaneuf about that annoy factor.
Jaromir Jagr is a shell of his mullet days but still brings plenty to the table in terms of puck carrying, passing, scoring touch and leadership.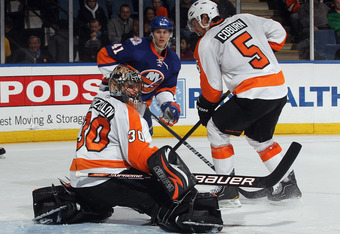 Bruce Bennett/Getty Images
Jakub Voracek is player that shows tremendous speed and, like his Czech counterpart Jagr, shows plenty of speed and puck control.
Brayden Schenn and Sean Couturier have been a blessing this year and left no doubt in fans' minds that moving two franchise players last summer was the right move.
Wayne Simmonds is the heir apparent to Hartnell's do-anything power-forward role. Forget about the career year in scoring, Simmonds shows plenty of heart and spunk, which will enshrine him in the hearts of Flyers fans.
Max Talbot has shown he is a legitimate penalty killer and a scoring forward that can play on any line.
Claude Giroux has been a blessing. After supplanting Mike Richards and Jeff Carter as the team's go-to guy, Giroux might just win a Hart Trophy this year with a career-high and league second-best 84 points.
The defense without Chris Pronger, as a whole, looked average. Then at the trade deadline Paul Holmgren brought in Nicklas Grossmann and Pavel Kubina.
Since the new defensemen's arrival, Ilya Bryzgalov has looked much better, even becoming the first Flyer goalie to post four shutouts in five games.
Grossmann and Kubina are set to become free agents this offseason. If anything, Grossmann needs to remain a Flyer. He brings a physical presence and shutdown ability that Brayden Coburn possesses of the Flyers defensive regulars.
The Flyers have started more than 12 rookies this season, yet still find themselves in fifth place and only three points out of first.
Yes, they look to finish at a lower seed than last season, but with all the new faces, growing pains were expected. And despite finishing at a lower seed, the Flyers look more like a legitimate contender than they did last year.
In 2011, the Flyers were 3-3-2 by the March 18 in contrast to this year at 8-1-1. Also, at this point in the season the Flyers were a mess defensively, having given up 27 goals against, compared to this year's 15.
Last year blowing up the team was necessary. The team had its leadership intact only missing Pronger. Without him they were visibly inept.  This season they have played almost a whole season without him and are able to toe the line with the league's best teams.
They battled the Boston Bruins hard through regulation and overtime, only to lose in a shootout. Then the very next day they beat the hottest team in the league after falling behind again by two goals. 
The Flyers may very well fall short of the Stanley Cup this year. Some, including myself, feel they have as good a shot as any other team.
Should they fall short of the Cup, a roster overhaul would be in bad faith. This is a team that has shown to a man that it can overcome adversity and skate with the league's best, and those are marks of a championship team.