Los Angeles Lakers: Trading Derek Fisher Was the Right Move
March 19, 2012

Stephen Dunn/Getty Images
The Lakers trading Derek Fisher was the right thing to do.
At the trade deadline, the Lakers traded their starting point guard, along with a first-round pick, to the Houston Rockets for former lottery pick Jordan Hill. 
When Mitch Kupchak addressed the media after the trade, he told reporters that trading Fisher was a "hard thing to do."
It's hard to put into words what he's meant to this organization on the court, off the court. If you've seen or read the release that our owner Dr. Buss put out, I think that puts it as succinctly as possible what he means and what he meant to this organization. From the bottom of our heart, my heart, I thank him for his contributions and I wish him well... 

Many people speculated that the Lake Show did this in order to give their newly acquired point guard, Ramon Sessions, more playing time. These people felt that benching Fisher and giving more time to Sessions might be disrespectful and the Lakers may not be able to do that to Derek. 
Others have speculated that the Lakers did this because they did not want to pay Fisher's $3.4 million he was due in 2013.
Regardless of what the true reason is, it was the right thing to do. 
Fisher has been one of the worst starters for any team in the NBA. In the past three seasons, Fisher has averaged 6.7 points on 38.4 percent shooting, 2.8 assists and 2.1 rebounds per game. 
Although D-Fish has come in the clutch for the team on numerous occasions, he is not consistent enough to keep around. If Fisher was able to be more efficient with his shot selection, the Lakers might not have to be in a position where Fish has to hit a game-winner. Fisher's lack of production is what has been holding the Lakers back for the past couple of years. 
When the Lake Show faces another team, it is usually the opposing team's point guard that dominates them. The reason being is because Fisher is very slow and he is not able to catch up with the opposing point guard.
Considering the fact that three out of the best four teams in the Western Conference has top 10 point guards, it only makes sense that the Lakers had to do away with Fisher. 
Many have said that the Lakers could have just kept Fish around while Sessions starts, but that is not possible. Although many people may not notice it, Fisher has one of the biggest egos in the NBA.
The only reason many people do not notice it is because Kobe Bryant is his teammate, and his ego is unmatchable. 
The reason Fisher has an ego is because he has never stepped aside for anyone else. Another reason is because he selfishly continues to play for a team while making more money than he deserves when he should have just retired. Although he deserves praise for continuing to play, he should have made it an issue to step aside. 
Keeping Fish and Sessions together on the Lakers would have been a terrible decision. Fisher would have likely not stepped aside for Sessions, and it would have kept the fans uneasy for the rest of the season. 
Although many people have said that what the Lakers did was wrong because Fisher has always been a loyal member to the team, they must realize that he has walked out on the team before.
In 2004 when the Lakers were in complete turmoil after losing to the Detroit Pistons in the Finals, Fisher signed with the Golden State Warriors because they gave him more money. 
That is not being loyal.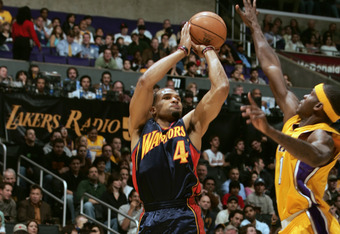 Robert Laberge/Getty Images
In the summer of 2010, Fisher was also mulling a decision to go join the Miami Heat. If Fisher were loyal he would have not even considered going there. D-Fish eventually re-signed with the Lakers because they offered him more money and because he was a bit more comfortable with the team.
The Lakers were the only suckers in the NBA that would even consider paying Fisher that much money and placing him as their starting point guard. 
Fisher has been a huge part of Lakers history, but it is not like he has always bled purple and gold. If it was not for Fisher's need to be in a big city after his daughter's unfortunate eye problem, Fisher would've likely never been a Laker again.
By trading Derek Fisher, the Lakers did not do him or his legacy any injustice. Fisher would have no problem understanding that this is a business because he too turned his back on the Lakers when things were not going so well. 
D-Fish will always be a huge part of the Lakers organization, but it was his time to go, and all the Lakers did was accelerate his necessary exit from the team and, hopefully for his legacy's sake, from the game. 
Follow me on Twitter for everything NFL/NBA/WWE @ThaFreakness_BR.
E-mail me for writing opportunities or interviews at sammysucu@gmail.com.