2012 Fantasy Baseball NL-Only Catcher Rankings
March 19, 2012

J. Meric/Getty Images
Here's the 2012 LestersLegends catcher rankings for NL-only leagues.

1.  Brian McCann, Atlanta Braves 
Year after year he turns in another solid performance. He has averaged 21.8 HRs and 85.7 RBI over the past six seasons while hitting north of .285. Somehow I think he is a little underrated.

2.  Buster Posey, San Francisco Giants 
His season could not have ended on a more sour note. Fortunately, it happened early enough that it shouldn't hinder his play. He'll get some time at first base, which will ensure a solid at bat total.

3.  Miguel Montero, Arizona Diamondbacks 
He broke out with an impressive .282-65-18-86-1 season, which is pretty much in line with what he did in his past 1.5 seasons. His second half was better than his solid first half. He's for real.

4.  Yadier Molina, St. Louis Cardinals 
Molina will miss Albert Pujols' presence. How can you not? Molina is not a sexy pick, but he has been steady for years. Is his double-digit HR power for real? Probably not, but he should continue to get you 60-plus RBI.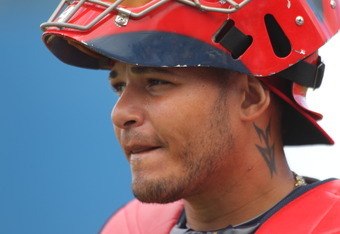 Marc Serota/Getty Images

5.  Wilson Ramos, Washington Nationals 
He had easily the scariest offseason of anyone, being kidnapped and all. He is just 24 and coming off a solid .267-48-15-52-0 season.

6.  Geovany Soto, Chicago Cubs 
As always, his health is a concern. He has averaged 17 HRs over the past four seasons despite playing in just 118.3 games per year.

7.  Jonathan Lucroy, Milwaukee Brewers 
Fielder is gone, but at least Braun avoided suspension. He'll turn 26 this year though and is coming off a .265-45-12-59-2 season. There is a fall-off after him in NL-only leagues.

8.  John Buck, Miami Marlins 
You hate his .227 batting average, but you like his 16 HRs and 57 RBI.

9.  Rod Barajas, Pittsburgh Pirates 
He hit 16 HRs in 305 at bats for the Dodgers. You'll get a poor average and little else from him though.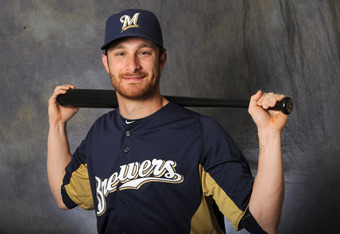 Rich Pilling/Getty Images

10.   Carlos Ruiz, Philadelphia Phillies 
He can give you a decent average (.292 over the past two seasons), but he has just 36 HRs in 619 career games. There is an obvious trade-off with Ruiz.

11.  Devin Mesoraco, Cincinnati Reds 
He only hit .180 in his cup of coffee (50 ABs), but hit 289 with 15 homers and 71 RBI last year for Triple-A Louisville.

12. Nick Hundley, San Diego Padres 
Hit .288 with 34 runs, nine HRs and 29 RBI in 281 ABs. His main problem is he can't stay healthy to get enough ABs—281 was his career high.
Also check out: