Liverpool FC: Why Cup Success Not Enough for Reds This Season
March 18, 2012

Michael Regan/Getty Images
Just a few weeks ago, Liverpool FC captured the Carling Cup with an exciting penalty shootout victory over Cardiff City. To add to a successful cup season, the Reds will also be paired against either Everton or Sunderland in the semifinals of the FA Cup.
Despite potentially adding two pieces of silverware to their trophy cabinet, the 2011/12 campaign at Anfield has not been a successful one.
Liverpool currently occupy seventh in the Barclays English Premier League and are five points back of sixth place Newcastle with just 10 games left to play. The window of Champions League football for next season is all but shut, and right now Liverpool are realistically setting their sights on the Europa Cup.
It is a sad truth for the Liverpool faithful. While our supporters are still world class, the play on the pitch has not been. Liverpool have become an average team in the EPL and are not playing near the level needed to compete for a Champions League spot, let alone an EPL title. They have shown the potential to out-play and earn victory over the elite teams in England on occasion, but their consistency over an entire season has been awful over the past several years.
It seems that whenever Liverpool appears to gain momentum and be on form, they lose a head-scratcher to a lowly team or produce an uninspired performance against a team facing relegation. Injuries and misfortune have played a role this season, but excuses can only go so far for a squad with a global fanbase and a history of domestic and European achievement. 
Liverpool boss Kenny Dalglish recently came out and defended his side's record, stating that fans need to be more realistic in their expectations and appreciate the progress they have made in the past 15 months.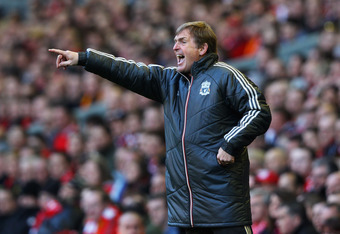 Alex Livesey/Getty Images
He also emphasized the achievement of capturing Liverpool's first trophy in six years. 
He mentioned the need for fans to take an "intelligence check" and understand how the squad is coming together under his tenure. These are interesting words from Dalglish. Many supporters stand behind the manager and have not been as hostile as some may have expected. Being 10 points out of a Champions League spot would undoubtedly put most managers on the hot seat.
However, Liverpool fans are not blind to the fact that their expectations stem from where they feel the club should be. Does a Carling Cup victory do enough to erase the disappointment of finishing in the middle of the table? Does a semifinal birth in the FA Cup do enough to cancel out the reality of missing the Champions League yet again?
If success in these two domestic cups is viewed as a starting point in Dalglish's eyes, then he should be satisfied with the progress his squad has made. Unfortunately, from the perspective of millions of Liverpool supporters, something seems wrong with this picture.
A top-tier side in England is not supposed to rebuild from scratch. Success is expected, and a disappointing season is seen as an occasional mishap, not a point in a lengthy rebuilding process.
Does Liverpool have the talent and depth to compete with the likes of Manchester City and Manchester United over the course of an entire season? That is somewhat debatable. What is indisputable is that they are underachieving with the current set of players they have now.
If Liverpool is in fact on their way to re-establishing themselves as a consistent title contender, it still remains to be seen. Despite this, the fans have been very patient, and their love for the club will never die while they stand behind their Reds.
Paul Gilham/Getty Images
We have seen Liverpool play attractive and effective football this season, but just not as often as necessary to make a real impact. Although their play in the FA Cup and Carling Cup has not been overly dominant, they have gotten the results when needed. Having Steven Gerrard back from injury has lifted the morale of the club, and he looks to be returning to full form.
It will be interesting to see what Dalglish does this offseason, whether he sticks with the current squad or tries to add some talent from around Europe. No matter what he does, the bottom line is that the current players at Anfield must perform up to their potential as a team on a more consistent basis.
This is how the elite teams in England remain at the top, and this is the formula that Liverpool must emulate.