John Henson Injury Update: North Carolina Forward Expected to Play vs. Creighton
March 18, 2012

Streeter Lecka/Getty Images
Recent reports point to injured North Carolina forward John Henson being ready to go in today's game against No. 8 seed Creighton.  This is a good sign for the North Carolina Tar Heels with the Sweet 16 on the line.
Update: March 18 at 5:25 p.m. ET
The UNC Hoops' Twitter handle has updated the status of Henson to starting today's game. His minutes are still up in the air, but he will be on the court at tip-off.
John Henson will start for UNC, along with Zeller, Barnes, Marshall and Bullock.

— UNC Hoops (@UNC_Basketball) March 18, 2012
Update: March 18 at 4:22 p.m. ET
According to UNC Hoops' official Twitter handle, Henson will indeed play. Whether or not he will start remains in question.
John Henson will play today vs Creighton but may or may not start.

— UNC Hoops (@UNC_Basketball) March 18, 2012
According to Stephen Schramm of FayObserver.com, " Indications are that North Carolina forward John Henson will play in today's NCAA tournament game against Creighton."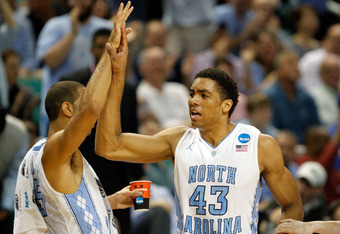 Streeter Lecka/Getty Images
That is great news for the Tar Heels, as it won't hurt to at least have Henson ready to go, especially since it will give him some time to be ready for the team's potential later round games in the tournament.
Henson hasn't played since spraining his left wrist in the team's quarterfinal game against the Maryland Terrapins in the ACC tournament. He left the game after just about six minutes, and was unable to return to action.
His status has been up in the air since then, but he was officially held out of the team's opening round game as he was seen in just a suit on the bench.
In his place, James Michael McAdoo scored 17 points while grabbing six rebounds and taking the ball away from the Vermont Catamounts six times.
The play of McAdoo was encouraging, but now the team will have multiple options.
It still hasn't been said who will start, or even how much time Henson will see if he does indeed play, but for now the team at least will know that they can trust McAdoo in his place.
UNC and Creighton will get underway at 5:15 ET on CBS.
Jeff Chase is a Featured Columnist for the Chicago Cubs and Arizona State football.
Follow @Real_Jeff_Chase