Green Bay Packers: 2012 Will Be the Year of Jordy Nelson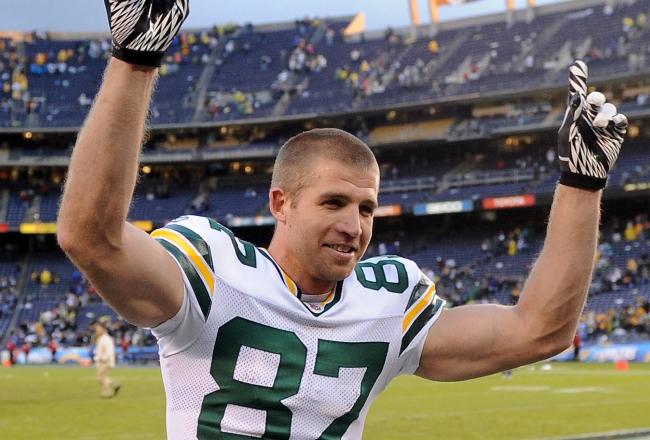 Harry How/Getty Images
Jordy Nelson will prove to be the Green Bay Packers' best receiver this year.
Last season, the former Kansas State receiver had a breakout year. He had 15 touchdowns and 68 receptions, which were both career highs. During his three other seasons in the NFL, Nelson had only two touchdowns in all three years.
Going into 2011, Nelson was coming off a great Super Bowl performance. He had nine receptions for 140 yards. However, he had several big drops in the game that may have prevented him from winning the Super Bowl MVP.
This year, Aaron Rodgers developed more trust with Nelson as they connected on many big plays throughout the season. This upcoming season should see more of the same.
Opponents will be focused on Greg Jennings and Jermichael Finley. Both receivers are big targets and are great at beating one-on-one coverage. Nelson may be the best of the receiving corps but gets less respect. Nelson even acknowledged last season that he has never seen double coverage. No double-teams along with a nickel corner covering him is a matchup the Packers and Rodgers will take any time they see it.
Defenses will have to respect Nelson this season as Rodgers will be targeting him more. At 27, Nelson is entering the prime of his career and will only get better. Last season was just the beginning of what we will see out of him.
He has improved on his drops and is very good at taking care of the ball. So far, Nelson has only fumbled the ball once in his four-year career. He also is a great safety net for Rodgers during third downs. Of Nelson's 68 receptions, 47 of them were for first downs.
Will Jordy Nelson Get More Than 15 Touchdowns in 2012?
The corners he will face this season will be tougher. He will see less of nickel cornerbacks but will unlikely face any double-teams.
His 15 touchdowns were third in the league last year only behind Rob Gronkowski (17) and Calvin Johnson (16). Both of those guys had more than 20 more receptions than Nelson but barely beat Nelson in touchdown receptions.
Nelson is great in the open field and is a great route runner. His ability to get open led to 19 receptions of 20 or more yards (28 percent of his passes caught). Perhaps the most astonishing stat is the 71 percent completion percentage between Rodgers and Nelson, which equals the completion percentage of New England's Tom Brady to Wes Welker. Rodgers and Nelson's percentage is more impressive, though, because of the amount of their passes that are down the field.
It was already documented that Nelson had 19 passes of more than 20 yards last season. Welker had just 21 on 122 receptions. Rodgers' ability to connect with a receiver down the field is what will help Nelson stand out next season.
However, the credit cannot be given just to Rodgers. Look back at last season and Nelson's receptions. On most of his downfield receptions, Nelson has big separation on his defender. His speed and athleticism take defenders by surprise. It was said by Nelson and other Packer players that because he was a white wide receiver defenders took him for granted.
That stereotype will be gone this season, but that will not slow Nelson down. This year he will prove last year was no fluke.
Jennings may be the No. 1 receiver listed on the Packers' roster, but with the emergence of Nelson in 2011, expect the Packers star to put up even bigger numbers this season. Don't be surprised if Nelson threatens to reach 20 touchdowns in 2012. His stats should all be on the rise and he will establish himself as one of the best wideouts in the league.
This article is
What is the duplicate article?
Why is this article offensive?
Where is this article plagiarized from?
Why is this article poorly edited?

Green Bay Packers: Like this team?