2012 NFL Free Agency: Players Not Named Peyton Manning Titans Must Sign
March 18, 2012
Jed Jacobsohn/Getty Images
With the state of Tennessee's favorite son flirting with the idea of coming home, it's hard for Titans fans to remember that there are actual areas of need in other positions. 
Quarterback wasn't even close to a position of need in free agency for the Titans before Manning came around. Tennessee's biggest question mark is their pass rush, which was woeful during the 2011 season. 
They're also facing the daunting task of replacing cornerback Cortland Finnegan, who signed with the St. Louis Rams last week. 
Despite Manning fever taking over Music City, Titans front office is still busy at work filling other needs as well as plotting some future moves to make. Here's a short list of players the Titans have either been in talks with or we think would be a good fit.
Mark Anderson, DE
The addition of Mark Anderson could be an under-the-radar acquisition to greatly improve Tennessee's pass rush. 
The Tennessean's John Glennon reported that Anderson, who finished with 10 sacks at New England last year, is visiting the Titans today. 
At just 28 years old, Anderson is entering his prime as a pass-rusher and could give the Titans a much needed boost at the position. He had a career-high 12 sacks in 2006, his rookie year.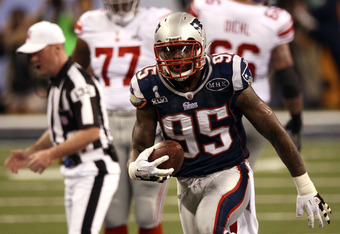 Win McNamee/Getty Images
After many defensive ends have been swooped up off the market, Anderson may be the best option for Tennessee. With only two DE's on their roster, this is the biggest area of concern on the roster.
Tracy Porter, DB
The Titans haven't been directly linked to Porter, but it would be a solid addition to a cornerback unit that desperately needs experience. 
Without Finnegan, Tennessee is severely strapped at the CB position. Jason McCourty and Alterraun Verner, their presumable starters for 2012, have only a combined five years of experience. 
Porter has had an illustrious career with the New Orleans Saints, so it's unlikely that the Titans would throw the kind of money he'll demand. But if there's any way for it to happen, it would be a big get for a key need. 
Dwight Freeney, DE
Freeney is still under contract with the Indianapolis Colts and would have to be acquired by a trade if he's not released. If that's the only way to get him, the Titans shouldn't be in the running unless if they lose out on Manning considering Freeney will eat up more than $14 million in cap room.
The Colts are in the midst of a treacherous rebuilding project, so Freeney is likely to be gone. The only hopes the Titans should have of getting Manning and this 10-year veteran pass-rusher is if he's cut as well by Indy.
Still, imagine the impact he would have on Tennessee's pass rush.