The 2012 Australian Grand Prix on the BBC: Did It Work?
March 18, 2012

Ker Robertson/Getty Images
I thought when it was announced that the BBC would be losing exclusive rights to show the full 2012 Formula One season, just before last year's Hungarian Grand Prix, that my long love affair with F1 was over.
Those cold winter months felt like the worst kind of break up. I'm not joking, it really felt as if I'd been dumped!
Imagine then, how I felt seeing Sky F1 so proudly advertised on billboards and on TV. I had to run away; I had to avoid it. But then, like every ex-boyfriend, it hit me…we can still be friends.
I'm devastated that I will no longer be able to report on every race through Bleacher, but I owe it to myself, the sport, and the BBC to try and keep my interest in F1 alive.
It was with this attitude then that I sat down in front of the TV on Saturday with an open mind. Could the BBC carry it off? Would non-live, partial F1 work?
The build-up and analysis
If I'm completely honest with you, I've never really been a fan of an hour-long show before qualifying, as a lot of the stuff was filler and most of it was repeated on the Sunday show anyway.
The first BBC qualifying show of 2012 began with a pleasing 20-minute intro, which included an introduction to all of the teams on the grid, brief analysis from David Coulthard and an entertaining interview with Jenson Button.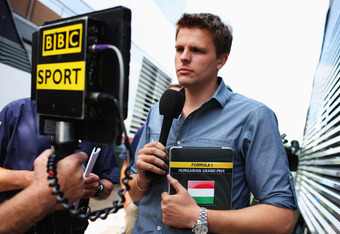 Mark Thompson/Getty Images
I think this was the most important part of the show. Button's interview was a one-on-one with Jake Humphrey, and was conducted over a jokey pool game.
It's vital that the BBC is still able to spend time with the big stars if they are going to be able to present the news effectively, and I was immensely proud to be a Jenson Button fan seeing him give his time to the Beeb like that.
For the race, there was a quick 10-minute recap of qualifying which would have been more than enough for anyone who missed the show on Sunday.
After about an-hour-and-a-half of race recap, there was a great half-hour analysis segment hosted by Jake Humphrey, Eddie Jordan and David Coulthard. We were treated to paddock interviews between Lee McKenzie and Hamilton, Alonso, Vettel, Malidinado and Ricciardo.
Jenson Button gave yet another personal interview to the BBC team and it was great to see Paul Di Resta add his name to the drivers up for a one on one chat as well.
The Action on track
I thought the qualifying was excellent as well. The first session was shown in full and, although the second and third sessions jumped forward a bit at the beginning, this was only to skip out time when nobody was on track.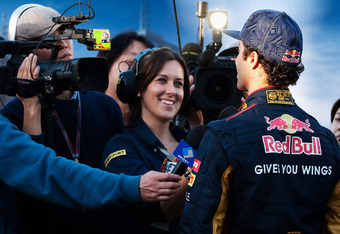 Peter Fox/Getty Images
In fact I counted a total of 6 minutes missed out of the whole 40-minute qualifying. (As I say, these 6 minutes were simply the starts of the sessions so all we actually missed were the drivers waiting to take to the track).
The race itself was simply phenomenal. We got the first few laps in which most of the action happens anyway, and from then on the skips forward in time were seamless! The race flowed and the commentary helped fill in the gaps, while also adding to the effortless flow of the director's cut.
I honestly can't speak highly enough about the BBC's job here. This was where I thought they would fall to their knees in defeat but, in my opinion, they showed how skilful they truly are.
I was extremely disappointed not to be able to watch the podium ceremony, but I fear that was all part of the 'wonderful agreement' between Sky and the BBC. Whilst the ceremony isn't vital, it was sorely missed and was perhaps the only amateur part of the race coverage.
The Team
Eddie Jordan (EJ) was absent from Saturday's show due to the St. Patrick's Day celebrations, but it was lovely to see the rapport and jokes return on Sunday between the dynamic three-man team of EJ, David Coulthard (DC) and Jake Humphrey.
I thought DC was excellent as ever, and I'm happy to say I didn't miss Martin Brundel one little bit! I was initially sad to see Brundel go, but subsequent interviews with him that I've read have made me glad to see the back of him.
The BBC have replaced Brundel with Ben Edwards, the former British Touring Car Championships commentator.
I thought Edwards was knowledgeable and not too over excitable, though I think he needs some time to form a rapport with DC. And please Ben, no jokes!!!!
There was one awful moment in qualifying when DC explained that Jenson Button's times were purple (meaning they were extremely fast), Edwards met this with 'I'd just like to explain that it's Jenson's times that are purple…he's not actually turned purple..' A tumbleweed drifted across my front room and DC didn't even fake a laugh. Ouch!
The commentary on Sunday was great. Perhaps Edwards was a little overexcited at times, but he didn't make any glaring errors and he was always happy to learn from and listen to DC.
Lee McKenzie has been great since her start with the BBC Team, and her staying was an important small victory for the team. She's very knowledgeable and certainly not just there as window dressing.
The departure of Ted Kravitz is arguably the hardest for me to swallow, but his replacement, Gary Anderson, feels instantly familiar and his interjections were informative and interesting.
Anderson joins the BBC team having been a designer at Jordan F1 and Stewart/Jaguar.
In Conclusion
I found it extremely difficult to avoid the race result. In fact, I accidentally stumbled across it simply by automatically logging on to MSN.
I had to turn my car radio off while out driving, and the news had to be avoided. None of this was particularly easy or fun, but I have to say it was nothing compared to the pleasant surprise that was the BBC's coverage.
I think the saddest thing for me in all of this is the fact that I can't write for Bleacher as much anymore. I'll try to report on the 10 live races, as I enjoy my writing, but one thing is for sure, my love of F1 has not died and, if the BBC carry on like this, it will continue for some time yet.
Well done, BBC!!