NCAA Scores 2012: 'Lehigh Beat Duke' and 'Michi-Gone' Shirts Add Tourney Appeal
March 18, 2012

Streeter Lecka/Getty Images
You know all of the various reasons why the NCAA tournament is so much fun, but what often goes overlooked is how the fans can add to the experience, namely the clever college kids who find unique ways to support their school and, more importantly, employ a caustic wit when mocking their foes.
Such is the case with the recent "Lehigh Beat Duke" and "Michi-Gone" t-shirts.
Fittingly, the "Lehigh Beat Duke" shirt didn't originate from the Lehigh fanbase—they came from North Carolina. Darren Rovell was kind enough to tweet a picture of one of the shirts.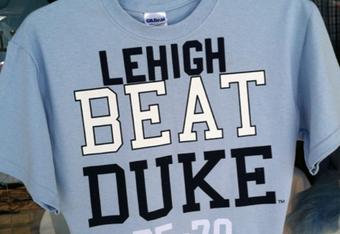 Meanwhile, fans of the Ohio Bobcats wanted to remind everyone that there is more than one college in Ohio, and the Bobcats dislike Michigan just as much as the Buckeyes do (via The Victory Formation/Yardbarker.com):
This is why college sports are so much fun. Sure, everyone enjoys doing a fake shot-clock countdown while the opposing team has possession or coming up with a witty chant, but what could be better than merchandising a total burn on your rival or a school you simply can't stand given your Ohio birthright?
What could be more satisfying than those burns gaining national exposure?
Of course, I would be frustrated if the insults were lobbed my way. If USF made up some crappy shirt saying, "We put the Owl in Scowl against Temple," I'd be really annoyed. (Mostly because that would be a really corny shirt, but also because it would be a burn on my team.)
But that's the fun of it. There's nothing wrong with a bit of ribbing at the NCAA tournament. Frankly, I encourage a bit of smack talk—especially if it's clever like "Michi-Gone."
When given the opportunity to give your rival a hard time, you simply can't pass that chance up.
Hit me up on Twitter—I've tweeted from Lehigh's campus before. Seriously.