Juventus Overwhelm 10-Man Fiorentina in Historic 5-0 Away Victory
March 17, 2012

Gabriele Maltinti/Getty Images
Earlier this week, Tuttosport reported a rumored fight at a nightclub between Arturo Vidal and Leonardo Bonucci. The reports appear to be erroneous, however, and the club quickly issued a response saying that neither Vidal nor Bonucci were involved in any altercation.
Now, the reality of the situation was that some drunk idiot threw a drink (or ice) at the two players. The antagonist was then booted out of the club by security.
Vidal and Bonucci certainly did their best to quash any nonsense about a fight today. Continuing a trend he started after his suspension from the Chilean national team, Vidal created a themed goal celebration with Bonucci.
After scoring the second goal of the match, from his own rebound, Vidal and Bonucci met to the side of the goal. They pretended to box for a few second and then Bonucci pretended to knock out Vidal, who went down.
It harkened back to his aforementioned post-suspension celebration. That time, he and Simone Pepe clinked imaginary shot glasses and pretended to drink.
The players certainly earned their flamboyant celebration. Vidal and Bonucci both performed at exceptionally high levels today. The Chilean led the team with seven tackles, and also went seven for seven in long ball attempts.
Bonucci had three interceptions, four effective clearances and two blocked shots. It was a fantastic performance from the young center-back, especially since he has struggled so greatly recently.
I stood by Bonucci during his recent dip in form, and I'm glad that he's returned to a level of play that I (and many other Juventini) knew was possible.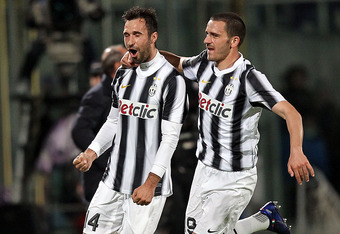 Gabriele Maltinti/Getty Images
It wasn't just Vidal and Bonucci who played well today. The rest of the Juventus squad performed in a similarly phenomenal fashion. Indeed, the five goals that Juve scored were all scored by different players.
The first goal came from the suddenly in-form Mirko Vucinic. He was an effective dribbler and passer, going a perfect four for four in long balls and a perfect two for two in through balls. He had actually had an earlier effort, hitting the woodwork in the sixth minute.
Then came the previously mentioned Vidal goal. Here's a link to the Vidal-Bonucci celebration.
An important note to make about this match, Fiorentina did play with one less man for most of it. Attacker Alessio Cerci was sent off in the 20th minute for kicking Paolo De Ceglie, an off the ball foul. Still, Juventus looked like they would have dominated the match regardless.
Fiorentina were especially bad in the first half. After the second goal, the team basically shut down. They had had some attacking movements early in the first half before Cerci's sending off.
When the second half started, Fiorentina seemed a bit more lively. They immediately went on the offensive against Juventus, though they rarely threatened.
There were a few instances where Fiorentina almost scored, but the only time they really got close was off a left-footed shot from Andrea Lazzari. Juve keeper Gigi Buffon tipped the ball onto the woodwork, and a probable goal was stopped.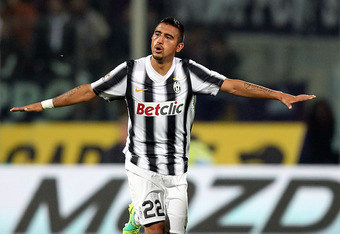 Gabriele Maltinti/Getty Images
For the most part, the second half belonged to Juventus. They opened up their second-half scoring account after a Vucinic cross was headed home by Claudio Marchisio.
Marchisio, who had been scoring for fun before the winter break, grabbed his first goal of 2012. Marchisio also did well with his all-round gme in midfield, getting three interceptions and making ten accurate long passes.
Shortly after Claudio's goal, Alessandro Matri came off for Fabio Quagliarella. Matri had a poor game today when it came to scoring, and gave the ball up several times, although he did make a few important passes.
Juve's fourth goal came from its man of the match. In the 67th minute, Pirlo got free from any defenders, and sent the ball sailing diagonally over Artur Boruc into the net.
It was a classy effort and marked Pirlo's second goal this season. Pirlo was phenomenal today when passing the ball, making 139 passes at 96 percent accuracy. He also had 27 accurate long balls, which is insane.
In between Pirlo's goal and the fifth, both Mirko Vucinic and Arturo Vidal came off to be replaced by Marco Borriello and Simone Padoin, respectively.
Borriello was, as always, non-existent. Padoin, on the other hand, made an immediate impact. Only two minutes after coming on, he broke free from his marker in the 18-yard box, and nailed a deflected Pirlo pass into the net.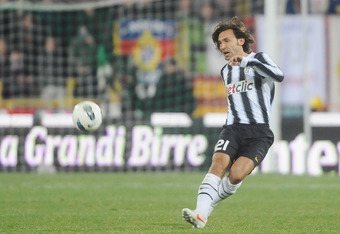 Mario Carlini / Iguana Press/Getty Images
In the back line, Stephan Lichtsteiner, Martin Caceres, and Paolo De Ceglie all had fine matches. Caceres continued his recent streak of fine performances, and is rivaling Bonucci's ability to play the ball from the back.
De Ceglie is making a very strong case that he's finally ready to be Juve's long-term starting left-back. It's good to see the homegrown Paolino developing into a really solid player, and hopefully Juve will benefit from his ability for years to come.
Juventus had finished their 5-0 domination, and five different men had scored.
The huge win (actually Juve's biggest ever win over Fiorentina) was just the morale boost Conte's side needed. After a long series of frustrating draws, Juventus have a big victory in the rear-view mirror, as they approach a tough week with matches against A.C. Milan and Inter Milan.
They face A.C. Milan in the second leg of the Coppa Italia semi-final on Tuesday. Then they face Inter on Saturday for the second rendition of this season's derby d'Italia. Both games are at Juventus stadium, which is a huge boost for Conte's side.
Hopefully the goals continue to flow, and today wasn't just a one-off burst of scoring.
Praise Conte, and Forza Juve.