NCAA Tournament: Mizzou Seniors End Careers Bitterly, Still Much to Be Proud of
March 17, 2012

Simply put, it was agony.
And it was all because of a small school from Norfolk, Va.
The Missouri Tigers were doubted by the experts all season long. They did not have enough size or strength down low, but they kept winning;They kept defying the odds. Then when it appeared everyone had finally jumped on the bandwagon, the title aspirations of the Tigers were quickly and cruelly snatched away.
Their season was over. They were one and done, just like last year. The most legendary senior class in Mizzou history would never again don the black and gold. It was a bitter ending, to say the least.
But through all the pain that Friday brought, it was impossible to deny or forget what this senior class brought to the University of Missouri. Sure, they ultimately fell short of their major goal of a championship, and were never able to get the school to its first Final Four, but they accomplished so much in their time at Missouri.
Their overall record of 107-32 made them the winningest class in Missouri history. They won the first and second Big 12 Tournament titles in Missouri history. They made four NCAA Tournament appearances in as many tries. And they are one of the biggest reasons why the University of Missouri will be joining the SEC Conference on July 1.
The team chemistry that the Missouri Tigers featured this year was unbelievable. Many people attribute their chemistry as the major factor to why this team had so much success, and it truly is saddening to see their dream run end in a locker room in Omaha, Neb.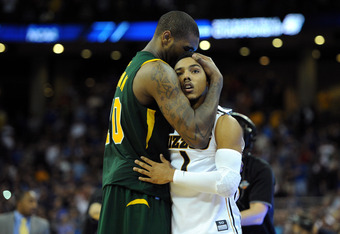 Eric Francis/Getty Images
Nevertheless, this team gave everything they had. They fought against Norfolk State until the very end, when Phil Pressey's three-point shot fell short.
"This tournament defines your season," senior guard Kim English said Thursday night, on the eve of the game. Unfortunately, for the Tigers that is mostly true. Many people will forget about the many accomplishments this team had this year, and will simply remember this game, but the true Missouri fans will not forget.
Missouri fans will remember all the great moments this senior class gave them. They will remember the unstoppable barrage of three pointers that the Tigers rained down on their opponents. They will remember the crazy and energetic defense that the Tigers brought to the court every night. They will remember the two monumental victories over the Kansas Jayhawks. And they will remember watching them cut down the nets as the Big 12 Champions.
Over the past four years, these players, along with others before them, have made the Missouri basketball program extremely relevant again, and their accomplishments can not go unnoticed.
Hopefully, one day they can look back and see how much they accomplished, and see how much they meant to Mizzou fans everywhere.
Hopefully, one shocking loss on a Friday afternoon, does not completely tarnish their legacy.
"I bled, I sweat and I cried for these six letters on the front of my jersey. I came here with aspirations of helping to take this basketball program from the dumps and trying to take it somewhere our fans couldn't fathom. And we tried, we fought and we fought for four years. And then to lose in the first round. It just hurts," said English.