Sacramento Kings: Why Fans Shouldn't Worry About Jimmer's Lack of Playing Time
March 17, 2012

Ezra Shaw/Getty Images
It can't be easy being Jimmer Fredette. After all, when you raise such high expectations, you're almost certain to fall short of them.
After a fantastic college career at BYU in which he became a NCAA superstar, Fredette was taken with the 10th overall selection in the NBA Draft by the Sacramento Kings and came to the capitol of California with fans hailing him as a savior of the struggling franchise.
Let me get this out of the way first—I was never a fan of the Fredette selection. From the start, I worried that Fredette's talents would not transition into the NBA well, and for the most part, they haven't.
I would have rather the Kings stayed with the No. 7 pick and taken either Brandon Knight, Bismack Biyombo or Kawhi Leonard.
But even so, I, an unabashed Jimmer doubter, am absolutely not ready to give up on Fredette or his future as a Sacramento King.
Fredette struggled to stay with the faster, more athletic opponents and his offensive game (so far) hasn't sparked. Considering the expectations that he came into the league with, even if he was getting 30 minutes a game, it'd be very likely that he'd be failing to meet those predictions.
The biggest problem surrounding Fredette isn't his playing style or even his playing time—the biggest problem is the expectation that he would dominate the NBA from the get-go.
There are many flaws in the Kings, but right now, guard play isn't among them. The Kings have three players currently ahead of Fredette on the pecking order—Tyreke Evans, Marcus Thornton and Isaiah Thomas.
Those three players are better players than Fredette, and when they are on the floor, the Kings OVERALL have a better chance at winning.
This isn't to say that Fredette is a bad player—far from it. He has excellent stretches where he makes great decisions and great shots. But when he doesn't get playing time, it's mostly because the guards ahead of him are playing well and coach Keith Smart is sticking with his better players.
Fredette fans are taking his lack of playing time personally, as if the Kings are playing scrubs ahead of Fredette. But last night against the Celtics, Thornton had 32 points and Thomas had 13 points and 10 assists.
Fredette played 10 minutes, but the reason he didn't play more wasn't because he sucks, or because the team hates him—when the guards who play above you play so well, it just doesn't make sense to bench them.
Fredette isn't being robbed of playing time, he's just not a key option for the team—at least, not yet. Of course, that is hard to swallow if one expected Fredette to be playing starting minutes and compete for rookie of the year.
Still, it's obvious that tensions surrounding Fredette are high. On Feb. 22, after a close Kings loss in Miami in which Fredette did not play, Jimmer's brother TJ posted on Twitter - "can we please get rid of this interim coach who should be an assistant at best and bring in a real head coach!!"
Fredette rightfully apologized, but it's plain to see how TJ and many Fredette fans feel about the situation. Fredette's lack of playing time much be because coach Smart hates him, and Smart isn't adequate to coach the team.
That's absolutely not true. Jimmer isn't playing because there are better players ahead of him, pure and simple.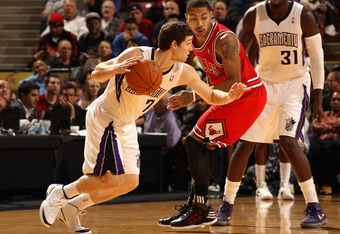 Ezra Shaw/Getty Images
Speaking as someone who doubted Fredette from the start, my confidence in his future is rising. There are stretches where he plays great basketball, where he makes excellent decisions and his patented super-long threes.
He holds promise that he hasn't reached—yet. He's a smart player who is just stuck in a rookie rut—that's all.
And Smart does play Fredette when he plays well. He gave Jimmer extended playing time in the fourth quarter when the Kings almost came back against the Lakers on March 2. Fredette played 28 minutes in a win over New Orleans and 18 minutes a few nights later in a win over the Mavericks.
Smart is a coach who sticks with a unit when the unit as a whole plays well, but he doesn't bench players out of spite.
The Kings as a team are just beginning to build chemistry. After a lockout, an accelerated training camp and a coaching change, the Kings as a whole are just now beginning to become a cohesive unit.
But the reason Fredette isn't getting a ton of time isn't because he is a bad player, or because the coach or the team hates him. He's just not as NBA ready as many expected him to be.
It's gotta be tough being Fredette. He's a regular NBA rookie with an absolutely usual struggle to adapt to the new game. But the biggest problem with him isn't anything he can handle—it's the expectations that had been bestowed upon him before he'd even put on an NBA jersey.
Fredette is struggling, but the blame for his failure to live up to expectations shouldn't go on him or his coach, or his teammates. The blame should go on the fans who put those lofty expectations in the first place.