Kansas State vs. Syracuse: 4 Things the Wildcats Need to Do to Beat the Orange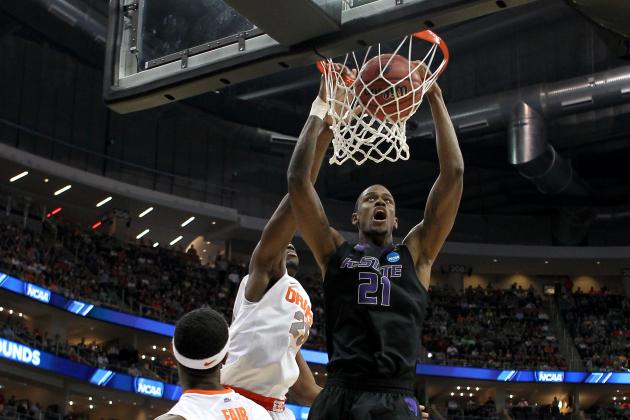 Gregory Shamus/Getty Images

When you're plus-seven in the rebounding category, including a 10-1 advantage on the offensive glass, you'd like to think you'd have at least a five-point lead.
But that's not where eighth-seeded Kansas State finds themselves right now, with minutes remaining in the first half.
The Wildcats, impressive winners in the second round over Southern Mississippi thanks to 30 points from streaky swingman Rodney McGruder, rushed out to a 9-2 lead over the Orange on Saturday only to succumb to a 15-2 run that sparked a seismic shift in the proceedings.
Still, thanks to K-State's relentless approach to the offensive boards (making up for a dreadful shooting day thus far—they're 8-of-21 from the floor—the Wildcats have clawed back to within four points.
Should they want to make it yet another upset of a top-seeded team this tournament (two No. 2s fell yesterday), here are four things the Wildcats have to do.
Begin Slideshow

»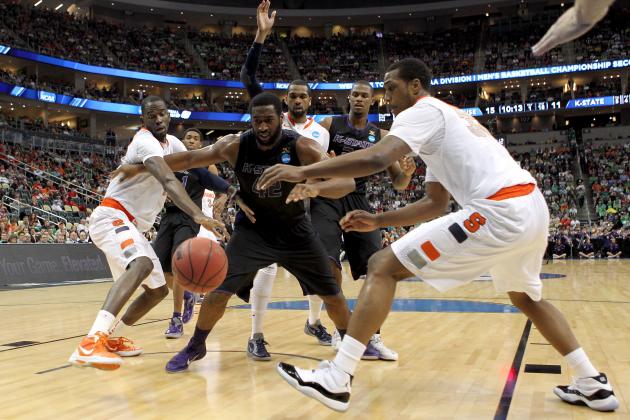 Gregory Shamus/Getty Images

The vaunted Orange 2-3 zone, the brainchild of coach Jim Boeheim, has given the Wildcats fits throughout the first half.
Far too frequently, K-State has tossed the ball side-to-side on the fringes of the three-point line, doing absolutely no harm.
While that is a testament to Syracuse's stingy D, it is also something that can be remedied.
Kansas State has the kind of quick, slashing guards in Rodney McGruder, who injured his ankle in the first half but is still playing, and Angel Rodriguez, who can penetrate the zone defense and free up their teammates for shots.
The eight turnovers are worrisome, but the fact that they're crashing the offensive glass and getting second chances has to be a positive for Frank Martin. His team, with 36.8 seconds remaining in the half, has already taken 10 more shots than the Orange.
Driving the lane and getting into the paint will be crucial for the Wildcats in the second period.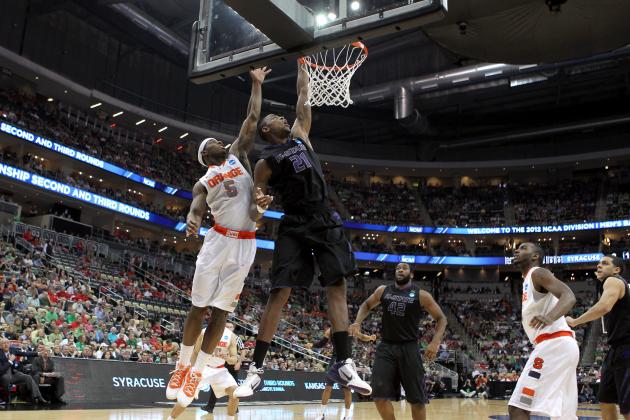 Gregory Shamus/Getty Images

Maybe it's partly due to Syracuse not having Fab Melo available (suspended for the rest of the season because of academics), but 6'11" center Jordan Henriquez and 6'7", 275-pound Thomas Gibson have been menaces on the offensive glass for Kansas State, grabbing 17 rebounds between them.
Syracuse has 14 so far—as a team.
Second-chance points have kept the Wildcats in the game, helping paper the cracks on a dismal 8-of-34-shooting day (including 1-of-8 from three-point range).
As college basketball pundit Andy Glockner said, "This is [K-State's] kind of game."
Their shooting has not been good enough to extend the 'Cuse zone, so offensive rebounds look likely to make the difference.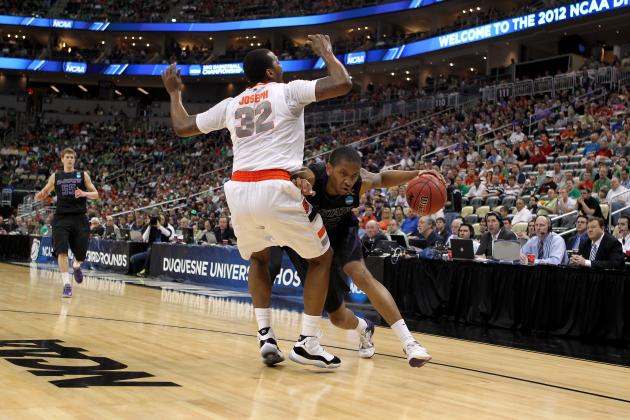 Gregory Shamus/Getty Images

Angel Rodriguez is known as a slow-starter (in K-State's second-round game against Southern Miss, he scored seven of his 13 points in the final 2:10), and that onus has been on full display against Syracuse.
At halftime, the freshman point guard is 0-of-3 from the field and has three turnovers, several of which were the result of ill-advised passes against the Orange zone.
While he should be applauded for working to unlock the incredibly difficult-to-breach 2-3 zone, Rodriguez and his teammates must do better in the second half.
After all, all those offensive rebounds go for naught if you turn the ball over right after.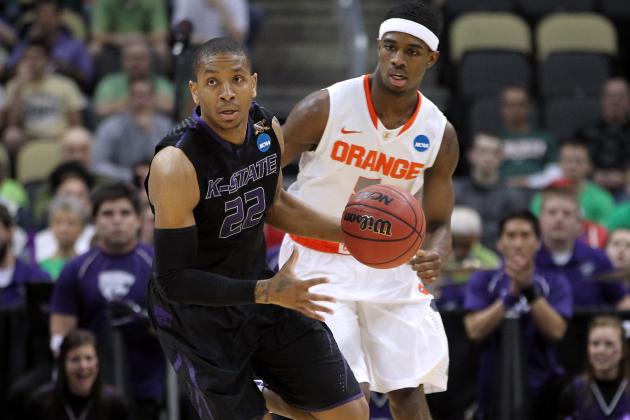 Gregory Shamus/Getty Images

While it's to Kansas State's credit that they are within one point of Syracuse at halftime (25-24) without playing very well, it is essential that they get their star 6'4" guard going in the second period.
McGruder has dealt with a rolled ankle in the first 20 minutes, which looked to visibly affect his aggressiveness (perhaps most notably on a missed layup on the break), but he must improve on his 3-of-9 shooting if the Wildcats are to pull this game out.
He's simply too valuable (see: scoring 30 of his team's 70 points against Southern Mississippi, or 42.8 percent).
Big players make big plays in the tournament. Losses ensue when they can't. Look at all of yesterday (D.J. Cooper with 21 points in Ohio's 65-60 win over No. 4 Michigan, C.J. McCollum with 30 points in Lehigh's 75-70 win over No. 2 Duke).
Contrast that with Blue Devils and Wolverines guards Austin Rivers' and Trey Burke's inability to take over the game down the stretch.
The Wildcats will go as McGruder goes.