Floyd Mayweather to KO Miguel Cotto, and Manny Pacquiao Should Beware of Bradley
March 17, 2012

Former WBC lightweight titlist David "Dangerous" Diaz believes Floyd Mayweather will score a KO against WBA super welterweight champion Miguel Cotto. However, he thinks Manny Pacquiao should be wary of Timothy Bradley.
Original quotes reported by Boxingscene.com.
"With Mayweather, this is a whole different beast he's fighting," Diaz claimed. "I doubt he's going to be able to do what he did with [Shane] Mosley and Margarito when he used his jab effectively. Because Floyd's too fast and I believe he's going to surprise Cotto and end up stopping him I think."
Though that may be the case, Diaz still believes that Mayweather (42-0, 26 KOs) will be in a competitive bout when he faces off against Cotto on Cinco de Mayo.
Nevertheless, he was also quick to make comparisons between Cotto's first and second outings against Antonio Margarito (38-8-1NC, 27 KOs), pointing out his shortcomings in their 2008 meet, where he lost via 11th-round stoppage.
In addition, Diaz shared his thoughts as to why Cotto (37-2, 30 KOs) was victorious in the pair's last match back in 2011, when he exacted revenge by way of TKO in Round 10. 
Prior to throwing leather in their initial contest, "Junito" had been riding a 32-fight win streak; however, his defeat was later attributed to Margarito's use of loaded gloves.
That information only came to light when the indigenous Mexican was caught red handed with the aforesaid illegal hand-wraps back in 2009—in his championship bout against Shane Mosley.
"Up until about the sixth or seventh round. Then I think Floyd Mayweather is going to put it on him. With Cotto's last fight, I thought he did great obviously, because that's what he had to do. He had to go out there and box. Because if he stood in there with [Antonio] Margarito, I can almost guarantee you it would have been the same outcome of the first fight," said Diaz.

A lot of people tend to say 'You know what? It shows Margarito was cheating because he didn't knock him out this time and he didn't have the wraps,' but I was like 'No, it doesn't show nothing like that''' Diaz stated. "Because Cotto didn't fight the same fight as the first fight. The first time Cotto tried to go blow for blow with Margarito and that's what got him in trouble. Margarito was starting to catch him and I believe Cotto was starting to die down. Had they let it go on a little further, who knows."
Pacquiao (54-3-2, 38 KOs) is scheduled to defend his WBO welterweight crown against the reigning WBO light welterweight champion and undefeated Timothy "Desert Storm" Bradley (28-2-1NC, 12 KOs) on June 9, at the MGM Grand, Las Vegas, Nevada.
For Bradley, the outing will not only be a step up in weight, but also in class—in the "Pac-Man," the Californian native will be up against an eight-division titlist as well as boxing's official No. 1 pound-for-pound pugilist.
And as a consequence, the Filipino congressman has been made the overwhelming favorite to successfully defend his title for a fourth time.
That said, Diaz believes Pacquiao should tread cautiously and not take Bradley for granted.
"I personally don't think it's a fight that Pacquiao should take lightly, Diaz continued. "Definitely go out there, because Bradley's a dangerous champion. Definitely be mindful of that. It isn't just going to be a walk in the park."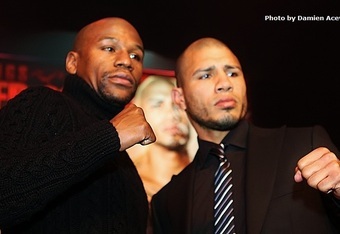 Pacquiao's last fight was against Juan Manuel Márquez (53-6-1, 39 KOs)—a trilogy bout which ended with the Sarangani lawman taking home a controversial win.
Nonetheless, some observers felt Pacquiao put in a lacklustre performance and were of the opinion that he was lucky to snatch the victory.
"I thought Marquez won by a round," stated a candid Diaz. "But I think what could have helped him out, to convincingly beat him, was that twelfth round. That twelfth round he shouldn't have let off. I understand he felt that he thought he won the fight. But that twelfth round, that championship round, that's the one you go and take it away. And if you see Pacquiao's reaction after the fight, after the bell rings, he was deflated."
For additional information, follow Nedu Obi on Twitter.