NCAA Tournament 2012: Lehigh Has Great Chance of Making Sweet 16
March 17, 2012
Mike Ehrmann/Getty Images
Why couldn't Lehigh make a run to the Sweet 16? Why couldn't the Mountain Hawks defeat a Xavier team that has been up-and-down this season? Why couldn't they defeat a team that tends to fall into a one-on-one style of game?
Lehigh defeating Xavier to move on to the Sweet 16 is a very high probability for a No. 15 seed. I'd give it a 40 percent chance of happening.
C.J. McCollum is a stud. He averages 21.9 points per game this year and dropped 30 points, six rebounds and six assists on No. 2 Duke.
With McCollum's scoring ability mixed in with a team that scores 76.2 points per game, there is no reason why the Mountain Hawks couldn't stay extremely competitive with the Musketeers.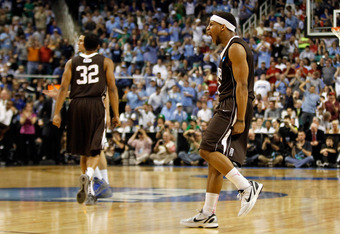 Streeter Lecka/Getty Images
Lehigh's role players are also capable of filling it up on the offensive end. They made 251 three-pointers as a team this season. Gabe Knutson and Mackey McKnight are capable of providing solid scoring production to help McCollum. 
Tu Holloway, Mark Lyons, Dezmine Wells and company are players who can go stretches without playing quality team basketball. Once they get complacent on the offensive end, it will open the door for McCollum and the Mountain Hawks to go on timely spurts that could put Xavier in a hole. 
The Musketeers are a dangerous team, one that I had going to the Elite Eight in my bracket, but they didn't make me feel confident Friday night in their victory over Notre Dame. The Fighting Irish had that game dead to rights but failed to hold on to a decent-sized lead in the second half.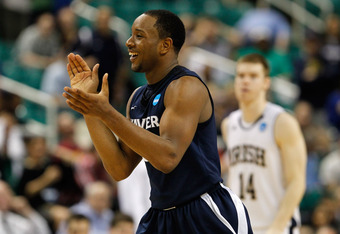 Streeter Lecka/Getty Images
Xavier is a team that you simply can't trust. This is a team that was in the top 10 earlier in the year before the brawl with Cincinnati. The Musketeers haven't been the same team since.
With Xavier being so inconsistent this season, we could see another no-show from the Musketeers on Sunday. 
You just never know. 
Lehigh has the correct pieces in place to pull off another upset and Xavier is a team that may not show up to play. Don't be shocked if you see the Mountain Hawks in the Sweet 16.