Philadelphia Phillies: 2012 National League East Predictions
March 18, 2012

The Phillies have won the NL East for five consecutive seasons.  In 2007, the comeback kids came out of nowhere to catch the New York Mets and went quietly into the night in a three-game defeat to the Colorado Rockies.  In 2008, they got hot in the second half, even hotter in the playoffs and won the World Series.  2009 can't be considered too much of a disappointment as they won the NL pennant but lost in six games to the NY Yankees. 
However, the finishes to the 2010 and 2011 seasons were heartbreaking, first, to the San Francisco Giants in the NLCS and last season to the Cardinals in the NLDS.  During this stretch, the Atlanta Braves were the only other NL team to make the playoffs, exiting quickly in 2010 to the Giants.
So how will the NL East play out this year?  The Phillies are probably still the favorite, but the gap is narrowing and fast.
1. PHILADELPHIA PHILLIES
Team MVP-  Hunter Pence
Team Cy Young- Cole Hamels
Biggest Surprise- Domonic Brown
Biggest Disappointment- Jim Thome
Best Case- The Phillies are healthy in October and make it back to the World Series enabling Roy Halladay and Cliff Lee to dominate in the postseason earning them their first rings.
Worst Case-  Injuries kill this aging team and the progression of World Series Champ (08) to World Series loser (09) to NLCS loser (10) to NLDS loser (11) leads to no playoffs (12)
Predicted Record- 94-68
2. FLORIDA MARLINS
Team MVP- Mike Stanton
Team Cy Young- Josh Johnson
Biggest Surprise- Carlos Zambrano
Biggest Disappointment- Mark Buehrle
Best Case- The Marlins take advantage of the injury riddled Phillies team and catch lightning in a bottle again like 1997 & 2003 when they won the World Series.
Worst Case- Ozzie Guillen, Jose Reyes, Hanley Ramirez and Carlos Zambrano bicker their way to a disappointing season, and the fans stop showing up at the new ballpark in July.
Predicted Record- 87-75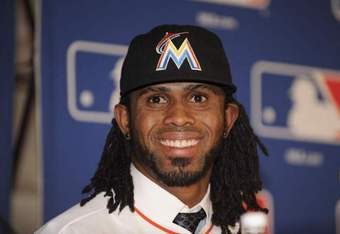 3. ATLANTA BRAVES
Team MVP- Freddie Freeman
Team Cy Young- Craig Kimbrel
Biggest Surprise- Jason Heyward
Biggest Disappointment- Chipper Jones
Best Case- The Braves young pitchers remain durable, and they get enough out of a suspect offense to make it to the postseason.
Worst Case- Kimbrel and Jonny Venters' innings from '11 catch up with them, starters Jair Jurrjens, Tommy Hanson and Tim Hudson can't stay healthy, and sub .500 record here we come.
Predicted Record- 86-76
4. WASHINGTON NATIONALS
Team MVP- Jayson Werth
Team Cy Young- Jordan Zimmerman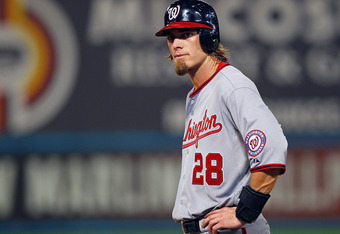 Mike Ehrmann/Getty Images
Biggest Surprise- Ian Desmond
Biggest Disappointment- Mike Morse
Best Case-  Bryce Harper gets called up early, sets the world on fire and makes a dynamic young tandem with Stephen Strasburg to make a run before many anticipated.
Worst Case- Ian Desmond, Danny Espinosa and Wilson Ramos take a step backwards, while Stephen Strasburg's arm acts up time and time again.
Predicted Record- 84-78
5. NEW YORK METS
Team MVP- Lucas Duda
Team Cy Young- Jonathon Niese
Biggest Surprise- Lucas Duda
Biggest Disappointment- Johan Santana
Best Case- With a significantly reduced payroll the Mets play with heart and passion, something lacking in the previous seasons with much more talent.
Worst Case- The expected happens.  Too many question marks are answered negatively and the fan base starts yelling "J-E-T-S Jets Jets!" in June.
Predicted Record-  69-93