NFL Free Agents Rumors: Should the Pittsburgh Steelers Sign Mike Tolbert?
March 17, 2012

Mike Ehrmann/Getty Images
Are the Pittsburgh Steelers on the verge of adding another running back to their backfield? According to Kevin Acee of the San Diego Union-Tribune, San Diego Chargers running back Mike Tolbert may be on his way to Pittsburgh.
Acee reported via Twitter that Tolbert is expected to sign with the Steelers or Carolina Panthers. Acee added that he believes that Pittsburgh is the leader.
Earlier this week, Tolbert told Sirius XM NFL Radio that he felt he would be a good fit for the Steelers and would be interested in playing for them. Apparently, the Steelers have some interest as well.
Will DePaoli of the Insider on Pittsburgh Sports reported that offensive coordinator Todd Haley raved about Tolbert.
Tolbert is the type of free agent that the Steelers typically go after in free agency. He is not in high demand and should come at a fair price. More importantly, he is a great fit for the Steelers' offense.
Pittsburgh will likely be without starting running back Rashard Mendenhall for the start of the season as he continues to recover from an ACL injury.
Isaac Redman will enter the season as the starter, but he has never had to carry the load as the go-to running back. Behind Redman are a number of talented, but inexperienced running backs, and a player such as Tolbert could stabilize the position.
Tolbert may not have the skill set to be a top running back; however, he fits very nicely in a two-back system.
At only 5'9", Tolbert is tough to bring down with a low center of gravity. What he lacks in height, he makes up for in bulk, weighing 243 pounds. Though he is a power back, which the Steelers have plenty of right now, he also offers versatility.
Tolbert was the Chargers' short-yardage back the last couple of seasons and put up solid numbers last year with 490 yards on 121 carries and eight touchdowns. In 2010, he put up 735 yards on 182 carries and an impressive 11 touchdowns.
Beyond running the ball, Tolbert has developed into a fine receiver, catching 54 passes for 433 yards and two touchdowns. He is also an excellent blocker and could fill the void left by Mewelde Moore as the Steelers' third-down back.
Tolbert has been a successful special-teams player as well. He was one of the key members of the Chargers' coverage units, as he led the team with 12 special-teams tackles last season.
There is no downside to the Steelers making a run at Tolbert other than that he is a role player and lacks game-breaking speed, so he cannot be a change-of-pace back. But a proven veteran like Tolbert is all they need right now with the stable of backs they currently have on the roster.
The only thing that could hold the Steelers back from signing Tolbert is the potential cost. He made $1.835 million last season and will likely command more this year.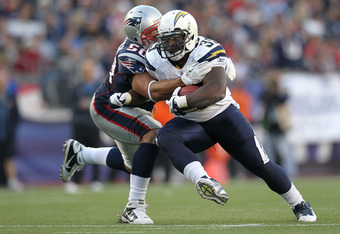 Jim Rogash/Getty Images
Pittsburgh may be able to negotiate him down, though, as this year's market has not favored running backs with the money instead going to receivers.
Tolbert and the Steelers would be a great match and if given the opportunity to bring him in at their price, it would be a wise move for Pittsburgh. If they can't sign him, they still have plenty of depth.
It is certainly a move worth exploring, but he will not be a make-or-break player for the team.
Follow me on Twitter @ChrisG_FC