NFL Free-Agent Signings: Recapping the First Week of Free Agency
March 17, 2012
Sam Greenwood/Getty Images
The first week of free agency in the NFL has come to a close and all of the initial signings are in the books. There were plenty of notable movements from teams across the league.
Even though the Peyton Manning saga will continue on into next week at the very least, it was revealed via Twitter Manning intends to announce his decision next Monday or Tuesday. (Getting to a Favre-level of attention seeking at this stage Peyton, aren't we?)
There are still plenty of star players who have found new homes.
Let's take a look:
(I decided to go with the immaculate Jeremy Mincey as the headline photograph. What a beautiful man!)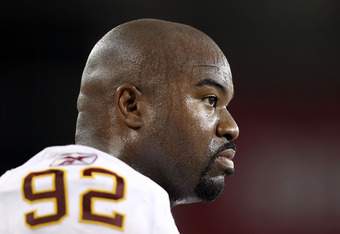 Christian Petersen/Getty Images
The Big Spender Club
Looking to turn the corner
Despite deals for Donovan McNabb and Albert Haynesworth in the past few offseasons that came back to haunt the Washington Redskins and owner Daniel Snyder, the team wasn't scared to make aggressive moves again this year.
While Robert Griffin III isn't technically a part of free agency, you could hardly ignore the impact the team's trade for him had on their actions this past week. The Redskins set about putting more weapons around Griffin—opposed to that career-destroying cannon attached to Rex Grossman's shoulder.
Pierre Garcon, in a move surely made by Snyder to be the big bust of the year in order to save RGIII's career, signed a huge contract to become the team's new number one receiver (via Pro Football Talk). Past that, Josh Morgan arrived from the San Francisco 49ers, you know that haven of receiving talent, while Eddie Royal eventually realized that his plane had been misdirected to Washington after he tried to make it to San Diego.
Of course, simply because it's the Redskins, Brandon Meriweather made perfect sense. Come to think of it, how did nobody see that one coming? 
Forcing the issue
The only way the Glazers would ever invest in their team is if the NFL forced them to, and fortunately for everyone else, the new CBA did. The Buccaneers had a crazy amount of cap space available and quickly jumped on a few top range free agents.
Vincent Jackson was delighted to sign on in Tampa Bay—not because of the $55,555,555,555,555,555,555 million contract, but because he figured, that since nobody turns up to games anyway, he'd be able to skip out on court a few more times (via Pro Football Talk). Carl Nicks followed Jackson to Tampa in a deal which makes him the highest paid guard in the league (via Pro Football Talk), pity he's losing twice as much in bounty money.
With Aqib Talib still a—let's say enigmatic—figure and Ronde Barber's legs beginning to disintegrate with age, Eric Wright was brought in from the Detroit Lions to another huge deal (via Pro Football Talk).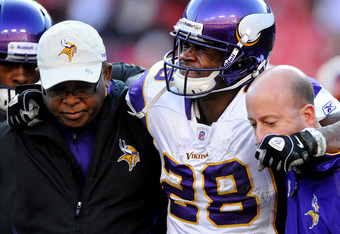 Patrick Smith/Getty Images
The Adrian Peterson Should Have had Insurance Club
Clearly not learning from the Minnesota Vikings last year were the Detroit Lions who guaranteed Calvin Johnson $60 million in his new deal (via Yahoo). With his $130 million contract, Johnson became richer than 99 percent of the people in Detroit...combined.
After shutting down the airport and trapping Mario Williams in Buffalo for a few days, the Bills finally tagged the defensive end with a $100 million contract (via ESPN). Yet still, Shawne Merrimen remains the most priceless defensive end in Buffalo—sorry, I meant worthless.
Cortland Finnegan got a $50 million contract from the St. Louis Rams (via Pro Football Talk). Apparently Rams' general manager Les Snead opened the press conference by proclaiming "He had me at Andre Johnson" (via Yahoo). Now if only Snead could bring in Rod Tidwell and he'd be beloved in St. Louis.
Despite the fear of being stereotyped, the Dallas Cowboys raided the Kansas City Chiefs this offseason by stealing their best quarterback, Kyle Orton, and then giving cornerback Brandon Carr a monster deal (via Pro Football Talk).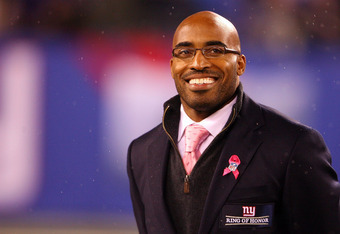 Andrew Burton/Getty Images
The Many Happy Returns Club
Randy Moss failed to follow in the steps of Tiki Barber with his Ustream show, so he had to settle for an NFL contract with the San Francisco 49ers (via Bloomberg). Hold your head high Tiki! We're pretty sure Moss thought Jim Harbaugh was actually the quarterback in San Francisco though as he carried out the workout.

The Cardinals didn't want to pay Levi Brown $17 million this season. I'm just shocked it took until now for him to be released, so obviously they released him. In what was an outstanding deal for the Cardinals, they re-signed their starting left tackle to a long-term deal shortly after.
Sarcasm comes through in text right?
Marques Colston returned to the Saints before he even hit free agency (via ESPN). We aren't sure why because he cost himself leverage in negotiations by doing that. He just muttered something about Jonathan Vilma visiting his kids in the press conference...
The Atlanta Falcons re-signed John Abraham for a much cheaper deal than Abraham initially was looking for on the open market (via AOL). I guess he figured no other defensive end in the league would make him look as good as Ray Edwards would. You know that theory about the average looking girl who has all ugly friends for good reason?
Think about that reason.
Terrell Thomas was re-signed to the New York Giants after tearing his ACL prior to last season (via Washington Post). ACLs aren't funny. I did mine. It was sore. He missed a Super Bowl, too. That's harsh.
Brandon Marshall returned to Jay Cutler's side when the two were reunited in Chicago with the Bears (via ESPN). The Bears obviously were desperate for a receiver,  and saw Marshall as the perfect fit to replace the departed Sam Hurd.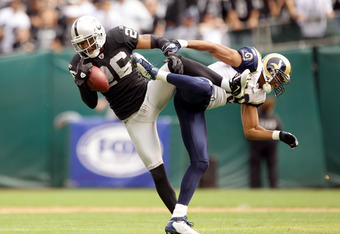 Ezra Shaw/Getty Images
The Laurent Robinson Club
Jared Gaither signed with the San Diego Chargers after impressing protecting Philip Rivers' blindside at the end of last season (via Pro Football Talk). I wonder if there are any clauses in his contract regarding false start penalties.
Jeremy Mincey re-signed with the Jacksonville Jaguars. Mincey is obviously a household name, so it would be pointless for me to tell you his position or anything obvious like that.
The Cowboys brought in Dan Connor in a very astute addition (via Pro Football Talk). Seriously, is it just me or is Jerry Jones actually making good moves for Rob Ryan's team?

Peyton Hillis is happy to have escaped the Madden curse, so he decided to sign in Kansas City where they have no injury issues (via Pro Football Talk). 
Jarrett Johnson said he would have had to get sick on his jersey if he signed with the Steelers. Instead he chose to go to the Chargers, where he and Nick Novak are expected to be the best of buddies.
(You'll notice Laurent Robinson wasn't in the Laurent Robinson club this year. Instead, he's now the No. 1 receiver in Jacksonville as he was uncomfortable actually being recognized as a relevant receiver in Dallas.)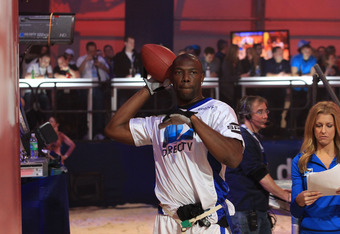 Christopher Polk/Getty Images
The Time to Work Out in your Driveway Club
Kamerion Wimbley has been with the Browns and Raiders during his NFL career, so whoever signs him is at least guaranteed that his worst years are behind him.
Brandon Lloyd is hoping for the New England Patriots to sign him; Bill Belichick is going to wait until he lands on someone else's practice squad first.
Eric Winston is disproving logic by being the best player in the NFL at his position, getting cut by a team who wasn't the Raiders or Redskins, then not actually receiving a huge deal from anyone instantly. Is ineptitude infectious in the NFL? Or do some teams simply have to take on the mantle now that Al Davis is gone?
LaRon Landry is taking his membership of this club a little too seriously.
Braylon Edwards received a contract offer from the Cleveland Browns...but he dropped it.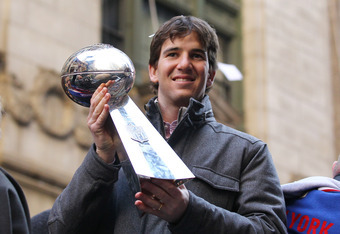 Al Bello/Getty Images
THE BRAIN TRUST
The New England Patriots, Pittsburgh Steelers, New York Giants and Green Bay Packers have all done very little this offseason. Anyone figure out why? 
You can follow me on twitter @Cianaf I tweet worse than Curtis Painter passes (Where's my place now?)