NCAA Tournament 2012: Which Cinderella No. 15 Seed Has Best Chance of Advancing?
March 16, 2012

Doug Pensinger/Getty Images
In one fell (OK, two fell) swoops, March reminded the world why it's just so mad after all. 
After one of the more uneventful first days in tournament history, in which just two lower-seeded teams advanced, the Madness returned with a vengeance on Friday, courtesy of a pair of historic victories. 
First, 15-seeded Norfolk State played giant-killer to two-seeded Missouri, matching the Tigers' prolific offense shot for shot, en route to a stunning 86-84 win over one of the tournament's top title contenders. But the Madness wasn't done with its surprises yet. 
Next, it was 15-seeded Lehigh who would play David, riding a spectacular showing from superstar scorer C.J. McCollum en route to a stunning 75-70 win over perennial Goliath and two-seeded Duke.
Just like that, lightning has officially struck twice in this year's Madness, putting fans across the country firmly in uncharted territory. Never before have two No. 15 seeds advanced beyond the Round of 64 in the Madness, and the last time one team with a seed that low advanced was 11 years ago, when Hampton stunned the Iowa State Cyclones. 
But, will either of this year's most surprising Cinderellas advance beyond the first weekend to play in the tournament's second weekend—hallowed ground for all but the most determined Cinderellas?
Let's take a look at the tale of the tape: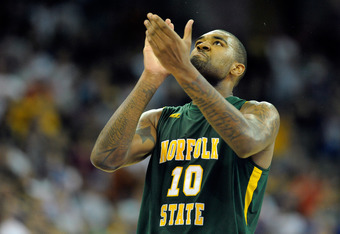 Eric Francis/Getty Images
Norfolk State
The Spartans were as unlikely a Cinderella as you'll find outside of the 16 seeds, and few would have pegged the small MEAC school for such historic things as this. But don't think for a second that this means these giant killers are done yet. 
Few teams in the Madness have a power in the post like Norfolk, courtesy of senior center Kyle O'Quinn. The 6'10" big man dropped 26 points and pulled down 14 rebounds against the Tigers of Mizzou, and he's capable of doing that any time he wants. With his combination of size, strength, range,and agility, he's a bona fide star and one capable of hanging with any team in March. 
But, there are other scoring options on the Spartans roster. Guards Pendarvis Williams and Chris McEachin each average double figures, and as we saw against the Tigers, when this veteran team gets hot, they're incredibly tough to stop. On top of that, no one in the starting five is shorter than 6'6", giving them an edge over smaller teams on both ends of the floor. 
That being said, they're not perfect by any stretch. They're streaky at best offensively, particularly from the outside—a fact which will surely come back to haunt them the deeper into March they get. If they get into another shootout, things could get ugly. 
On top of that, they're facing a team in seventh-seeded Florida whose strengths lie on the outside. Led by guards Kenny Boynton, Erving Walker and Bradley Beal, the Gators have five starters averaging 10 points or more—all of whom are capable of hitting threes with regularity. If Norfolk struggles to close down the perimeter like they did against Mizzou, it could come back to haunt them. 
Upset Potential: 7.5/10
The Spartans have the ability to win this game, as Florida struggles on the interior, and the Spartans have the length to close them down beyond the arc. If O'Quinn takes over again, Norfolk could find themselves in the Sweet 16, but expect another high-scoring affair.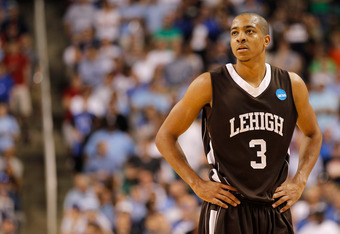 Mike Ehrmann/Getty Images
Lehigh:
Another team who few saw as a legitimate upset contender, the Mountain Hawks stunned the nation by knocking off the Blue Devils in the Round of 64. Much like their counterparts in Norfolk, Lehigh's hopes tend to rest on the very capable shoulders of guard C.J. McCollum.
The 6'3"junior averages 21.3 points and 6.5 rebounds per game and dropped 30 points on Duke in their Round of 64 clash. If he's clicking, the rest of this offense is a well-oiled machine.
Led by big men Gabe Knutsen and Holden Grenier, the Mountain Hawks love to get into the paint and create chances and average 70 points per game. That skill inside the three-point line is what makes this team such a tough out, coupled with their skill shooting free throws. 
But the Mountain Hawks' issues present themselves when you get to the other end of the floor or force them to beat you from the outside. Even McCollum struggles to knock down threes, and the rest of Lehigh's squad struggles from deep as well. On top of that, they're not exactly the stingiest defense in the Madness, aiming to outscore you rather than slow your own offensive efforts. 
That could be a problem in the second round, as both Notre Dame and Xavier play a guard-oriented style of play and can put up points in bunches (the Irish in particular, with their three-point obsession will prove difficult).
Nonetheless, as we saw against Duke, the Mountain Hawks will ride McCollum as far as he can carry them, and if their second-round opponent isn't careful, it could see them become the victims of another upset. 
Upset Potential: 7/10
Lehigh puts up points like few No. 15 seeds we've seen, which is going to make them a tough out. But their lack of defensive fortitude means they likely won't blow anyone out, which could be a recipe for tournament disaster.
In the end, both of these teams are capable of scoring the upset, although Lehigh's draw should prove a bit easier to deal with. Don't be surprised if either of these teams wind up playing in the rarefied air of the Sweet 16 next weekend.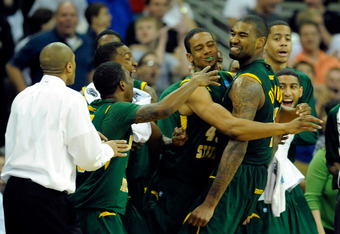 Eric Francis/Getty Images
The Verdict: Norfolk State
Norfolk State matches up quite well with a Florida team that is light on toughness and can be slowed if their outside shots aren't falling. The Spartans have the size and skill to beat the Gators, particularly since I see no one who can slow O'Quinn.
That being said, Lehigh doesn't exactly have an insurmountable matchup, either, as both Xavier and Notre Dame are streaky shooting teams that could struggle to keep up with the Mountain Hawks if their shots aren't falling. 
In other words, don't be surprised to see both of these improbable Cinderellas playing next weekend, but if you must pick one, make it the Spartans.