NFL Free Agency: Does the Mario Williams Signing Make Buffalo a Contender?
March 17, 2012

Bob Levey/Getty Images
Mario Williams' decision to sign with the Buffalo Bills is the biggest signing in free agency thus far, but does it make the Bills instant contenders?
Yes it does.
Prior to their bye week, the Buffalo Bills were a solid 4-2 and were a team playing as well as any in the league. They had a solid balance between run and pass on offense and their defense was creating turnovers.
However, after the bye week, the Bills started to slump.
Ryan Fitzpatrick couldn't continue the magic he produced before he signed a lucrative contract, Fred Jackson was on the way to a career year before breaking a bone in his lower leg and the defense seemed to stop getting after the quarterback.
I have a feeling that we're going to see the Bills of the first half of the season more often than not in 2012.
Mario Williams is a physical freak of nature, and standing at 6'6", 295 pounds with rare speed, Williams will help cure what ailed the Bills' defense in 2012.
The former No. 1 overall pick has recorded 54 sacks in his six-year career, including 14 in 2007, which was good for third in the NFL.
Playing in the AFC East, it was crucial that the Bills found a way to put Tom Brady on the ground and not let him have all day to throw the ball.
Buffalo ranked 27th overall in the NFL with only 29 sacks all of last season. Williams had five in only five games before getting injured and missing the remainder of the season.
Mention the fact that they'll be adding Williams to a defensive front that already has Kyle Williams and Marcel Dareus, and the Bills may have the best defensive line in the NFL now.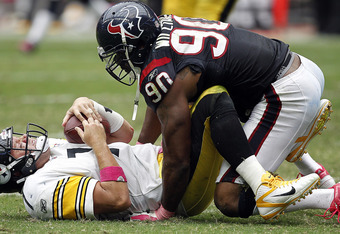 Bob Levey/Getty Images
Ryan Fitzpatrick will continue to grow as a starting quarterback in the NFL and because Fred Jackson will be back 100 percent healthy, the Bills' offense will be able to effectively move the ball up the field.
And not to mention, the Bills possess the No. 10 pick in the upcoming NFL draft, which they could use to draft a weapon for Ryan Fitzpatrick on offense or add another defensive pass-rusher to play opposite of Mario Williams. 
Buffalo hasn't had an elite pass-rusher since the likes of Bruce Smith and despite the $100 million price tag, signing Mario Williams was a must for the team.
The Bills have a high ceiling now and I'm fully confident that he'll help lead the Buffalo Bills to a playoff berth and make them a force in the AFC East as early as 2012.