Purdue Basketball: Boilermakers Defeat Saint Mary's Under Huge Game by Johnson
March 17, 2012

Doug Pensinger/Getty Images
Terone Johnson did it again for the Purdue Boilermakers. The sophomore guard led Purdue to the win against St. Mary's Gaels 72-69 on Friday to advance to the NCAA tournament's round of 32. 
In a game where Robbie Hummel was keyed and held defensively, Johnson and Lewis Jackson were able to step up and led this team to victory. 
Johnson was 10-of-14 from the field, scoring 23 points, passing for five assists and grabbing four boards. He made some bad decisions down the stretch, but that will be forgotten thanks winning the game. 
Although Terone Johnson dominated the stat line, the real hero for Purdue in this one had to be Lewis Jackson. 
Jackson was overshadowed coming into this game by Matthew Dellavedova of Saint Mary's. It was almost like Jackson took offense to all the chatter about the Aussie and took business into his own hands. 
Although only 5-of-13 from the field, Jackson was able to play great defense and open up the three ball with his great driving to the hoop. Lewis ended up with 16 points and three rebounds. 
Although Purdue is advancing, it was definitely not easy.
At one point in the second half, Purdue was up 12 with a little over six minutes to play in the game. The Gaels then went on a 18-5 point run to take the lead with 30 seconds left to play. Terone Johnson then traveled at a point when many thought it was over.
If it were not for an inbounding turnover by Clint Steindl, Purdue would have likely been done, but they were able to just make free throws from there.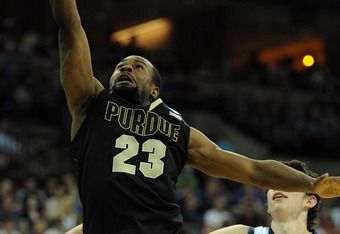 Eric Francis/Getty Images
Purdue really got bailed out by Steindl, but a win is a win, and being able to keep a great player like Dellavedova in check is a great accomplishment. He finished the game shooting just 3-10 from the field for 12 points, eight assists and five rebounds. 
Either way, Purdue advances, which is a sigh of relief to many Purdue fans. 
In a game where Purdue was not shooting well from beyond the arc, they were still able to get a victory, something that should be very promising for the Purdue nation. 
With Purdue generally off and then on in the shooting realm, Purdue fans should expect a big game out of Purdue on Sunday. 
Purdue will play the winner of the Detroit vs. Kansas game on Sunday in Nebraska.