Fantasy Baseball Draft Strategy 2012: 10 Bold Predictions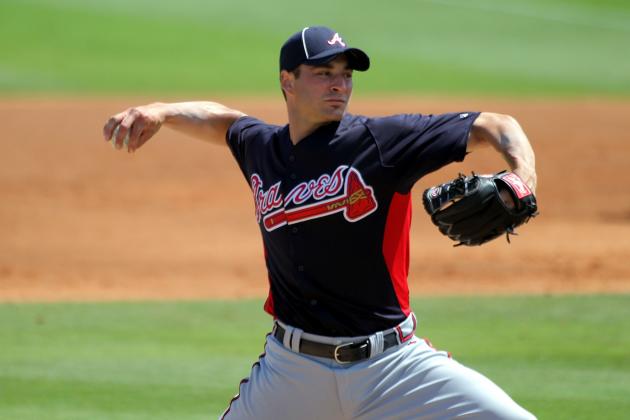 Marc Serota/Getty Images
Beachy will be a top-20 SP in 2012.
As the MLB regular season inches closer, it's time to make some bold predictions.
Every season there are surprises that most of us didn't see coming.
For example, who would have thought Jose Bautista would blast 54 home runs in 2010 after hitting 59 homers in his first 1,946 MLB at-bats?
So, I'm going to open my mind and try to make some crazy, yet still plausible, predictions for the 2012 season.
Begin Slideshow

»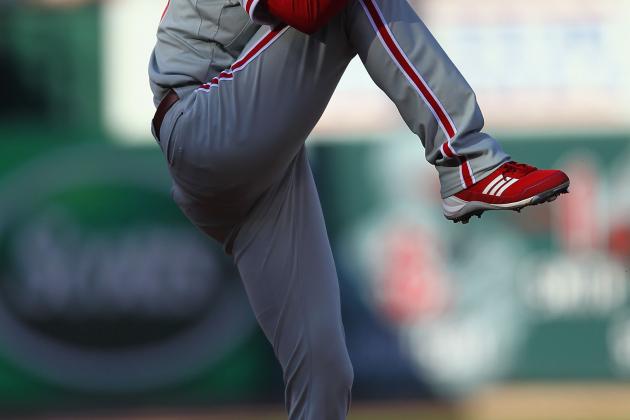 Dilip Vishwanat/Getty Images
Hamels has regained form and could be the ace for the Phils.
Annually, Cole Hamels gets fewer wins than teammates Roy Halladay and Cliff Lee, but it's not because he's a worse pitcher. It's because his run support has always been low, especially the last two years.
Look at these run support stats:
2010 — Hamels' run support: 3.6 (lowest on team). Phillies starters' average: 4.8. League average: 4.3.
2011 — Hamels' run support: 3.9 (lowest on team). Phillies starters' average: 4.4. League average: 4.2.
Hamels has just as good of stuff as Lee and Halladay. He would be in Cy Young contention if he could get some more run support.
This is the year the offense picks it up for Hamels. He'll out-pitch his teammates and become Phillies' ace.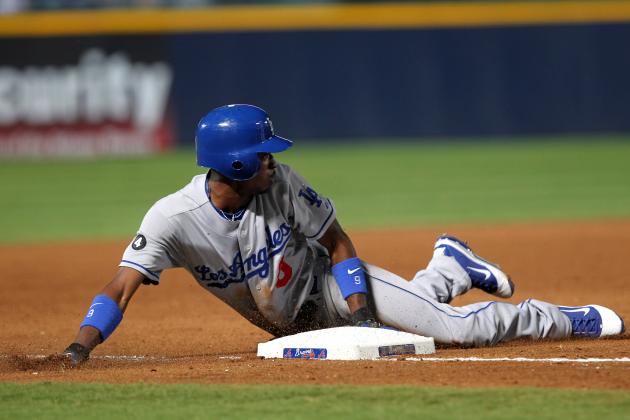 Joe Murphy/Getty Images
Gordon is scary fast.
I make this prediction with the assumption that Jose Reyes stays healthy the entire year. (I know that's not likely, but if they both play about the same number of games, I still expect this to be true).
Dee Gordon has a set of wheels. He ran the 60-yard dash in 6.35 seconds and his home-to-first time was 3.53 seconds.
While everybody knows about the speed, many don't realize he can actually hit. He hit .304 in 56 games for the Dodgers last year and was at .333 in 70 games in Triple-A before getting called up.
Reyes won the National League batting title a year ago, but expect that average to fall about 40 points. Reyes' BABIP was .353 last year, and he's consistently been around .300 for his entire career.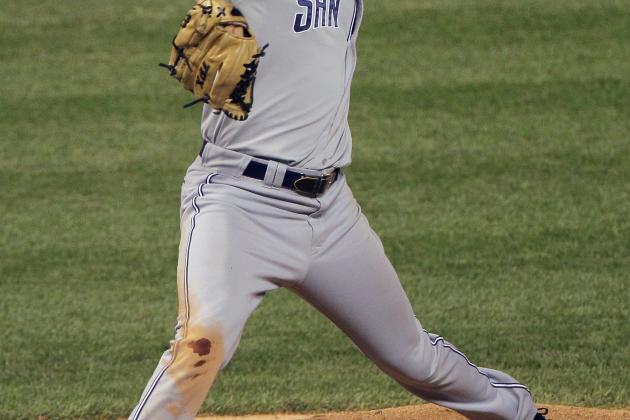 Doug Pensinger/Getty Images
Luebke is being very overlooked so far.
Cory Luebke is one of the fantasy draft's most undervalued pitchers. Just because he plays for San Diego doesn't mean he isn't good.
Throw out Luebke's 6-10 record from 2011. The Padres were awful, finishing 71-91, tied for fifth-worst in MLB. But even with a losing record, Luebke owned a 3.29 ERA, 2.93 FIP and a 9.92 K/9 ratio.
And it's not like it was a fluke either. His xFIP was 3.02, just 0.09 off his actual FIP.
While Luebke went under the radar, James Shields garnered a lot of attention. He went 16-12 with a 2.82 ERA and had 225 strikeouts in 249.1 innings.
But Shields was rather lucky. His xFIP was 3.25 and his actual FIP was 3.42. Additionally, Shields' BABIP was .258 last season, but it's never been lower than .282 in his six-year MLB career.
Shields' numbers will come back to earth, and Luebke will end up with better stats. The only exception could be wins, since the Padres aren't good and the Rays are solid.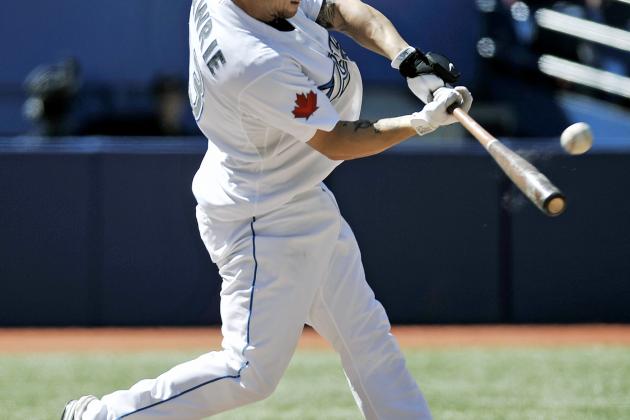 Brad White/Getty Images
Speed and power is very rare at the corner positions.
Since 1990, there have been only two third basemen to reach the 30/30 plateau: David Wright in 2007 and Howard Johnson in 1991.
Brett Lawrie could join them in 2012.
That combination of speed and power is extremely rare at the corner infield positions. That makes Lawrie even more valuable. In 43 games last year, Lawrie hit nine home runs and had seven stolen bases.
Lawrie averaged a home run in every 19 plate appearances. So if you give him 600 plate appearances in 2012, he's on pace for 31 long balls.
He also had one steal for every six games played. If you give him 150 games, he'd be projected to have 25 stolen bases.
I think he reaches 30 steals because his plate discipline will get better. His BB percentage actually improved once he was promoted last year.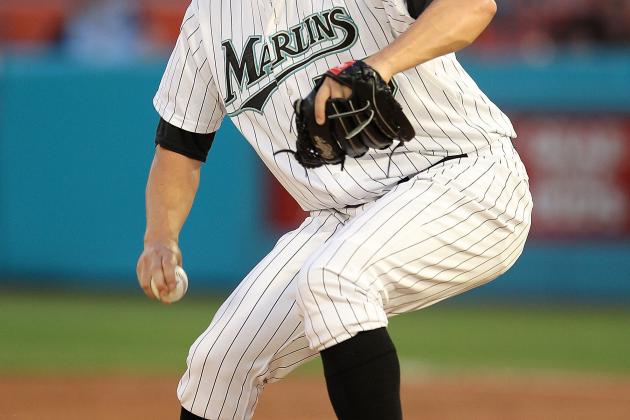 Mike Ehrmann/Getty Images
JJ's shoulder looks like it's holding up pretty well.
Bold prediction: Josh Johnson makes 10 starts in 2012.
Just kidding.
I think Johnson comes back strong in 2012. After only making nine starts last year, Johnson is off to a good start in spring training.
Johnson hasn't reported any problems in three appearances and his fastball has topped out at 95 mph—both great signs after having shoulder surgery.
Right now the safe bet is for Johnson to toss 160 innings, but I think he throws more than that. It's not like history is on my side, but I just have a feeling.
The Marlins have a new stadium, a new look, and they'll get a new Josh Johnson.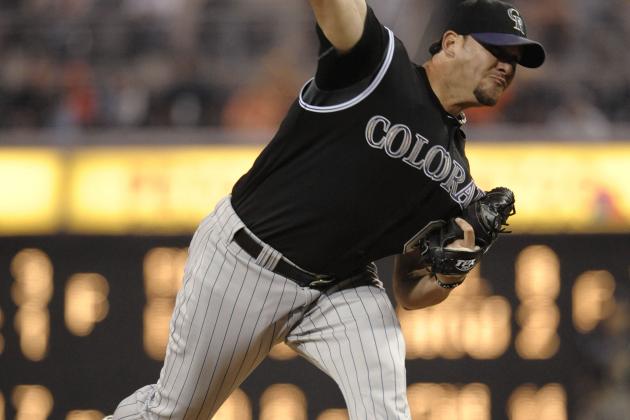 Denis Poroy/Getty Images
Betancourt was the game's best closer down the stretch in '11.
Rafael Betancourt was lights out and arguably the best closer in the second half of last season.
Coming down the stretch, the 36-year-old veteran converted eight-of-nine save opportunities while posting a 0.33 ERA and a 13.00 K/9 rate. Oh yeah, Betancourt also held opponents to a .080 batting average.
Drew Storen was no slouch either in 2011. He notched 43 saves with a 2.75 ERA.
But while Storen is getting more attention on draft day this year (Storen's ADP is 79 compared to Betancourt's 198), remember this stat: Betancourt's FIP was 2.53 and Storen's was 3.32 last year.
Plus, Betancourt will rack up more strikeouts. Betancourt has posted back-to-back, double-digit K/9 rates while Storen has yet to record a K/9 higher than nine.
Don't overpay for Storen on draft day—Betancourt will be available and he'll put up better numbers.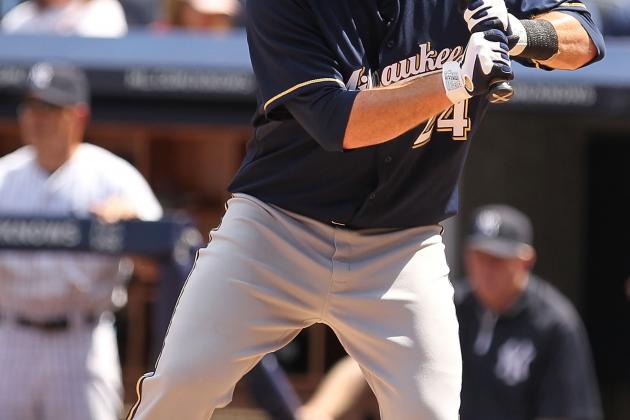 Al Bello/Getty Images
Sleeper beware: Gamel could have a breakout season.
Freddie Freeman seems to be one of the darlings in 2012 drafts, so I'm going to take a different approach.
Freeman will suffer a sophomore slump.
Freeman's BABIP was .339 in 2011, and there's no way I see him repeating that this season. So, if the BABIP falls, the batting average, which was at .282 last year, will follow it.
Freeman's HR/FB was 14.0 percent last year. Again, I don't think he can duplicate a number like that. Freeman hit 21 home runs last year, so he could easily hit fewer than 20 in 2012.
It's make-or-break time for Mat Gamel. He has raked every year in Triple-A, but he has struggled in each stint with the Brewers.
Gamel has tremendous power. He belted 28 homers and drove in 96 runs in Triple-A in 2011. I think this is the year Gamel breaks out.
Gamel will hit 20-plus home runs with an average around .275.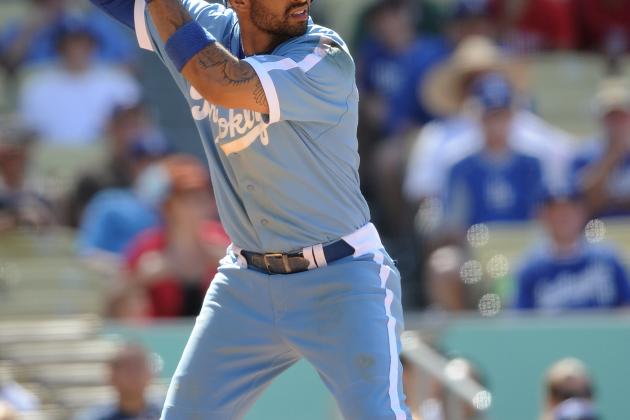 Harry How/Getty Images
Kemp was good in '11, but expect a regression.
Matt Kemp said he wants to be MLB's first 50/50 player. Maybe he should get to 40/40 before making a statement like that.
Kemp hit a career-high 39 home runs in 2011—he never hit more than 28 in his entire career.
Now, take a look at his HR/FB rate. Last season, Kemp was at 21.4 percent. Again, this number is way above his career average. In his first five MLB seasons, Kemp was just below 15 percent.
The power numbers are going to come down, leaving Kemp just short of 30 homers.
On the other hand, the stolen bases for Kemp are also going to be very close.
Kemp has had 30-plus steals in three of the last four seasons (including 40 last year). His OBP was the highest since becoming a full-time starter, so that should come down as well. The fewer times Kemp is on base, the fewer times he has a chance to steal.
Ultimately, I think Kemp will finish with a 28/29 season.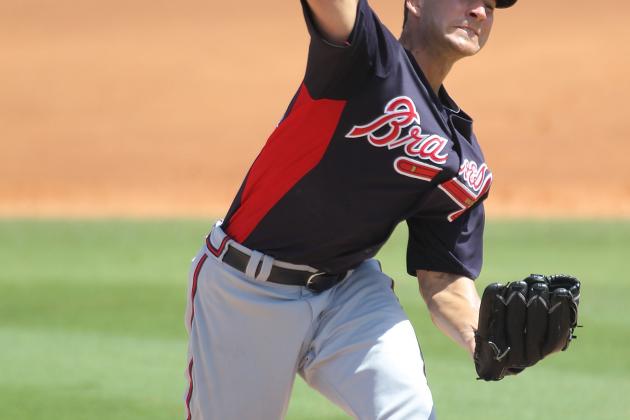 Marc Serota/Getty Images
Beachy is being passed up in favor of Romero in drafts so far.
In 2011, Brandon Beachy came out of nowhere and had a very impressive rookie season.
He was only able to pick up seven wins in 25 starts, but Beachy had 169 strikeouts in 141.2 innings. While his ERA was 3.68, Beachy's 3.19 FIP suggests that he pitched better than that.
Ricky Romero had a career year last season. The 27-year-old lefty went 15-11 with a 2.92 ERA and had 178 strikeouts in 225 innings.
Romero had a great season, but there was a lot of luck involved.
First off, Romero's BABIP was .242. It was at .289 in '10 and .333 in '09. That number will not be that low again in 2012. This means his LOB percentage will decrease and his ERA will increase.
Secondly, Romero's FIP was 4.20, which proves that his 2.92 ERA was incredibly lucky. It's never a good sign if the difference is that large between the two stats. He's in for a much higher ERA in '12.
Beachy's ADP is 114 and Romero's is 86, but it should be the other way around.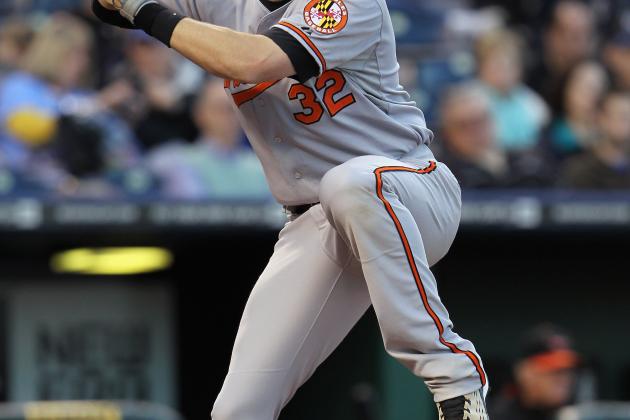 Jamie Squire/Getty Images
Wieters came around in '11, but will he stay there?
Matt Wieters broke out last season, hitting 22 home runs, being named an All-Star and earning a Gold Glove. But, while the former fifth-overall pick enjoyed his best power season in 2011, he's in for a worse year in 2012.
Wieters' HR/FB rate jumped up to 13.6 percent, after being at 8.4 and 8.0 his first two seasons. Because of this rate, Wieters doubled his home run total from 2010, but still had the same fly ball percentage.
Also, according to ESPN's Home Run Tracker, Wieters had eight "just enough" home runs and two "lucky" homers. This means of the 22 he hit in '11, nearly half of them barely got out.
After showing off the power in 2011, Wieters will take a step back in 2012.