Big Boy Ballers: The 20 Most Talented Overweight Athletes in History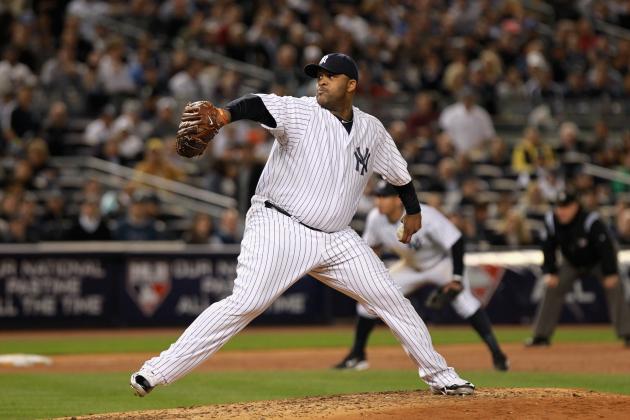 Nick Laham/Getty Images

As many MLB scouts have said: "He'll be lucky if he hits his weight!"
There are many oddities in sports. Everyday there are athletes who are told they are too small, not fast enough, can't jump—or in this case, are too fat.
Here are the 20 greatest overweight athletes in the history of sports.
Begin Slideshow

»
Eric "Butterbean" Esch made it mainstream when he was included in the making of one of MTV's Jackass films.
Butterbean was just 5'11'', yet weighed-in at 420 pounds.
He currently holds the California state record for a knockout, at 18 seconds (including the 10 count).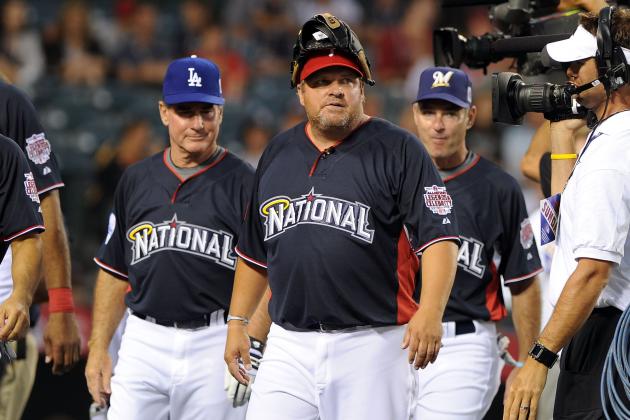 Michael Buckner/Getty Images

The Hall of Fame baseball player and current ESPN analyst John Kruk posted a .300 career batting average over 10 seasons.
The big man had a notorious at bat against The Big Unit, Randy Johnson, in which Johnson threw at Kruk's head and then sat him down, embarrassingly.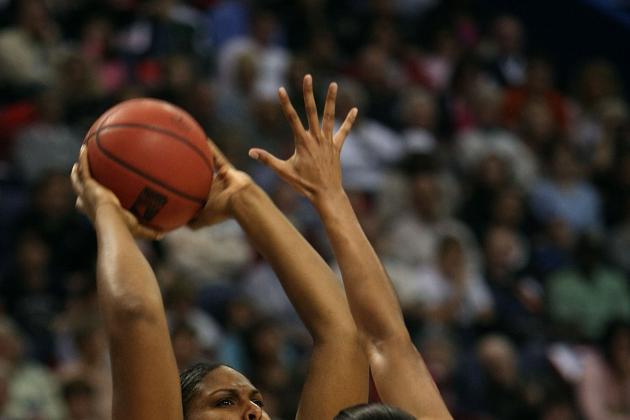 Elsa/Getty Images

Coming in hot at 6'4'', 250 pounds is Atlanta Dream center Courtney Paris.
Paris was a standout at the University of Oklahoma, starting 99 of 100 games, and winning back-to-back Big 12 Player of the Year honors.
In her freshman year in 2005-06, Paris became the first player in NCAA history to collect 700 points, 500 rebounds and 100 blocks in one season.
Pure dominance.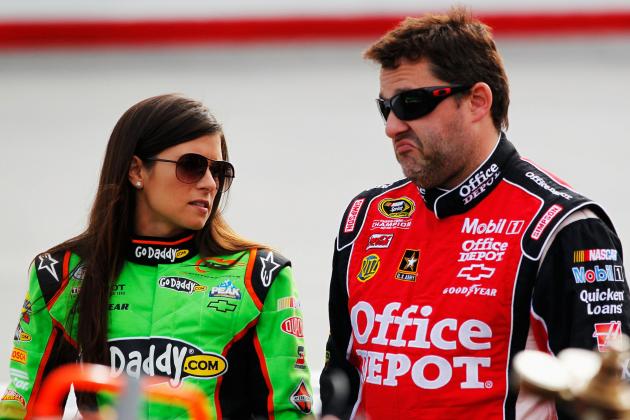 Geoff Burke/Getty Images

Stewart raced for the majority of his career overweight. However, he has since tried to slim down and get healthier.
Since 1999, Tony has finished in the Top 10 in Sprint Cup points standings 12 of 13 seasons.
His "Business Portfolio" is sure to bring in more revenue to one of the circuit's fan favorites.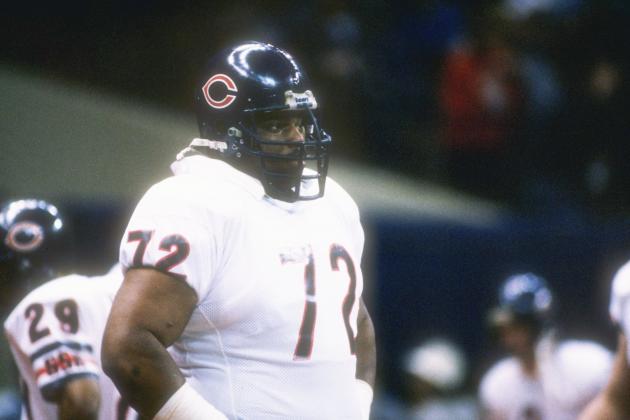 Mike Powell/Getty Images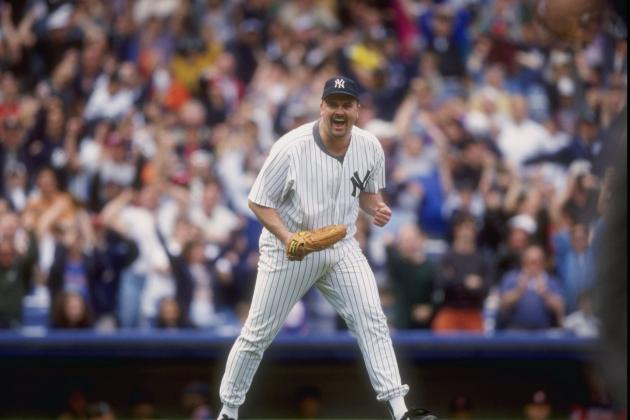 David Seelig/Getty Images

David Wells had a great career in the MLB, playing for nine different teams over a 20-year stretch.
Most famously, while pitching for the New York Yankees, he hurled a no-hitter (just one of 20 in MLB history) allegedly "half-drunk."
James "Lights Out" Toney was a pure beast in the ring, and more famously, near a microphone.
Toney carried out a great confidence and cockiness over his career.
Most recently, he fights in MMA around the 240-pound size—but he'll forever be remembered for his heavyweight bouts in boxing.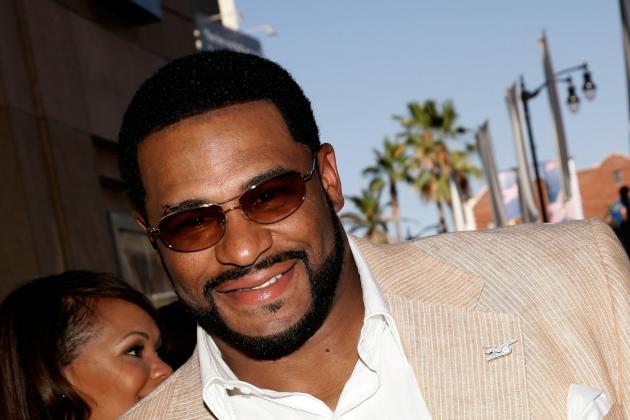 Vince Bucci/Getty Images

The Bus played at a short 5'11'', yet still packed 255 pounds of pure beast.
Bettis played a 13-year NFL career after his time on the gridiron in South Bend, Indiana, totaling over 13,600 yards and 91 touchdowns.
Only one question remains: Does he belong in the Hall?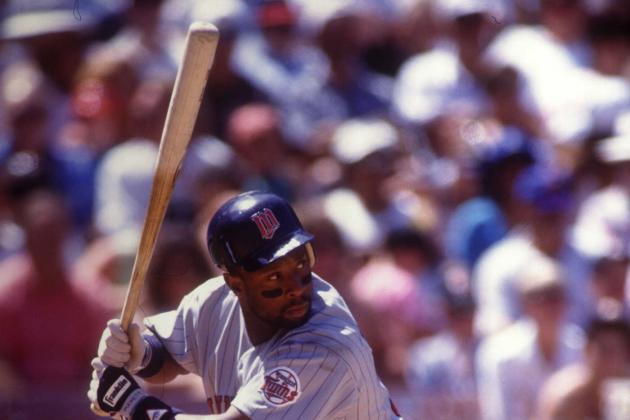 Stephen Dunn/Getty Images

Puckett went down as one of the greatest Minnesota Twins of all time, having recently passed away at age 45 from a massive stroke.
Kirby had over 2,300 hits during his 12-year career in Minnesota, with a lifetime .318 batting average—none bigger than forcing a Game 7 in the 1991 World Series. It was his third RBI of the night, capping off the 11th inning in a wild Game 6.
He came into the MLB at a modest 5'8'' and 178 pounds—a number soon to increase to an estimated 300 pounds before his untimely death.
Kirby was one of the greatest all around people in the game's history. To this day I haven't met one person who didn't enjoy being in Kirby's presence.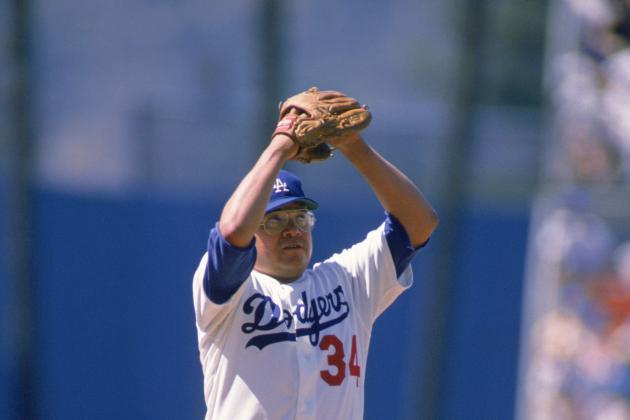 Scott Halleran/Getty Images

ESPN Films created Fernando Nation, a brilliant documentary chronicling the life of Fernando Valenzuela—and exposing the truth behind Dodger Stadium and the take over of the Chavez Ravine community.
Valenzuela grew up poor in Etchohuaquila, Mexico, with one bed for he and his five brothers.
Valenzuela started his career pitching in two games during the tail end of the 1980 season, pitching 17 and two-thirds scoreless innings, followed by a complete game to open the 1981 season in Los Angeles, when "Fernando Fever" was born.
During that same season in 1981, he had a streak of 35 and two-thirds consecutive scoreless innings—a footnote to his 8-0 record-tying start as a starting pitcher, with five shutouts and 0.50 ERA.
His unusual wind-up included taking his eyes off of the plate and looking up to "the heavens."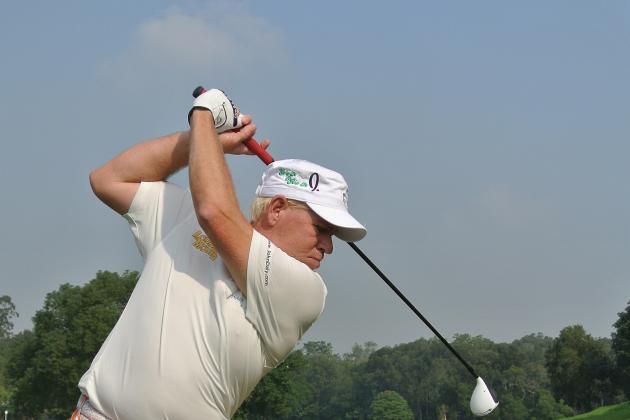 Stuart Franklin/Getty Images

Father of the "Grip it 'n Rip It" style of the game, John Daly has two major championships under his especially large size belt—winner of the 1995 British Open and 1991 PGA Championship.
Author of his book, "All of My Exes Wear Rolexes," his coach at the University of Alabama convinced Daly to start smoking, where he lost 65 pounds due to tobacco and its affect effect on human appetite.
More recently, Daly underwent lap-band surgery—a procedure in which the amount of food he can eat is limited. Since, Daly lost over 90 pounds.
Daly also struggled with alcoholism, once boasting that he drank a fifth (750 ml) of Jack Daniels every day while he was 23 years old. He spent years in and out of rehab, even at the famous Betty Ford Clinic—three times.
Daly has not won a PGA Tour event since 2004. However, he has certainly left his affect on the great game of golf.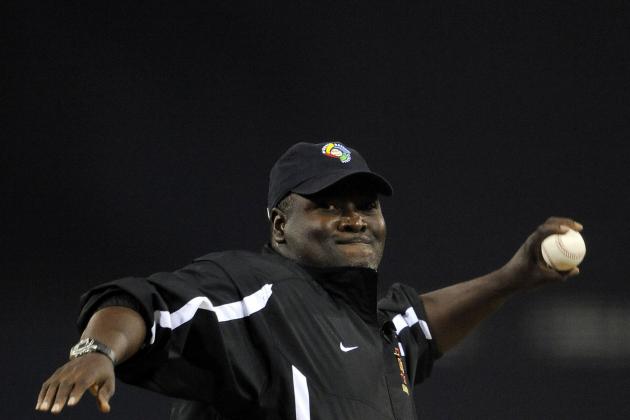 Kevork Djansezian/Getty Images

Tony Gwynn's playing weight of 195 has since increased, and after a surgery to remove a malignant tumor, his health in in serious question.
However, "Mr. Padre" had a Hall of Fame career as a San Diego Padres right fielder, becoming the 26th player to join the 3,000 hit club.
Gwynn is now the head coach at his alma mater, San Diego State University.
Long live No. 19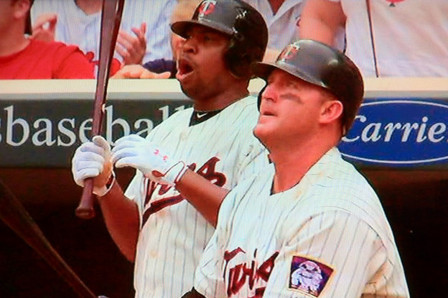 Big Dog has played for five different teams in the MLB, launching over 600 home runs in the process.
Thome's playing weight ballparks at about 250 pounds, with his big 6'3'' frame.
His career has been a bit overshadowed, though, considering his competition during the 21-year stretch is pretty remarkable.
He has played in both the American and National leagues during the reigns of Ken Griffey Jr., Sammy Sosa, Mark McGwire, Barry Bonds, Rafael Palmiero, Albert Pujols, Alex Rodriguez, and even Frank Thomas.
Thome has only led the league in home runs one time (2003), yet has finished in the top 10 nine times.
He has had an impressive 21-year career so far, and let's hope the Baseball Writers of America make the right choice and induct him into the Hall of Fame.
George Foreman was a name first recognized for his 1968 Olympic Gold Medal in Mexico City, but now is more widely known for his cooking invention.
During his boxing reign, "The Heywood Giant" posted an 81-5 record, with 68 wins by KO.
Foreman first weighed 210 pounds and fought up to 270 pounds, standing tall at 6'4''.
Marty B has been the most dominant goaltender in the recent history of the NHL, despite the scrutiny that he was overweight for the majority of his career.
What's great about the NHL compared to other professional sports leagues is the loyalty players have to their franchises. More than any of the other major professional leagues, hockey players stick with one franchise for the entirety of their careers—Martin Brodeur being a perfect example.
He is one of only five players to be on all three of the New Jersey Devils' Stanley Cup squads.
Along with his three Stanley Cup rings, Brodeur has won the Veniza Trophy four times as the league's top goaltender.
He is currently in his 19th season with the Devils at 39 years old, rolling into the playoffs on yet another great run towards another Stanley Cup.
Whenever the big man retires, his coveted No. 30 will surely hang from the rafters in the Prudential Center in Newark, New Jersey.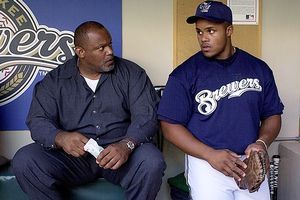 Like father, like son.
Cecil Fielder and son Prince Fielder are both very big men. Cecil played at 6'3'' and 230 pounds, while Prince currently plays at 5'11'' and 275 pounds.
Cecil played in an era where hitting 50-plus home runs in a season was unheard of. Now we're busy with the post-steroid era, where every power hitter is questioned for performance-enhancing drugs.
Prince recently signed a ridiculous $214 million deal with his father's former club, the Detroit Tigers—a move that "shocked" Cecil and the surrounding Detroit fans, as it has been very clear that the two rarely keep in touch.
What's even more hilarious is how Prince is a vegetarian, made public following the death of a bird due to one of Prince's rocket line drives in a game against the Florida Marlins. Prince refused to eat the bird after repeatedly hearing that there is a certain "fraternity" tradition among professional baseball players that in the case they kill a bird, they must eat it for dinner.
It is believed that Ty Cobb was the father of this tradition after he killed a homeless man with a bat, and ate his arm as a pre-game meal during the intermission of a double header.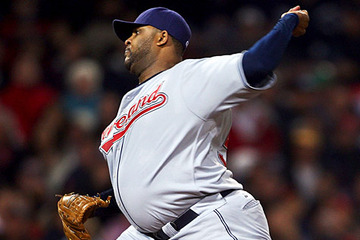 Owner of the fourth largest contract in baseball history—and largest for any starting pitcher—C.C. Sabathia continues to surface among CY Young voting year after year despite his 290-pound body.
C.C. averages just over 19 wins per season over his three-year stretch in the Bronx, with one Cy Young award in 2003 during his time with the Cleveland Indians.
He will continue to dominate this season, as assumed, and defy all sports training practices that "create" strong starting pitchers.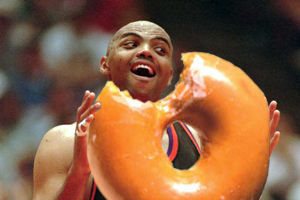 Nicknamed "Sir-Cumference" for his obvious size, Barkley was still just a pure beast on the floor.
He was the leading scorer on the famed "Dream Team" during the 1992 Olympic games, scoring more per game than Jordan, Bird, Magic and Ewing.
Aside from his on-court greatness, Sir Charles makes a name for himself in countless commercials, combining his star status with his humorous nature. Some of the best include the doughnut commercial with Dwight, Weight Watchers, and more recently a cloud computing ad with CDW.
Barkley once raced a 67-year-old referee during All-Star Weekend in 2007.
Charles is now a full-time analyst for the CBS network, letting his outlandish style and opinion hit national airwaves.
Long live "The Round Mound of Rebound."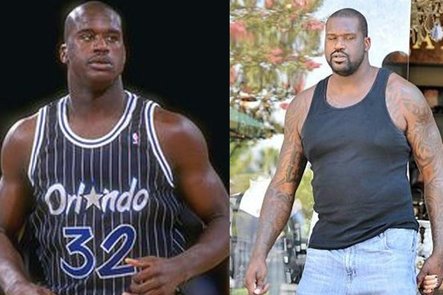 Shaq Diesel: 7'1'', 325 pounds.
The first overall pick in the 1992 NBA draft out of LSU, Shaq quickly made a name for himself in the NBA—and liked it that way. I don't think anyone loves Shaq more than himself.
With an impressive NBA resume, including one league MVP award, three All-Star game MVP's, and three NBA Finals MVP's, Shaq was a dominant force at center throughout his 19-year pro career.
Even if you don't follow sports, chances are you've heard of Shaquille O'Neal—seeing how it's reported that Shaq has a net worth of around $250 million.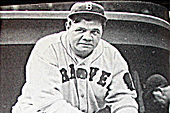 The Great Bambino was one of the biggest baseball players of his era. Babe was the king during the pre-integration era (no foreign or black players in the league—rarely noted), and to this day is one of the greatest baseball players in MLB history.
There are far too many urban legends about Babe during his playing career, whether it's when he offered a fan an autograph baseball in exchange for a strawberry daiquiri, or that he missed seven weeks of spring training because he stopped at the train station to engulf 12 hot dogs and eight bottles of soda.
He certainly put the "eat" in greatest player ever.
One thing you may not have known: Babe was bitter with the Yankees for not naming him the team's manager once he retired. The only coaching job he landed was first base coach for the Brooklyn Dodgers in 1938.