Atlanta Falcons Re-Sign John Abraham: Deal Analysis, Grade and Twitter Reaction
March 16, 2012

Kevin C. Cox/Getty Images
The Atlanta Falcons have successfully fought off attempts from both the Tennessee Titans and Denver Broncos to retain free-agent defensive end John Abraham. 
According to ESPN's Adam Schefter, the Falcons agreed to re-sign Abraham on a three-year deal that will likely be the pass-rusher's last bite into the free-agent apple.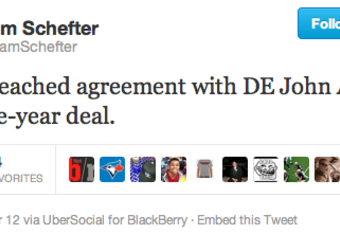 Arguably the top defensive end available after Mario Williams signed his mega deal in Buffalo, Abraham received interest on the market from both the Titans and Broncos but eventually settled on staying in Atlanta, where Abraham has played the last six seasons.
Even at age 33, Abraham is one of the more productive pass-rushers in the NFL.
According to Pro Football Focus, only Trent Cole of the Philadelphia Eagles and Terrell Suggs of the Baltimore Ravens had better seasons in 2011 at 4-3 defensive end.
In addition to 9.5 sacks, Abraham tallied eight quarterback hits and 37 pressures on just over 600 defensive snaps. Only Suggs and Carlos Dunlap had a higher pressure rate per snap than Abraham last season.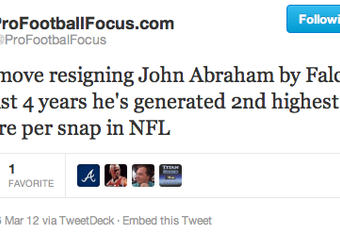 Since PFF started grading every game in 2008, Abraham has ranked in the top-8 for 4-3 defensive ends every year, including a No. 1 overall finish in '08. His highest ever sack total came in '08 when he tallied 16.5.
It's been a productive marriage between the two sides since 2006. 
Abraham arrived in Atlanta in '06 via trade after six seasons with the New York Jets. Since signing with the Falcons, Abraham has registered 58.5 sacks and 19 forced fumbles. 
Losing a player with that kind of production—even at age 33 and on a pitch count defensively—would have been a major blow to the Falcons' defense.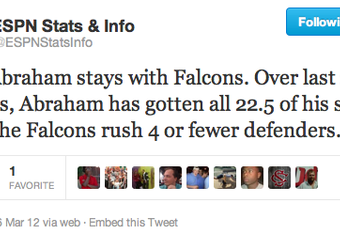 The final numbers haven't been released yet, but Abraham was thought to want a yearly salary of over $12 million. Whether or not the Falcons gave him that kind of money remains to be seen. 
Either way, the Falcons couldn't afford to lose a pass-rusher of Abraham's quality. Unless the price tag was completely outrageous, Atlanta made a smart move here.
Grade: A-