NCAA Tournament 2012 Results: Updated Scores and Predictions for Day 4
March 16, 2012

Ed Zurga/Getty Images
Things are underway on Day 4 of the NCAA Tournament 2012, and a pair of fan-favorite upset picks have quickly gone in the opposite direction.
There will be 16 games today, three of which are currently underway at the writing of this, and the matchups promise to be better than yesterday's chalky performances.
Only two lower-seeded teams found a way to get it done yesterday, and hopefully today brings more excitement.
Current Scores
(11) Texas 54 vs. (6) Cincinnati 58—East Region
The Longhorns were a popular pick in this one, but came out of the gate completely flat and scored only 17 in the first half.
The Bearcats have no problem grinding out games, but they didn't truly take advantage of the Longhorn's inept offense enough to say they have this game in the bag.
Texas is starting to heat up from outside and Cincinnati needs to keep working for better shots.
J'Covan Brown has taken over and the Longhorns are back in it with less than six minutes to play.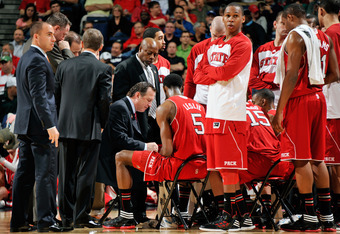 Jamie Sabau/Getty Images
(11) N.C. State 57 vs. (6) San Diego State 52—MidWest Region
This game will be close throughout. The Wolfpack were playing great basketball coming into this tournament and San Diego State's best player Jamaal Franklin is a bit hobbled.
N.C. State has the potential to pull away if they can lockdown the perimeter, because the Aztecs are struggling to score elsewhere.
(9) Alabama vs. (8) Creighton—MidWest Region
This game just tipped off a few minutes ago. Alabama has to hope they're smothering defense will turn into easy points, or Creighton will shoot them out of the job sooner or later.
Predictions
(10) Purdue vs. (7) St. Mary's—MidWest Region (7:27 p.m. EST)
This will be a battle and come down to which group of shooters rise up in crunch time. Don't sleep on the Boilermakers.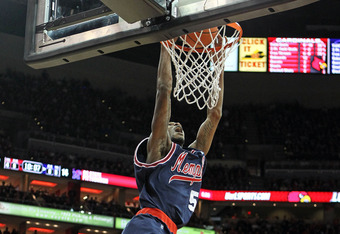 Andy Lyons/Getty Images
(9) St. Louis vs. (8) Memphis—West Region (6:50 p.m. EST)
The Tigers have some great athleticism, but St. Louis can flat out play basketball. This will be one of the best games of the day. Memphis will ultimately be too much.
(12) USF vs. (5) Temple—MidWest Region (9:50 p.m. EST)
We've already seen one 12 seed take down a five seed, and this is one of the more heavily-anticipated games of the night.
USF fought their way into the tourney and it wouldn't be surprising if they keep fighting on.