Fantasy Baseball Rankings 2012: Albert Pujols and Veterans on the Decline
March 16, 2012

Kevork Djansezian/Getty Images
Before you stock up your 2012 fantasy baseball team with the usual suspects you may want to see which veterans are on the decline despite productive past seasons.
Let's take a look at the top three veterans at every offensive position who's fantasy production will drop in 2012.
Catcher
Rod Barajas
Rod Barajas will have his opportunity to shine with the Pittsburgh Pirates as the primary catcher in 2012 but the 13-year veteran hasn't had a big season since 2005 when he hit 21 home runs and 60 RBIs. 
Miguel Olivo
Miguel Olivo may be the starting catcher for the Seattle Mariners at the start of the season but the acquisition of top prospect Jesus Montero this winter doesn't solidify his employment all season long. Olivo will get his opportunities to produce early but Montero will be close behind working his way into the starting role.

A.J. Pierzynski
Chicago White Sox catcher A.J. Pierzynski had some big fantasy weeks last season for owners including a season-high of 27 points but the weeks in between were quite dull. The 14-year veteran will be playing for a new manager next season and changes to his playing time could be in store.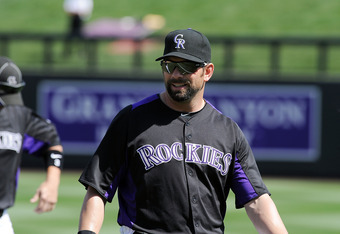 Norm Hall/Getty Images
First Baseman
Todd Helton
At 38 years old, Todd Helton enters his 15th season with the Colorado Rockies and while he posted some pretty productive weeks last season he did suffer a back injury in September that really killed his numbers toward the end of 2011. A nagging back problem could easily limit his power numbers in 2012 and make him an average hitter on your fantasy team. 
Adam Dunn
The power-hitting Adam Dunn had a rocky 2011 with the Chicago White Sox producing less than average numbers for his standards and 2012 should be no different. His 11 home runs last season was such a drastic decrease from his 38 home runs in 2010. Last season could have been a first-year fluke with a new team but the 11-year veteran could be reaching his peak.

Albert Pujols
I wouldn't go so far as to tell you not to pick up Albert Pujols in the first round but don't expect monster numbers out of him in a Los Angeles Angels uniform. American League pitching on a regular basis is something new to Pujols and until he proves he won't be phased by it then a decline in his numbers is bound to happen in 2012.
Second Baseman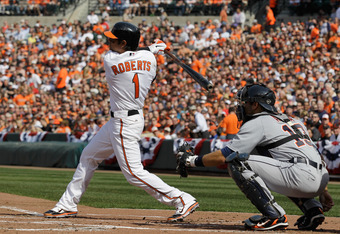 Rob Carr/Getty Images
Brian Roberts
Baltimore Orioles second baseman Brian Roberts is still recovering from a concussion and hasn't participated much in spring training which makes him a big question mark going into 2012. Roberts had some big weeks at the start of last season but his injury was severe enough to ruin a good chunk of 2011 for him. You have to wonder if it will affect his career from here on out.
Freddy Sanchez
Freddy Sanchez is another second baseman who missed out in 2011 with injuries. Sanchez is attempting to be ready for the San Francisco Giants on opening day but he's been labeled an injury prone player by many experts and taking him could be a big risk despite his good average at the plate.
Orlando Hudson
Orlando Hudson didn't wow the San Diego Padres with his bat last season but the O-Dog can still get on base and do damage on the basepaths. Hudson had 19 stolen bases and a .329 on base percentage. Unfortunately, that's about all he can give you as a fantasy player.

Shortstop
Rafael Furcal
2011 World Series Champion Rafael Furcal was lucky to move from a pretender to a contender last season but the St. Louis Cardinals should have thought twice about re-signing the aging shortstop. Furcal hasn't been able to stay healthy for very long in a season and we could see more of the same from him next season.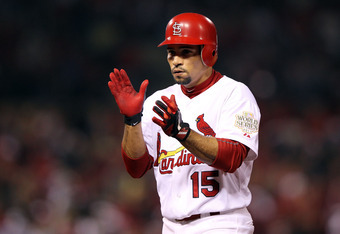 Jamie Squire/Getty Images
Alex Gonzales
Newly acquired shortstop Alex Gonzales wants to help the Milwaukee Brewers recover from their loss of Prince Fielder but the 35-year-old is infamous for unpredictable fantasy numbers every season. Gonzales can give you 23 home runs and 79 RBIs one season and then give you five home runs and 45 RBIs the very next one.
Derek Jeter
Is this the year the New York Yankees captain finally hits the wall in fantasy production? It's hard to believe that Derek Jeter has been playing baseball for 17 seasons and all that wear and tear is bound to catch up with him sometime. 
Third Baseman
Chipper Jones
Atlanta Braves third baseman Chipper Jones is turning 40 this year and his body may not be capable of making it a full season in 2012. Jones had some good weeks last season despite his age but injuries have bothered him in spring training already and there's doubt as to whether he can be productive much longer.
Placido Polanco
For a third baseman, Placido Polanco doesn't have a lot of power and the Philadelphia Phillies don't think he can't stay healthy next season so he isn't a really attractive player to draft to begin with. Polanco does get a lot of hits though and some owners like his value there but the 14-year veteran needs to be able to stay on the field if you want production out of him.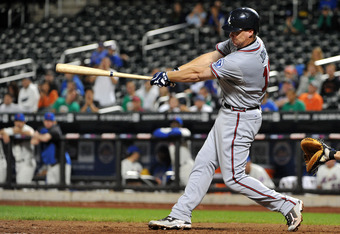 Christopher Pasatieri/Getty Images
Outfielders
Bobby Abreu
The versatile Los Angeles Angels outfielder may get the boot this season now that Albert Pujols is in town and young talent has emerged from the farm system. Abreu has good numbers for a veteran outfielder with good power, average and stolen bases but if the Angels sit him until they decide his future then he's practically worthless.

Raul Ibanez
The New York Yankees will use Raul Ibanez sparingly on a regular basis this season but a designated hitter role could likely be in his future. Ibanez had some monster fantasy weeks last season but the 39-year-old doesn't hit for a very high average anymore. Power is his strength and as a designated hitter, every at bat will need to be worth it.
Alfonso Soriano
The Chicago Cubs will bat Alfonso Soriano in the three-hole this season and do their best to keep him healthy with rest days. Soriano still has power in his bat but the average isn't there anymore and his base stealing numbers are long gone.