Champions League Draw: Predicting the Quarterfinals and Semifinals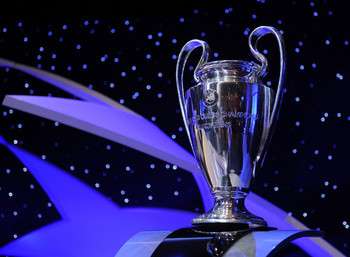 The draw is in. Here's who's gonna win.
UEFA conducted the Champions League quarterfinal draw Friday morning in Nyon, Switzerland. Each of the eight teams left in the competition now know exactly what they have to do.
Newcomers APOEL Nicosia of Cyprus will play nine-time champions Real Madrid. Marseille, who won the competition in 1993, will play four-time winners Bayern Munich.
After Wednesday's thrilling comeback against Napoli, Chelsea drew Benfica of Portugal. And favorites Barcelona drew AC Milan in what will be the most anticipated tie of the round.
The quarterfinals will be held March 27-28 and April 3-4, with the semifinals following on April 17-18 and 24-25. The final is set for May 19 in Munich.
Got it? Good. Now here's who will be there.
Quarterfinal 1: Real Madrid over APOEL Nicosia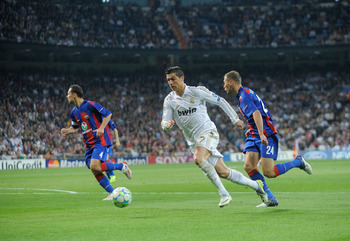 Denis Doyle/Getty Images
First Leg: APOEL v Real Madrid, March 27
Second Leg: Real Madrid v APOEL, April 4
This one is too easy. APOEL's story has been heart-warming, really. They're a little ol' team from Cyprus, and they've defied the odds by getting this far.
Cinderella's night at the ball ends in Madrid on April 4. Mark it down.
Cristiano Ronaldo is in form. Jose Mourinho is in charge. Real Madrid have all the ingredients.
This won't even be a contest. Think Barcelona embarrassed Bayer Leverkusen? Prepare for a repeat.
Quarterfinal 2: Bayern Munich over Marseille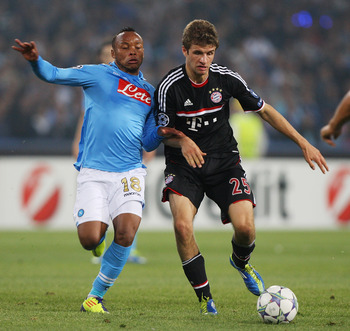 Paolo Bruno/Getty Images
First Leg: Marseille v Bayern, March 28
Second Leg: Bayern v Marseille, April 3
This one's pretty easy to call, too. In a normal season, Marseille's two-legged victory over Inter Milan in the Round of 16 would look pretty impressive. But this is no normal year, and Inter Milan's crisis deepens by the day.
Marseille scored in second-half stoppage time in both legs against Inter. That may well happen against Bayern, too, but by that time Marseille could be losing by a goal or three.
Bayern's potent offense is purring, thanks to in-form attackers like Mario Gomez and Arjen Robben. They'll have more than enough to beat Marseille.
Quarterfinal 3: Chelsea over Benfica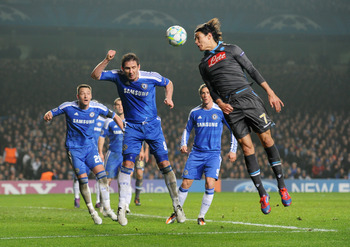 Michael Regan/Getty Images
First Leg: Benfica v Chelsea, March 27
Second Leg: Chelsea v Benfica, April 4
This tie could go either way. Both teams have glaring vulnerabilities, and both mounted second-leg comebacks in the last round.
The same could happen again in the quarters. Look for Benfica to take a tight win over Chelsea in the first leg before the Blues—inspired, again, by their old guard—turn around the deficit with a thrilling second leg at Stamford Bridge.
Quarterfinal 4: Barcelona over AC Milan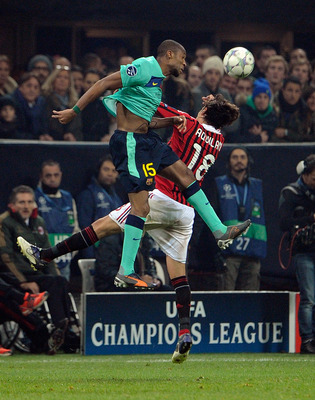 Claudio Villa/Getty Images
First Leg: AC Milan v Barcelona, March 28
Second Leg: Barcelona v AC Milan, April 3
Clearly the tie of the round, the Milan-Barca winner could well be the favorite to win it all.
If prior results are any guide, Barcelona will win a tightly contested tie. The teams drew 2-2 on Matchday 1 in Group H before Barca won 3-2 at the San Siro.
Milan won't fear Barcelona, but the Spanish giants are in great form following a 10-2 aggregate demolition of Bayer Leverkusen in the Round of 16.
With the lethal Zlatan Ibrahimovic in their ranks, the Italians will have the firepower to keep up with Barca, but their defense looked suspect in their recent 3-0 loss at Arsenal.
Above all, though, there's Lionel Messi. Unquestionably the best player on the planet, Messi could again be the difference for Barcelona in the quarterfinals and beyond.
Until someone proves otherwise, it's unwise to bet against Messi. Back Barca to win.
Semifinal 1: Real Madrid over Bayern Munich
Denis Doyle/Getty Images
First Leg: April 17
Second Leg: April 25
Real will be fighting for another crack at Barcelona. Bayern will be fighting to play the final in the own backyard.
It should be epic, but Real Madrid will win—and here's why.
Bayern's offense is good enough to keep up with Cristiano Ronaldo and Real Madrid, but their defense is a weakness. Ever the shrewd tactician, Real manager Jose Mourinho will find a way to exploit that.
For their part, Real's one major weakness this season has been Barcelona. Bayern will provide a stiff test, but Real will pass it.
What, you didn't think Real would miss out on a chance to play Barca again, did you?
Semifinal 2: Barcelona over Chelsea
Denis Doyle/Getty Images
First Leg: April 18
Second Leg: April 24
Whoever wins the Barca-Milan quarterfinal should have no trouble in the semis. Chelsea's midseason renaissance under Roberto Di Matteo won't be enough to slow either team down.
That'll be especially true if the opponent is indeed Barcelona. The Spaniards' fabled possession game will wear out Chelsea's weary legs, and Lionel Messi should have no problem picking apart the Blues' defense.
Chelsea's best chance will be to come up with a strong performance in the first leg at home. But even a solid two-goal victory would be vulnerable at the Camp Nou.
Barcelona will advance and face Real Madrid in an El Clasico final.
Keep Reading