Oklahoma Football: 2013 Recruiting Targets Still Available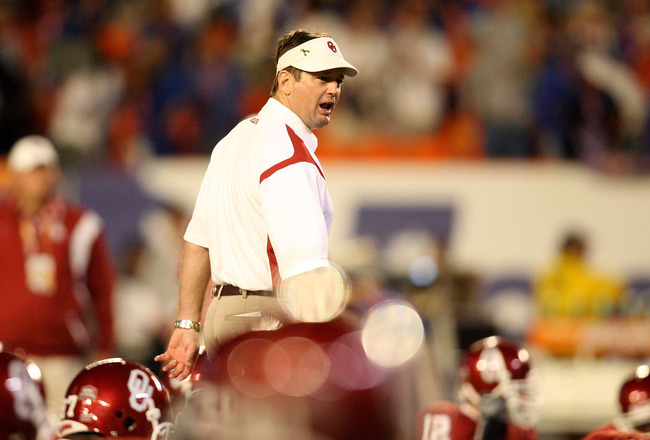 Doug Benc/Getty Images
After a slow start issuing offers to the class of 2013 recruits, Oklahoma has began honing in on the top prospects and issuing out quite a few offers.
While a number of the top prospects have already given verbal commits to the colleges of their choosing, there are still lots and lots of recruits out there who haven't made their minds up yet that the Sooners want.
Mike Stoops and Tim Kish have already hit the recruiting trail and are influencing some of the top recruits. Time will tell if their recruiting tactics prove to pan out over the next year as they really begin to dig in.
The list of top recruits still available is an ever revolving door and could easily have changed by the time you read this article. I am going to do my best to break down some of the top recruits available that the Sooners have issued offer letters to.
These recruits are listed in no particular order and are based off of a number of different rankings for the class of 2013. If a recruit on this list commits to a school in the near future then I will do my best to update their slide with that commitment.
Max Browne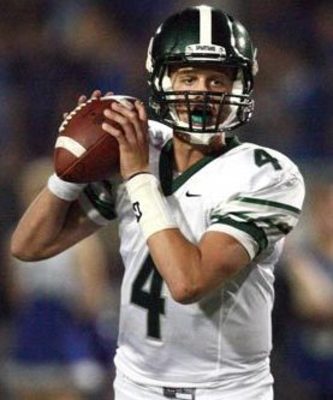 Position: Quarterback
School: Skyline High School (Sammamish, WA)
Height: 6'5"
Weight: 205 lbs.
Max Browne is unquestionably one of the top available recruits on Oklahoma's radar.
The Sooners are quite picky when it comes to recruiting quarterbacks, but Browne has the size and talent they are looking for.
Browne has thrown for over 4,000 yards in each of his sophomore and junior years as a starter while averaging 47.5 touchdowns per year. There is no question that Browne would be a perfect fit in the high power Sooner offense.
Browne has stated that OU's offense is very similar to the offense he currently runs in high school, so there likely wouldn't be a huge learning curve.
He currently has offers from nearly every top program in the nation, but is expected to choose between Oklahoma, USC and Alabama.
UPDATE: Committed to USC on 4/4/12
Laremy Tunsil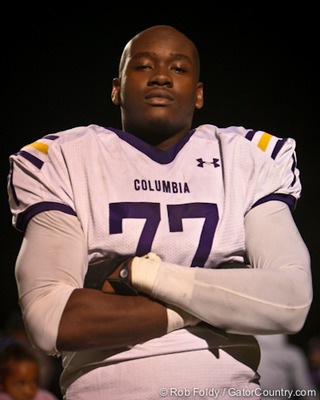 Position: Offensive Tackle
School: Columbia High School (Lake City, FL)
Height: 6'6"
Weight: 280 lbs.
Laremy Tunsil is a very athletic offensive tackle that has dominated the Florida high school scene.
Tunsil has offers from more schools than there is room to list here and is almost guaranteed to be a five-star prospect when the initial ESPNU 150 is released. He is currently ranked third in Rivals Top 100 prospects for 2013.
With the current Sooner offensive line loaded with upperclassmen, bringing in some top offensive linemen in the 2013 class has to be one of Stoops' top priorities.
Su'a Cravens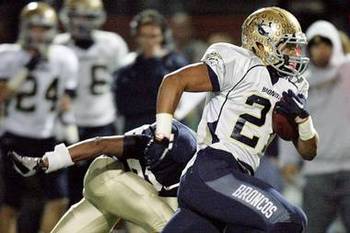 Position: Defensive Back
School: Vista Murrieta High School (Murrieta, CA)
Height: 6'1"
Weight: 205 lbs.
Su'a Cravens is one of the best defensive backs in the nation and Tim Kish already has his sights set on bringing him to Oklahoma. Kish has strong ties in California from his years spent in the PAC-12 recruiting at Arizona.
As a junior this past season, Craven recorded 96 tackles, 11 sacks and three interceptions while also rushing for 15 touchdowns on the offensive side of the ball.
Cravens would be a huge boost to the Sooner secondary if Kish is able to bring him in. He is another five-star prospect with offers from nearly every major program and ranks fifth on Rivals Top 100.
Montravius Adams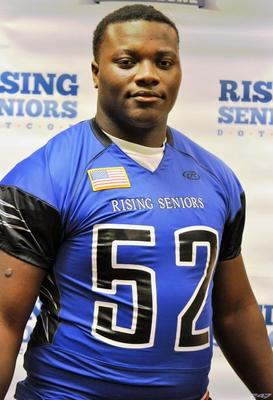 Position: Defensive Tackle
School: Dooly County High School (Vienna, GA)
Height: 6'3"
Weight: 281 lbs.
Montravius Adams is a huge defensive tackle coming out of the state of Georgia.
Adams recorded a whopping 45 tackles for loss and 10 sacks as a junior at Dooly County High School.
While he is said to be leaning towards staying in-state for his collegiate career, the Sooners made an offer at the end of February and hope to stay in the mix.
Jaylon Smith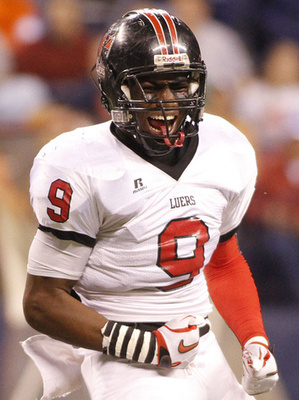 Position: Outside Linebacker
School: Bishop Luers High School (Fort Wayne, IN)
Height: 6'3"
Weight: 215 lbs.
Jaylon Smith is one of the most coveted linebackers in the nation. During his junior campaign in high school he recorded 8.5 sacks and 19 tackles for loss.
While he is primary being recruited as a linebacker, Smith also lined up as a running back last year carrying the ball 160 times for 1,200 yards with 31 total touchdowns on offense. Not too shabby.
247Sports has Smith as a five-star prospect and ranked sixth on their list of 2013 recruits.
Smith runs a 4.44 forty-yard dash and has the kind of closing speed that would have newly acquired linebackers coach Tim Kish all sorts of excited to work with.
Matthew Thomas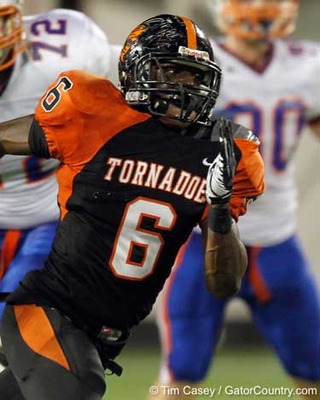 Position: Outside Linebacker
School: Booker T. Washington High School (Miami, FL)
Height: 6'3"
Weight: 205 lbs.
Matthew Thomas is another top linebacker recruit who was the first 2013 prospect invited to The Opening (a camp in Oregon hosted by Nike for the top high school recruits).
As a junior at Booker T. Washington, Thomas recorded 117 tackles along with 13 sacks.
Rivals ranks Thomas at number 12 in their Top 100 prospects for 2013.
Tim Kish has actively been recruiting Thomas and just offered him a scholarship earlier this month.
Justin Manning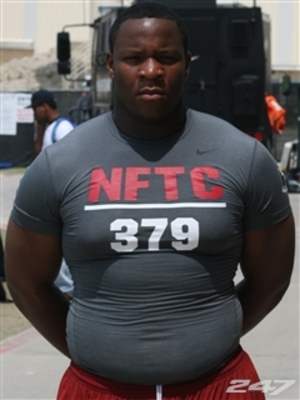 Position: Defensive Tackle
School: Justin F. Kimball School (Dallas, TX)
Height: 6'2"
Weight: 275 lbs.
Justin Manning already has ties to the University of Oklahoma as he is the younger brother of former defensive tackle DeMarcus Granger.
Manning was the only recruit given an offer at a recent junior day in Norman earlier this month. During his sophomore year he tallied up 68 tackles, 19 for a loss, five sacks and two fumble recoveries.
Noted as having one of the best first steps of all defensive lineman in his class, Manning says that OU feels like home.
The stand-out defensive tackle has said he doesn't plan on committing anywhere right away and prefers to let the recruiting process play out, but it's hard not to imagine Manning in a Sooner jersey come 2013.
E.J. Levenberry Jr.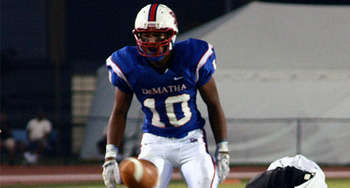 Position: Inside Linebacker
School: C. D. Hylton High School (Woodbridge, VA)
Height: 6'3"
Weight: 230 lbs.
E.J. Levenberry Jr. is a highly sought after linebacker from Virginia who was originally scouted by former Oklahoma defensive coordinator Brent Venables. Levenberry seemed set on signing with the Sooners, but then when Venables left it opened the recruiting process back up.
Levenberry is a highly talented player who is flexible and can rotate between different linebacker positions on the field.
During his junior year he recorded 151 tackles, eight forced fumbles, four sacks and three interceptions. He currently ranks 15th on the Rivals Top 100 and 21st on 247Sports' list.
Mike Stoops and Tim Kish will have their work cut out for them if they hope to restore the lost relationship that Venables had built with Levenberry.
Max Redfield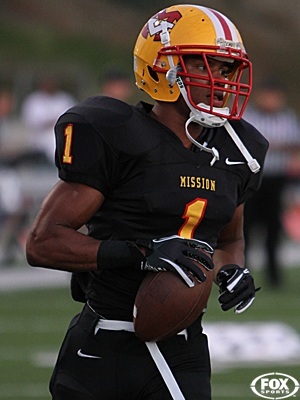 Position: Defensive Back
School: Mission Viejo High School (Mission Viejo, CA)
Height: 6'2"
Weight: 200 lbs.
Max Redfield is one of the best defensive backs coming out of the 2013 class. Mike Stoops and Tim Kish didn't waste any time getting the young prospect an offer letter last month.
Lining up primarily at safety, Redfield recorded 33 tackles and two interceptions during his junior year at Mission Viejo.
Redfield is currently being heavily recruited by USC and Oregon, but is still weighing his options.
With the success of California native Tony Jefferson in the current Oklahoma secondary, the coaches will look to strike gold twice from the west coast.
Jonathan Allen
Position: Defensive End
School: Stone Bridge High School (Ashburn, VA)
Height: 6'3"
Weight: 225 lbs.
Jonathan Allen is an explosive defensive end with long arms and deceptive speed. He runs a 4.5 forty-yard dash and is quick to burst off the line.
During his sophomore and junior seasons he accounted for a combined 189 tackles, 35 sacks and eight forced fumbles.
Allen is another prospect that was originally recruited by Brent Venables who also offered him a scholarship. Allen stated that he has not heard much from Oklahoma since Venables' departure, but still considers them one of his top choices.
Keep Reading

Oklahoma Sooners Football: Like this team?