NCAA Tournament 2012: 10 Takeaways from UNLV vs. Colorado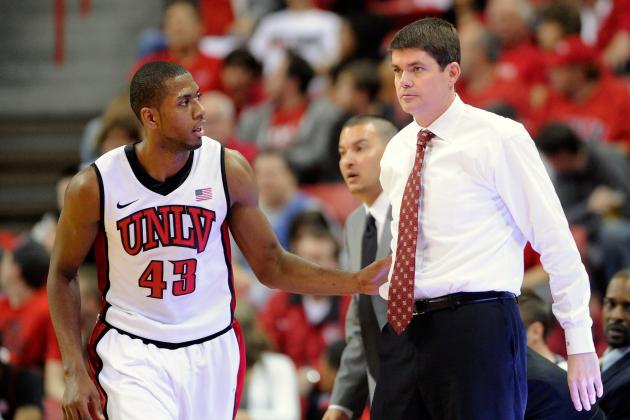 Ethan Miller/Getty Images

The neon lights are shining a little less brightly here in Las Vegas after the city's favorite sports team, the UNLV Runnin' Rebels, laid a big fat egg in the NCAA tournament, losing 68-64 to Colorado in the South Regional in Albuquerque, N.M.

But anyone closely following UNLV through their season knew that this team had some warts. Here's 10 things I took away from Thursday night's loss that were festering underneath all season that helped cause the Rebels' quick elimination from the Big Dance...


Begin Slideshow

»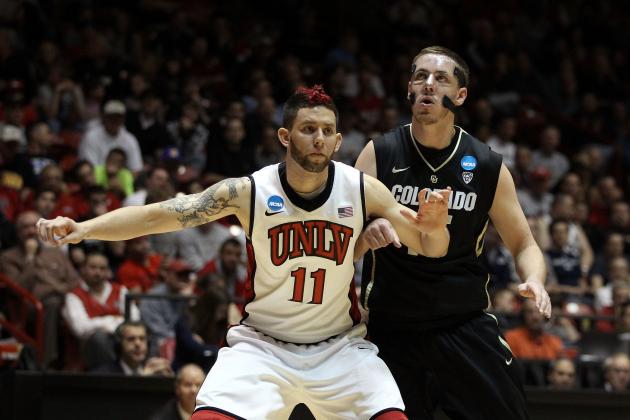 Christian Petersen/Getty Images

All season long the Runnin' Rebels failed to have one player step up and rally the troops when the opposition went on big runs.
Mike Moser emerged as a star early in the season after transferring from UCLA with his scoring and rebounding and local kid Anthony Marshall (Mojave High School) evolved into an extremely tough player at guard, but there was never really one player UNLV could look at as the team leader on the hardwood.

Against Colorado, Findlay Prep graduate Carlos Lopez showed the most heart and helped rally the troops from a 20-point deficit against the No. 11-seed Buffaloes taking charges and fighting for rebounds.
But when it's a guy coming off the bench you have to turn to in hopes of igniting a run in a game you've been waiting to get to all season, you're in a lot of trouble.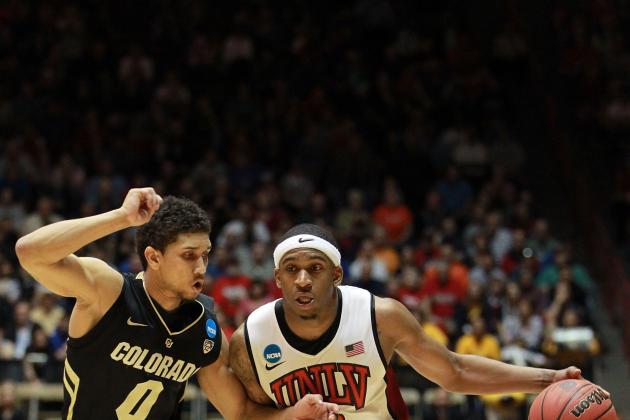 Ronald Martinez/Getty Images

A problem all season long for UNLV, the shot selection was abysmal against the Pac-10 tournament winners.
Colorado (21-11) deserves credit for its intense defense in the first half, but it seems Marshall was the only Rebel to create shots off the dribble in a season that will now be hard to forget.
On Thursday, UNLV tried to go to one of its strengths, the three-pointer, but to no avail.
Any attempts at driving to the basket met stiff opposition, and the team went an unbelievable 26 minutes into the game before scoring their first fast-break basket. No matter what team you are, that kind of reality will never get you into the next round of March Madness.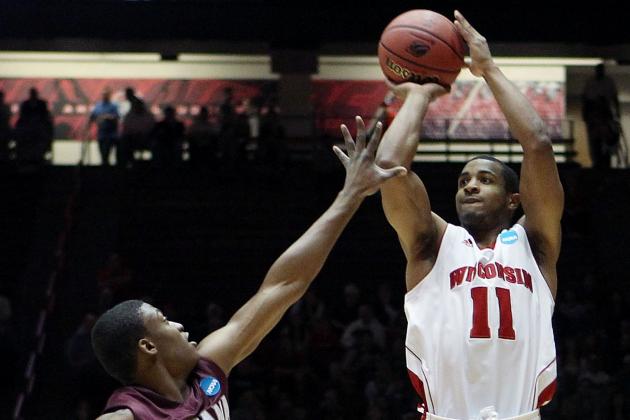 Christian Petersen/Getty Images

The Thomas & Mack Center was very good to UNLV this season with the Rebels losing just once there, to New Mexico in the Mountain West Conference semifinals last Saturday.
But away from home, despite the deceiving away record, the team gave up many big leads in the second half and just couldn't put their opponents away. Call it lack of a killer instinct or whatever, this Achilles heel was evident to the UNLV fan who thought with the head and not the heart.
The way the Runnin' Rebels were blown out at Wichita State and at Wisconsin early in the season should have been a tip-off, but losses to teams like Wyoming and TCU away from home revealed an awful lot.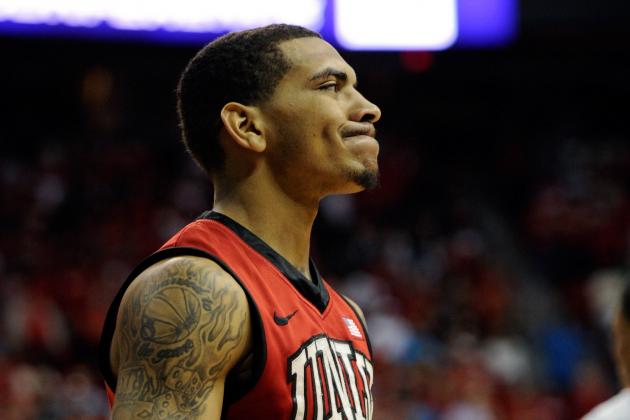 Ethan Miller/Getty Images

Astutely pointed out by Las Vegas Sun and Vegas Seven sports writer Ryan Greene on Wednesday, UNLV's shooting accuracy really drops off in the second half in games played at altitude.
In four games at Colorado State, at New Mexico, at Air Force and at Wyoming, the Runnin' Rebels went from shooting respectively in the first half (49.5 percent) to shooting very poorly in the second half (31.2 percent).
And Albuquerque—a place UNLV should be used to playing at with New Mexico in the MWC—is certainly at altitude.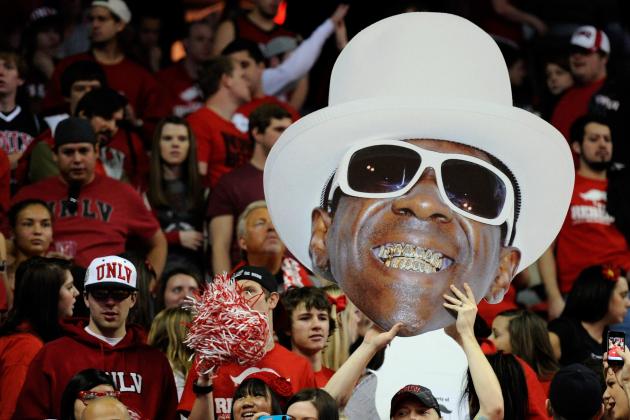 Ethan Miller/Getty Images

Even after their most disappointing and most important loss of the year on Thursday, one TV sports guy (who will remain anonymous) was talking about the team rebuilding and aiming for a "national championship" next year.
Seriously?
Let's shoot for the Sweet 16 first, brother. And when was the last time a school from the MWC won that coveted national title?
The only team in the conference to even get there and win it all is UNLV, when the school did it in 1990-91 while still in the Big West Conference and with future NBA players like Larry Johnson, Stacey Augmon and Greg Anthony.

One radio guy who's been in town for years (and shall also remain anonymous) kept talking about UNLV being a Sweet 16 team all year long, despite the obvious blemishes. Apparently any objectivity flies out the window when you become too close with the coach and players.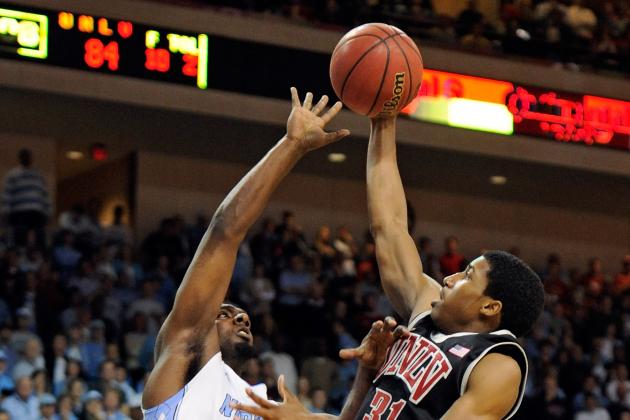 Ethan Miller/Getty Images

It's one thing when the local media and fans go overboard for their team—the only real team in Sin CIty—but it's quite another when the national media and pollsters keep putting you in the Top 25 week after week.
It's not hard to figure out playing Kentucky, Vanderbilt, Alabama and Florida each twice a year is a lot different than playing San Diego State, New Mexico, Colorado State and Wyoming twice.
The reason for all this?
I blame the early-season upset of then-No. 1 North Carolina at the Orleans Arena for the constant, and now not justified, hype. And as we all know, hype can kill. Just ask Paris Hilton.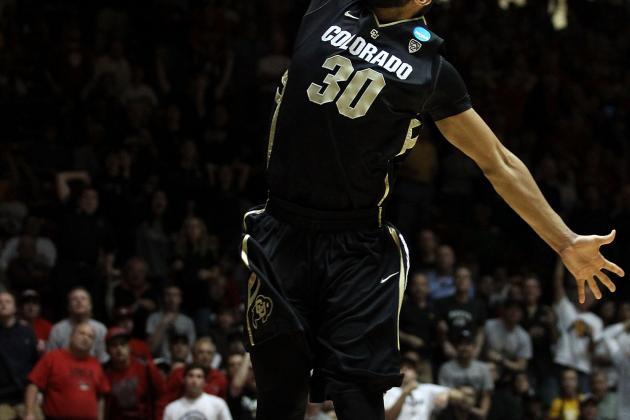 Christian Petersen/Getty Images

The Runnin' Rebels let the Buffaloes get way too many easy baskets and were down by 11 points at halftime and by 20 in the second half.
Why?
Credit is due to Colorado, but UNLV really needed to switch to a man-to-man defense earlier when it was quite evident the water was spilling over the dam.
Not enough contested shots = watching Colorado, instead of yourself, play Baylor in the next round.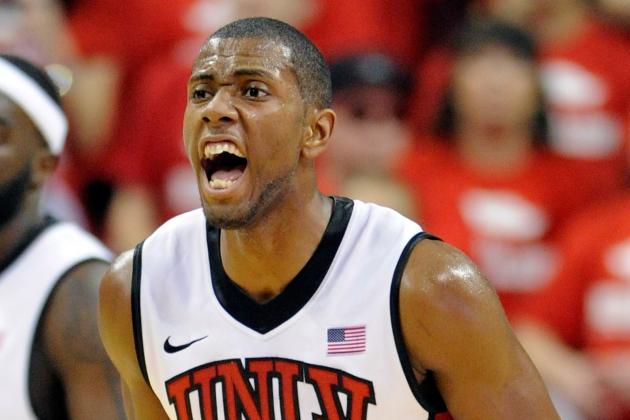 Ethan Miller/Getty Images

How many times did you see one-shot-and-done for UNLV Thursday night? And how many times did you see Colorado players outhustling the Rebels for valuable rebounds?
Traditional wisdom in basketball has shown that each rebound is worth about one point.
With Moser, the nation's 10th-leading rebounder (10.6 RPG) and guys like Lopez, Bryce Massamba and Chace Stanback being big bodies in the paint, UNLV should never get outrebounded (43-30) by a team like the Buffaloes like they were in Albuquerque.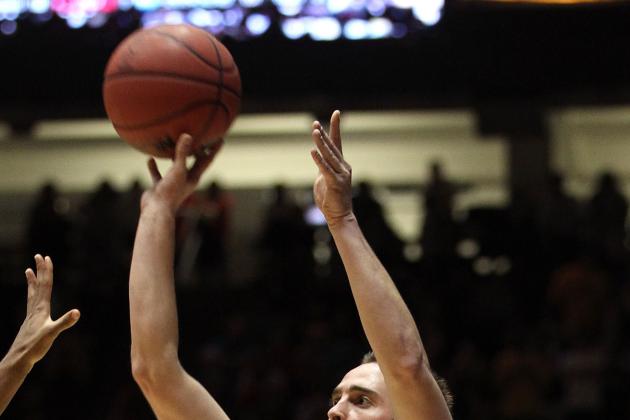 Christian Petersen/Getty Images

The 25 points at halftime (third-lowest total of season) showed that a team that prides itself in "running" under first-year coach Dave Rice can be slowed down considerably with a sound strategy and proper execution by the opponent.
UNLV's shot selection was horrid and then devolved into desperation once it knew it was chasing a double-digit deficit and could be on the verge of elimination.

And the numbers don't lie.
The Rebels were 9-of-17 (52 percent) from the free-throw line (Colorado was 17-of-27, 63 percent), just 23-of-71 from the field (32.4 percent) while the Buffaloes were 22-of-48 (45.8 percent).
The one area you would expect UNLV to shine—three-pointers—was a monster letdown as the Rebels went only 9-of-36 (25 percent) from beyond the arc while Colorado went 7-of-12 (58.3 percent).
And you read it right, UNLV had a gaudy 23 more shots (71-48) than Colorado and still lost.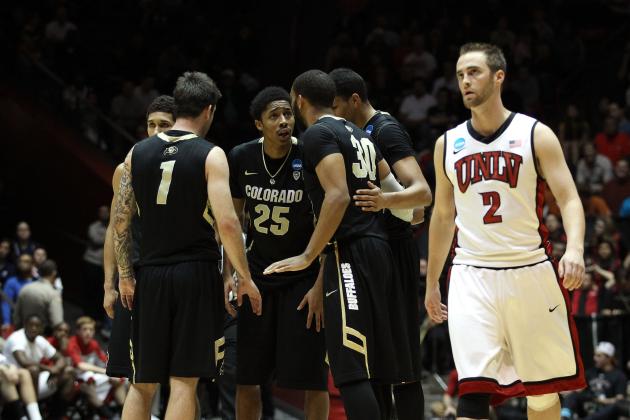 Christian Petersen/Getty Images

Possibly drunk on the local and national media hype or delusional of its own expectations, UNLV often overlooked lesser-hyped opponents, as MWC games at Boise State, Wyoming, TCU, Colorado State and Air Force revealed.
Most analysts thought UNLV "finally got a good draw from the committee," including myself, but getting to play a team like Colorado—which might have not even made the Big Dance if not for its win in the Pac-10 tourney last weekend—may have left the Rebels a little overconfident and looking forward to a date with Baylor on Saturday.
Despite a season-high 23 turnovers and a 23-shot deficit to UNLV, the Buffaloes found a way to win despite the late surge by the Rebels, due in part to the horrible start and possible lack of respect for their opponent.
Ethan Miller/Getty Images

If you think I sound bitter about all this, know I moved to Las Vegas in 1991 because of my love for the Runnin' Rebels and Jerry Tarkanian.
The loss thrashed me inside and wiped out all 10 of my brackets on ESPN.com, and I'm sure most people across the United States are a bit surprised at the loss and had their brackets dented by UNLV.
But it's not the end of the world, and some could see it coming. Next year will be the year for the team as I will point out in this space on Friday night. Keep your chins up UNLV fans. The future's bright.


> Follow Kevin on Twitter @KevinStott11

Kevin Stott has been a sports writer for the Las Vegas Review-Journal's View Newspapers and Gaming Today and bleeds UNLV scarlet and gray when he's not busy bleeding Chelsea blue.