Howard Davis Jr. and Fight Time Promotions: Helping Others Make the First Step
March 16, 2012

When looking at the careers of great figures in history, it isn't so much a case of just being lucky; it's taking the initiative when luck presents itself.
That was certainly the case for Howard Davis Jr. following his successful boxing career. The former Olympian was working as a computer technician in New Jersey. Although he liked his new career choice, it wasn't exactly the most accommodating of jobs.
"I was working nine-, 10-hour days. I would literally have to take a train and a bus just to get to work every day," Davis said.
In a moment of chance, Davis received a phone call one day presenting a new opportunity.
"I got a phone call from a friend of Shannon Briggs asking me to come down to Florida," Davis said.
The trip to Florida was to help out at the American Top Team in Coconut Creek, Florida.  Moving from the cold, frigid weather of the northeast to the Sunshine State may seem like an easy choice for most people; this was not the case for Davis.
"I said I'll give it a week and see how it goes and possibly move back," Davis said.
It didn't take long for Davis to make up his mind as to what his future career plans would be.
"After two days, I knew I wanted to do this. It just fit my personality and I enjoy teaching. The weather definitely played a big factor as well," Davis said.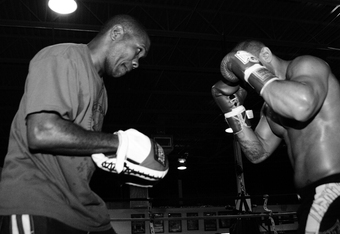 A decline in pay certainly hurt the financial situation for Davis, but a saying from his father always reassured him that he had made the right choice.
"My father had always told me, 'If you do something you enjoy, eventually you will make money at it,'" Davis said.
Moving past the lack of pay, Davis instead chose to focus on the freedom his new job gave him and the warm Florida weather. With a new career in sight, Davis gained a few clients while working at ATT but hadn't yet reached his peak as a coach.
The winds of change took a gust towards success when Davis would take his then-girlfriend (now his wife) Karla to an MMA show in Orlando.
"She had never been and after Rich [Attonito], who I was coaching, fought I sat with her and watched the show. It was great," Davis said.
Apparently things went better than expected with the future Mrs. Davis, as she presented an idea to Davis.
"We could do this," she said.
Davis turned to her with a look of confusion. Do what?, he wondered.
"We could do all this, put on fights I mean," she repeated.
The two agreed to set things in motion to begin a career as a promoter. It was not to be at this time, however, as Davis was flown out to California to work with UFC Hall of Famer Chuck Liddell.
An extended absence once again occurred when Liddell asked Davis to be his striking coach on The Ultimate Fighter season 11. Davis returned home just in the nick of time to catch the birth of his daughter.
He would again leave to help Liddell for his last bout, but this time, business couldn't have called at a worse time.
"I was able to be there for the birth of my daughter but then had to jump on a plane like 30 minutes after she had been born," Davis said.
With Liddell's career over, Davis could finally turn his full attention to promoting. Completing his coaching duties, Davis expected quite a bit of work in order to get the promotion off the ground. However, Mrs. Davis had been busy in Mr. Davis' absence.
"I came home and was shocked at how fast everything was moving. I mean, she had all the legal paperwork done—like the name and logo," Mr. Davis said.
Transitioning into the promotion business with Fight Time Promotions, Davis held his first show in 2010 and had quite an easy sell for his first event.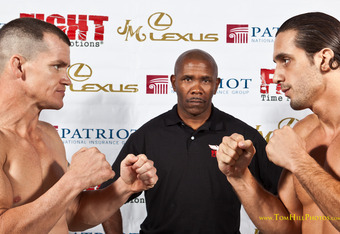 "It was nice to have Jeff [Monson] on the first show. I've known him for years and it was great having someone like him be the main event of our first event," Davis said.
When speaking of his first event, Davis shared an interesting story about some complications and surprises that arose.
"I was so nervous I forgot the stools for the fighters in between rounds. So I left to get them and came back with about two hours before the show was set to begin. There was a line outside the place! I was so shocked," Davis said.
Although the promotion kicked off in 2010, its biggest year was 2011. Fight Time Promotions had the most shows in the state of Florida, including boxing, and employed the most fighters.
No doubt being able to read and understand fighters as well as anyone from his coaching experience, Davis explained that Fight Time Promotions is a true "fighter's promotion."
"We treat the fighters right; we don't try to take advantage of anyone or anything like that. I know how to read fighters and motivate them to do well," Davis said.
Helping the fighters out as a promoter has seen Davis accomplish a lot in the short life of Fight Time Promotions. With their ninth show set to take place on April 27th, Davis has a lot of selling points for any MMA fan to check out the event.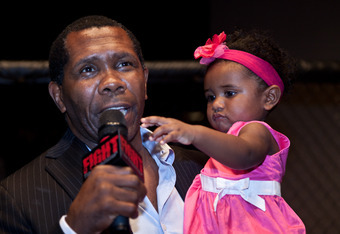 "We have Wilson Gouveia, a 10-time UFC veteran fighting in the main event, which is pretty cool to have a guy like that fight on our ninth event," Davis said.
The interest level only rises when he explains what could be a first in MMA history.
"We also have a husband and wife competing on the same card, which I don't think has ever happened before, "Davis said.
Being innovative is nothing new to Fight Time Promotions and Davis, as they've accomplished a lot in the state of Florida.
"Jeff Monson was the first ever MMA World heavyweight champion in the state of Florida and we also just had our first female fight with Jessica Aguilar from Bellator," Davis said.
It will certainly be an event that will create quite a bit of buzz near South Beach.
Always willing to help young fighters, Davis ended our time by providing a solid choice of words that anyone, not just a fighter, could use in their life.
"A 1,000-mile journey begins with a single step; if you don't take the step, you'll never take the journey," Davis said.
He may not be coaching the next champion out of ATT or holding mitts, but Davis will always be doing his best to help anyone who's willing to take the first step.
Part I of Howard's story can be found here. Further information about Howard Davis and Fight Time Promotions can be found here.
Kyle Symes is a Featured Columnist for Bleacher Report. Unless otherwise noted, all quotes were obtained first-hand.