NCAA Scores 2012: Chaotic Results Prove March Madness Rules Sports World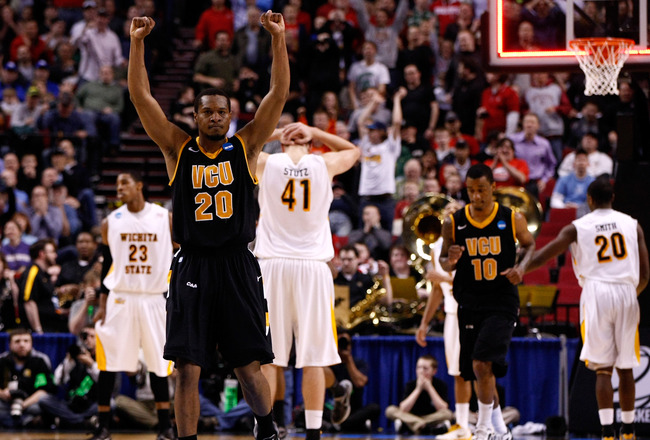 Jonathan Ferrey/Getty Images
It's called March Madness for a reason.
There are 9.2 quintillion different possibilities as to how the NCAA tournament field will finish.
While yesterday's action may have been a little bit on the "chalky" side, there was still a good dose of upsets and crazy finishes to remind us why this is the best month in sports.
No. 12 VCU Upsets No. 5 Wichita State
Jonathan Ferrey/Getty Images
The VCU Rams took a big step toward proving that their Cinderella run last year wasn't a fluke.
Despite blowing a 16-point lead in the second half, the Rams hung on for the upset win, aided by a huge Bradford Burgess three-pointer with less than two minutes to go in the game.
The Wichita State Shockers, who have perhaps the most unfortunate and/or awesome team name in college basketball, shot a little under 38 percent from the floor.
For a team that was 11th in the nation in field-goal percentage heading into the tournament, this was a very disappointing performance—especially against a 12th-seeded opponent.
No. 1 Syracuse Survives Scare Against No. 16 UNC-Ashville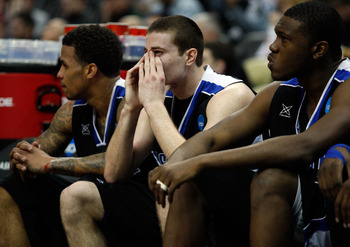 Jared Wickerham/Getty Images
After Syracuse lost starting center Fab Melo, it looked like the standard rule of a No. 1 seed never getting upset by a No. 16 seed would be put to the test.
UNC-Ashville gave the Orange all that they could handle, getting great performances out of J.P. Primm (18 points) and Jaron Lane (16 points, 3-of-3 from outside the arc).
In the end, however, Syracuse received two huge calls—one of which was incredibly questionable—that helped them put the Bulldogs away.
A late-game lane violation (that initially didn't seem to have taken place on this plane of existence) and a missed free throw gave Syracuse two free throws (and two points). This was later proved to be the correct call. You can see the play in question here.
Then with under a minute left, an out-of-bounds call (that awarded the ball to Syracuse) made absolutely no sense. It should have either been a foul on the Bulldogs (which would have still been questionable, but justifiable) or out of bounds off of the Syracuse player who clearly touched the ball last. Instead, the ball was inexplicably awarded to the Orange.
Take a look for yourself and see what you think.
In the end, Syracuse avoided the upset, but showed that they are very vulnerable without Melo in the lineup.
No. 3 Baylor Holds off No. 14 South Dakota State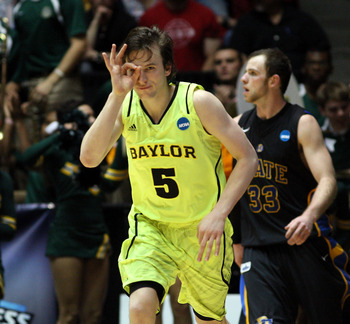 Ronald Martinez/Getty Images
In keeping with their namesake, the South Dakota State Jackrabbits jumped out to a 12-point lead over the Baylor Bears before falling behind and trailing for the rest of the game.
Then, as the game looked like it was wrapped up, the Jackrabbits made another run, closing the gap to 64-60 with 1:14 left, thanks to consecutive three-point baskets.
The Bears, however, were able to hold on and win, 68-60.
Iowa State Defeats Defending National Champions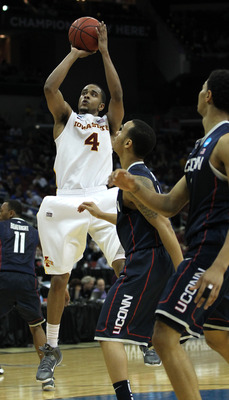 Jonathan Daniel/Getty Images
While a No. 8 seed defeating a No. 9 seed normally isn't very buzzworthy, it is when that No. 9 seed is UConn, the defending national champion that is loaded with NBA-level talent.
Despite the best efforts of Shabazz Napier (22 points, seven assists), Iowa State's balanced scoring attack kept them in control and in the lead for nearly the entire game.
Considering that this team also beat Kansas and Baylor this year, the Kentucky Wildcats may actually wish that they were playing the Huskies this Saturday instead.
No. 11 Colorado Survives Furious Rally to Upset No. 6 UNLV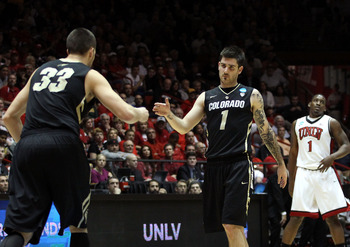 Christian Petersen/Getty Images
With 13:08 to go in the second half, Colorado led UNLV, 53-33. The game seemed pretty much over until UNLV, led by Anthony Marshall, staged an impressive rally.
UNLV was able to cut Colorado's lead to four points with 2:16 to go, but the Rebels were unable to hit key shots down the stretch to tie or take the lead.
The Buffaloes prevailed to maintain the upset victory by a score of 68-64.
If you want to sing my praises, tell me that I am the worst writer you've ever read, or just want to observe my weird and offbeat view of things, follow me on Twitter @NickNafster79
Keep Reading