Los Angeles Lakers: Grading the Lakers' Trade Deadline Moves
Mike Lawrie/Getty Images

After numerous rumors over the past few months linking the Los Angeles Lakers to Cleveland Cavaliers point guard Ramon Sessions, the team traded Luke Walton, Jason Kapono and their 2012 first-round pick in exchange for Sessions and perimeter player Christian Eyenga Thursday afternoon.
The acquisition of Sessions is positive for the Lakers on more than one level. For starters, he will be the young, quality starting point guard the Lakers have been sorely lacking the last several seasons.
Sessions is currently averaging 10 points and five assists in just a little over 24 minutes of action.
Point guards on the Lakers this season have averaged only 12 points as a group, which is worst in the league.
Sessions is also shooting his best percentage from beyond the arc since his rookie season (41 percent).
By trading Walton, the Lakers were finally able to rid themselves of his hefty contract (Walton still has one year and $6.1 million remaining), allowing them to take on Sessions' this season and next, assuming he picks up his player option.
As long as fans and media don't expect Sessions to make the Lakers a championship-quality team overnight, I see him having a very successful stint in Los Angeles.
As the team's new starting point guard, Sessions will have to learn his new teammates and the team's new offense (which the current members are just finally getting a grasp on) on the fly. But all in all, I really like this move for the Lakers.
Final Grade: B+/A-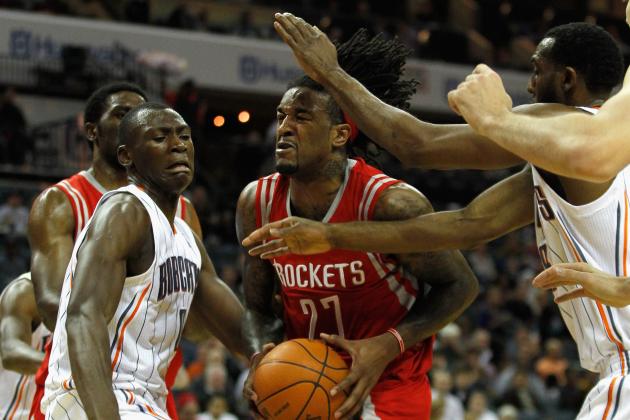 Streeter Lecka/Getty Images

It was announced Thursday afternoon that the Los Angeles Lakers had traded Derek Fisher and the the draft pick they received from the Mavericks during the Lamar Odom trade last December to the Houston Rockets in exchange for Jordan Hill.
Hill is an athletic player who is both a good rebounder and shot- blocker. And while he is a poor outside shooter and can't create offense on his own, the Lakers' bench was in need of any help they could find.
The team is currently ranked 25th in bench production, averaging 20 points a game.
Earlier in the day, the team traded for Cleveland point guard Ramon Sessions. And with Steve Blake likely to continue serving as the team's backup, there was really no room for Derek Fisher.
Nonetheless, it's very tough seeing Fisher leave the Lakers. He has meant so much to the franchise, playing an integral role in five championships. I think I speak for most Lakers fans when I say he will always hold a special place in our hearts.
Courtesy of SB Nation, here is the parting message Lakers owner Dr. Jerry Buss offered Derek Fisher:
Few who have worn the Lakers uniform have done so with as much class as Derek, both on the court and in the community. From his famous 0.4 shot in San Antonio to his clutch performances in the Finals against Orlando and Boston when it mattered most, Derek will always hold a special place not only in my heart, but in the heart of Lakers fans everywhere.
The Lakers really have nothing to lose by adding the former Arizona Wildcat and possibly helped their luxury tax situation by dumping Fisher.
Final Grade: B