Sidney Crosby: Penguins Captain Is Missing Piece for Stanley Cup Run
March 15, 2012

Nick Laham/Getty Images
The NHL trade deadline has been over for awhile, but the Pittsburgh Penguins just got a big upgrade to their team with the return of captain Sidney Crosby.
With Crosby back—hopefully for good this time—it gives this Penguins a huge shot in the arm to make a push for their second Stanley Cup championship in four years. 
This current group of Penguins have gone 26-13-1 in the 40 games that Crosby has missed since his latest stint on the injured reserve list. They currently are on a nine-game winning streak, where they went from a team fighting for playoff position to one that is contending for the top spot in the Eastern Conference.
With Crosby back, not only do they get their captain again, but they give opposing teams a nightmare when trying to match their best defensive pairings up.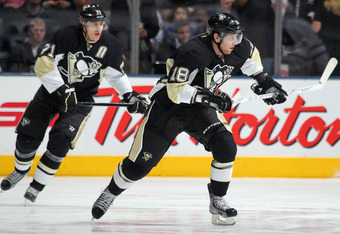 Claus Andersen/Getty Images
This year the Penguins have gotten a big contribution from their top line of Evgeni Malkin, James Neal and Chris Kunitz. This line has combined for 60 goals and 68 assists, which has helped the Penguins rank as the third-best team in the league in scoring, averaging 3.1 goals per game. 
With Crosby back, it will take the pressure off of Malkin, Neal and Sullivan to be the team's only producing line for the rest of the regular season and into the playoffs. 
Crosby's return will see him play with the third line pairing of Tyler Kennedy and Matt Cooke.  
Before Crosby suffered his latest setback, he was averaging a point and a half per game. Crosby played eight games, amassing 12 points with two goals and 10 assists.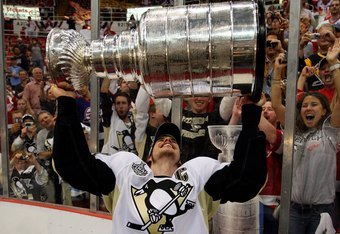 Jim McIsaac/Getty Images
Putting him on that lineup will provide a scoring punch to two players who need help in putting pucks into the net. For the year, Cooke and Kennedy have combined for only 18 goals in 68 games. 
Crosby can anchor this line of Cooke and Kennedy, and make it just as dangerous as the first line. Or, if it doesn't work, he could always move up to the second line moving Jordan Staal to the wing while moving Pascal Dupis down to the third line.
Either way, it removes pressure off of the first line, while giving the Penguins a solid second scoring option that is as good as their go-to line.  
The Penguins got the equivalent of a huge trade with the return of Crosby. Luckily for them, they didn't have to give anyone up.
They just have to hope that Crosby can stay healthy for the remainder of the season and postseason.