Miami Dolphins: Ominous Parallels
March 15, 2012

Kent Nishimura/Getty Images
It is spring. It is the offseason, a time when every team has its Super Bowl aspirations in tact. The Miami Dolphins are highly enthusiastic with the energy of a fresh start under a new head coach and new staff. They are coming off a 6-10 season and have a top-10 draft pick. In one of this regime's first maneuvers, they trade away their top wide receiver. 
The year is 2007, and the coach is Cam Cameron. The player that they trade away is named Wes Welker. The main player they acquire in the trade is Sampson Satele. (I won't elaborate here- I simple ask the reader "How did that work out?").
In that same draft, the team's first round pick is Ted Ginn. The less said, the better.
Here in the present, I see some similarities. Besides the aforementioned, we now have no proven No. 1 receiver. We now have another need to fill in the free agency and draft period that is the offseason.
And I see differences: Wes Welker was an emerging talent, but young and somewhat unproven at the time [although he looked pretty darn good to me in 2006, but I digress]. Brandon Marshall, baggage and all, is a proven talent.
When I first saw the headline in my email from Bleacher Report concerning the trading of Brandon Marshall, I was shocked. The only talent that I would have found acceptable at the time was really a first rounder, but I also knew that this was highly unlikely, considering Marshall's history.
I didn't like the idea of trading away his kind of talent for a second rounder at this pivotal juncture of the Dolphin's momentum. (In case anyone has forgotten, the team has won six of its last nine with single-digit losses to the Cowboys and Giants during that stretch CORRECTION, GIANT LOSS WAS EARLIER IN THE SEASON, my bad, Kev).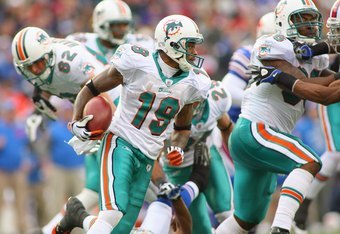 Rick Stewart/Getty Images
I read the story and I saw no first or second rounder acquired, and the rest you know. Why couldn't the Dolphins get a better offer for such a highly touted player? Why not a conditional draft pick? Has the Dolphin brass heard of this concept?
For all his faults, Marshall is a legitimate gamer. A player that the defense has to account for on every play. Yes, his off-the-field issues were annoying, as were his drops, but he also amassed over 1,200 yards on an off year! 
Brandon Marshall was improving as the year went on. With Matt Moore at Quarterback, Marshall scored five touchdowns during those final nine games. This was about three times as many touchdowns as he had been averaging in the previous 21 Miami Dolphin games.
In all fairness to the current regime, only time will tell if getting rid of Marshall turns out to be the correct call. Marshall is a unique, problematic, talented individual. Perhaps Joe Philbin and company just believes that the player simply isn't Super Bowl caliber material and that he brings a type of cancer with him.
Trading away this kind of talent, however, in today's NFL, is a risky business. Even if the Dolphins were to acquire a great receiver not named Ted Ginn in the first round, we would still wonder what the ripple effect would have been like keeping Marshall and drafting somewhere else.
Perhaps over time, we will look back at this move and see it as a wise choice of character. A choice that helped an honored franchise to redeem itself. Sympathies for Marshall and his family aside, one could only hope.