Sidney Crosby Returns: Why the Pittsburgh Penguins Will Win the Stanley Cup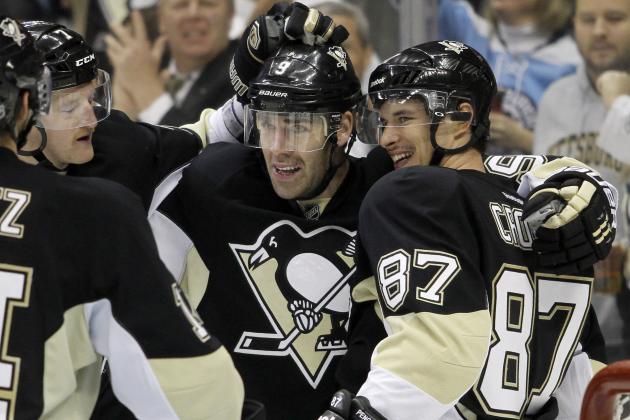 Justin K. Aller/Getty Images

Tonight, all eyes will be on the New York Rangers and Pittsburgh Penguins game as Pens captain Sidney Crosby once again makes his return to the ice.
Crosby initially returned to action in November after missing 10 months with a concussion. However, after just eight games, he sustained a neck injury and has been out of action for three months. The Penguins organization and its fans hope that he is back in the lineup to stay.
His return is coming at a good time, as the Penguins will battle the Rangers for first in the Atlantic Division and try to hold on to the fourth seed in the Eastern Conference. They are in solid position to get into the playoffs and make a deep run.
Here are some reasons why the Penguins could once again lift the Stanley Cup in June.
Begin Slideshow

»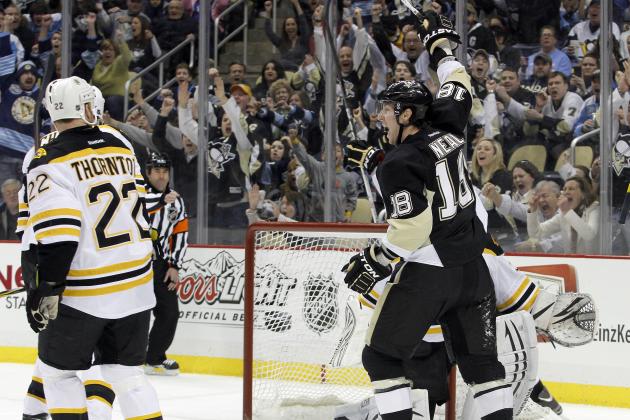 Justin K. Aller/Getty Images

Going into tonight's game, the Penguins are on a nine-game winning streak. In that time, they have scored at least three goals six times and put up five goals three times. They haven't given their opponents a lot of room either, allowing one goal in just four of their nine wins.
Pittsburgh also had an eight-game winning streak in January, where they scored three goals in seven of those wins and five goals three times. In four games, they gave up one goal or shut out its opponent.
When the Penguins are on a roll, they are as dangerous on offense as any of the league's other top teams. Even elite goaltenders, like Tim Thomas of the Boston Bruins, don't have answers for them.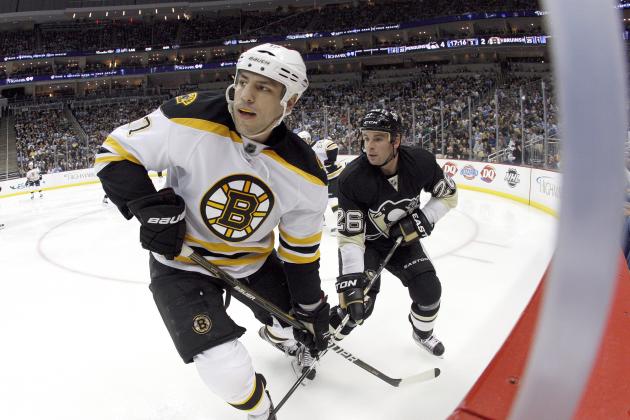 Justin K. Aller/Getty Images

On the Penguins' current winning streak, they have beaten four playoff teams: the Dallas Stars, Phoenix Coyotes, Florida Panthers and Boston Bruins. Since the All-Star break, they are 7-1-0 against other teams in postseason position.
During the eight-game winning streak in January, the Penguins earned victories over the Philadelphia Flyers and New York Rangers, shutting out the Rangers back on Feb. 21.
In addition, they beat the non-playoff teams that contenders should have no problems with. They are 8-4-2 against squads that are not in playoff position. Notable wins include an 8-5 victory against the Winnipeg Jets on Feb. 11 and an 8-1 win against the Tampa Bay Lightning on Feb. 25.
The best teams can not only beat the lower-tier competition, they can also play with the best. That's what the Penguins have been doing for the last month-and-a-half.
It will serve them well in the playoffs.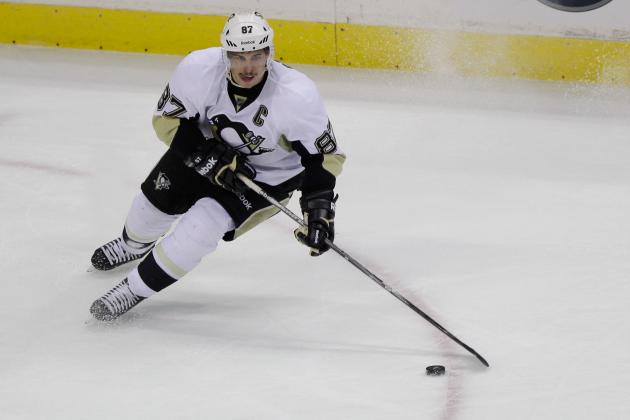 Rob Carr/Getty Images

When Sidney Crosby made his season debut in November, he hadn't played in 10 months, and many wondered how long it would take him to adjust to being back in the lineup and handling fast-paced, physical game action.
Crosby came out like he hadn't missed a beat, posting 12 points in eight games before getting hurt again. This included four multiple-point games, and he had four points in his first contest against the New York Islanders.
This is not the first time he has acclimated well after being out of the lineup. In 2007-08, he missed 29 games with a sprained ankle, but still tallied 72 points in 53 games.
Crosby can also perform in the playoffs. He has 82 points in 62 playoff games, including a career-high 31 points in 2009, the year the Penguins won their third Stanley Cup.
Anyone doubting Crosby need only to look at his stats to show he will once again come back ready to produce.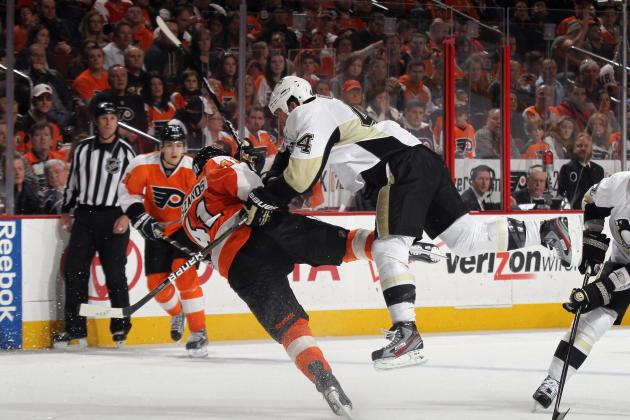 Bruce Bennett/Getty Images

The Penguins may have a lot of offense, but they also have players who are not afraid to play physically, dropping the gloves where necessary.
Deryk Engelland has fought heavyweights such as Colton Orr, while Brooks Orpik can lay out bone-crushing hits. Orpik is first on the team with 220 hits, while Engelland is third with 136.
While those two are the team's most physical players, others can also hit hard. Matt Cooke has reformed himself after being suspended for two hits last year, but continues to deliver checks in a clean manner. Chris Kunitz and Craig Adams sit among the top five on the Penguins in hits, and the fact that Kunitz can put up points makes him a double threat.
This will wear down any playoff opponent, even the equally-physical Philadelphia Flyers, and the Penguins have the chance to go to the Finals with their health and strength intact.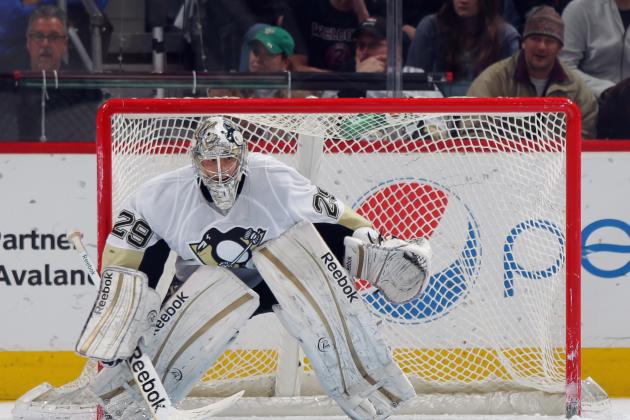 Doug Pensinger/Getty Images

Marc-Andre Fleury is finally the goaltender the Penguins were hoping he'd be when they drafted him first overall in 2003.
Fleury is in his fifth 30-win season and could easily get 40 wins before the end of the regular season. He is second in the NHL with 37 wins, posting an overall record of 37-14-3 with three shutouts. He also has a .917 save percentage and a 2.26 GAA, the latter of which is 10th in the league.
In the playoffs, he has a record of 41-28 with five shutouts to go with a .910 save percentage and a 2.52 GAA. In 2009, he erased all doubts that he couldn't come through in big games when he helped lead the Pens to a Stanley Cup.
Several times this season, Fleury has made the big saves necessary to keep the team alive and he is extremely focused. It's virtually impossible to win a Cup without strong goaltending, but the Penguins don't have to worry with Fleury between the pipes.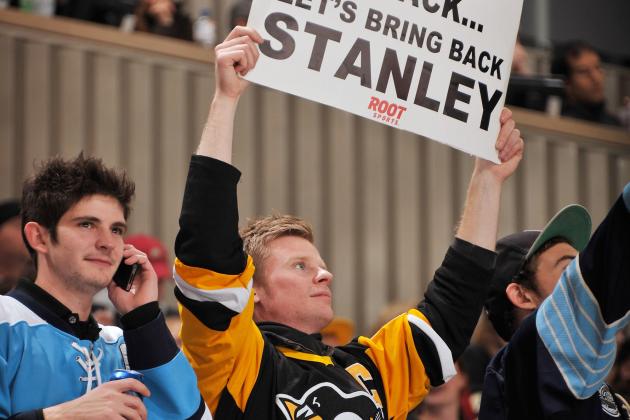 Jamie Sabau/Getty Images

The Penguins are currently in fourth in the Eastern Conference, meaning that if the playoffs started today, they would have home-ice advantage over their first-round opponent, the fifth-seeded Philadelphia Flyers.
This can only benefit the team, especially in a rivalry. Pittsburgh has sold out 242 consecutive games, a streak that goes back to 2007 when the team was still at Mellon Arena.
The new Consol Energy Center is regularly over its 18,087 seating capacity for hockey. At the last home game against the Boston Bruins on March 11, the attendance was 18,609, a standing-room-only sellout.
Penguins fans also follow their team on the road, even to hostile territories like Philadelphia, making sure the team knows they are always there.
Sure, the fans can't decide the outcome of the game, but such a large fanbase can only give the Penguins confidence and push them to play their best.