NCAA Bracket 2012: 10 Reasons Today Is the Best Day on the Sports Calendar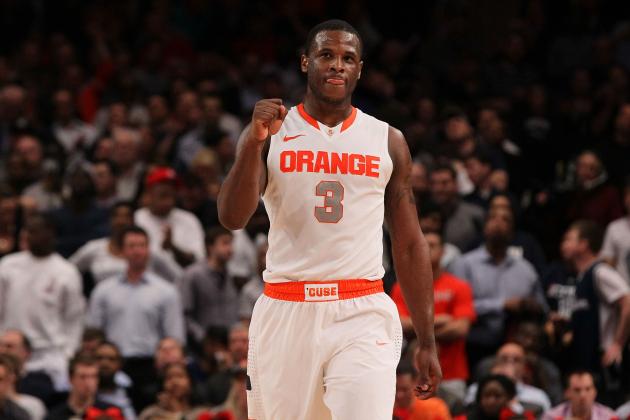 Jim McIsaac/Getty Images

It's finally here!
March Madness kicks off today with a full slate of 16 games and is sure to cause a nationwide headache to employers and girlfriends alike.
The tournament technically started two days ago, but my theory is if you can't pick a winner of a game when you pick your bracket, they're not really in the tournament.
Regardless, today is a day of celebration.
All the hard work and time we've put into agonizing over our favorite teams culminates with this moment. How will our teams repay us? With thrilling, buzzer-beating victories or gut-wrenching, agonizing defeats?
The dream is that our team wins it all. For some—I'm looking at you Villanova fans—there's really nothing to root for, so the tournament pool is the only solace that exists. But even without a horse in the race, the tournament can still be pretty damn exciting.
The following is why today is the greatest day on the sports calendar.
For your printable bracket for the 2012 NCAA tournament, click here.
Begin Slideshow

»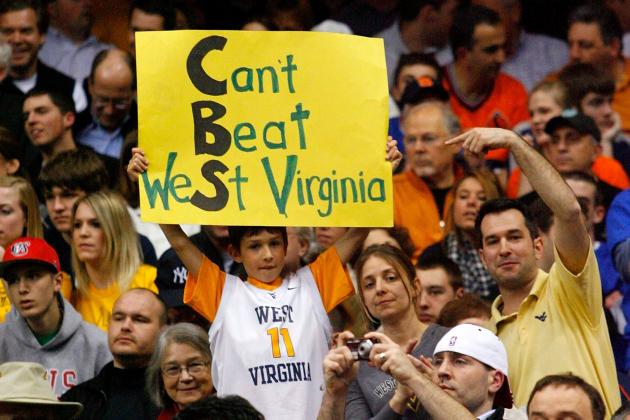 Chris Chambers/Getty Images

Yesteryear, going to work today was an impossibility. In my case, going to school was impossible.
There was no internet to check scores, and even when the world wide web came into prominence, there was no cbssports.com to simulcast the entire tournament.
We now have full access to every game on our computers at work, and best of all, it's free.
CBS has even installed a boss button on the screen so that when a person like myself is goofing off at work and one of those boss-type people walks by, I can click the button to turn my screen into an instant spreadsheet.
Bravo, CBS.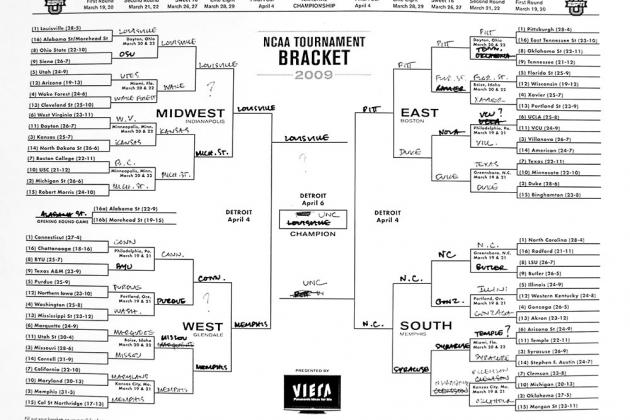 For me, looking at my bracket is like looking at a field of unblemished snow. It's beautiful in its simplicity and awesome in grandeur, especially with my team entered as national champion in the middle of the sheet.
Of course, the reality comes later when, like a field of snow, it becomes marked up, dirty and unrecognizable as the beauty it once was. But that's the future.
Today it is a work of art.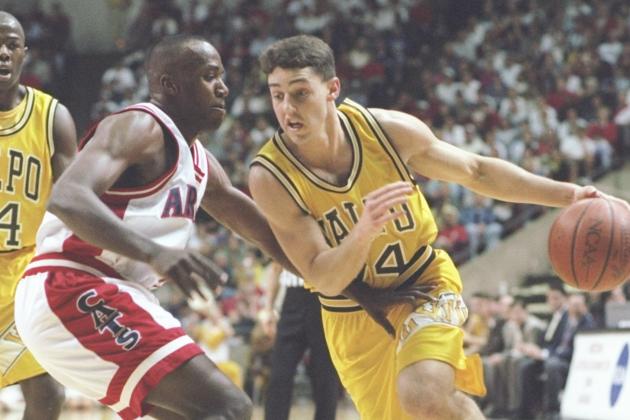 Jed Jacobsohn/Getty Images
Bryce Drew
With a full slate of games and so many evenly matched teams, some of today's games will go down to the wire. The possibility of a lower-seeded team beating a higher-seeded team excites us because we know it's going to happen.
As long as I've been watching, which is a little longer than I care to admit, there's never been an opening day without a game that was decided by a shot in the closing seconds.
We love the Cinderella story and want to be able to see it firsthand.
We know we will see one today.
Jim McIsaac/Getty Images

We are going to get 16 games today. For me, it's a dream. Every single game has meaning and every game carries the dreams of players, coaches and thousands, if not millions of fans, willing their team to win.
The only drawback to today is that we don't get to watch every game, having to switch between first-round matchups unless we have multiple televisions in the room.
I have a solution to this problem.
Two weeks ago, we recognized this year as a leap year because every year our calendar is off by about six hours and a full day needs to be added to catch up. I think they should just add those six hours to today every year, giving us six more hours to watch all of the games.
It's a win-win.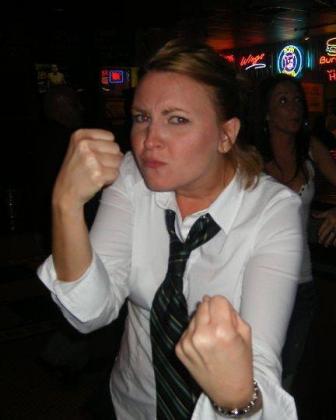 Every year, I obsess over watching as much basketball as I can until my girlfriend puts up her dukes and wants to punch me in the face for forgetting she exists.
The powers that be are gracious enough to give us a break between the mid-afternoon games and the evening games for dinner. This allows us to recharge, eat a prepared meal and try to repair any damage caused to our significant other's ego.
Gregory Shamus/Getty Images

For many people, today is the day to call in sick. For many others, what was two days of watching basketball just became a four-day weekend.
Do you know what you can do during a four-day weekend?
Anything you want. You can never change out of your pajamas or never get out of bed for that matter.
Heck, if you're old enough, you can start drinking as early as you like. You're on vacation and you've earned that a.m. beer.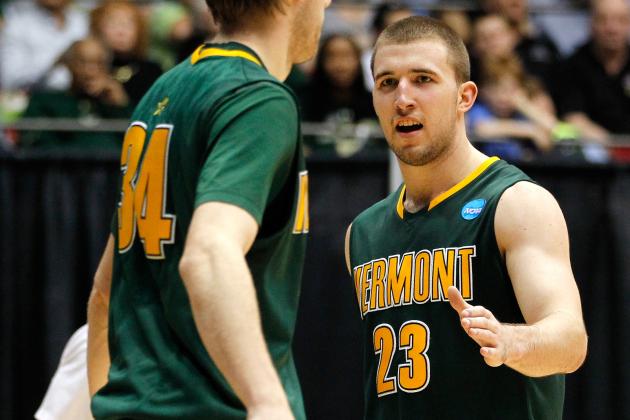 Gregory Shamus/Getty Images

Getting back to the brackets, today is a day where we can experience the joy of being right because just as hard as it is to guess every game right, it's impossible to guess every game wrong, so you get to remind people, "I had that game right" and "You didn't have that?"
There's nothing quite as satisfying as being right, and due to the fact that I live with my girlfriend, I don't get that chance very often.
Today, I get that chance.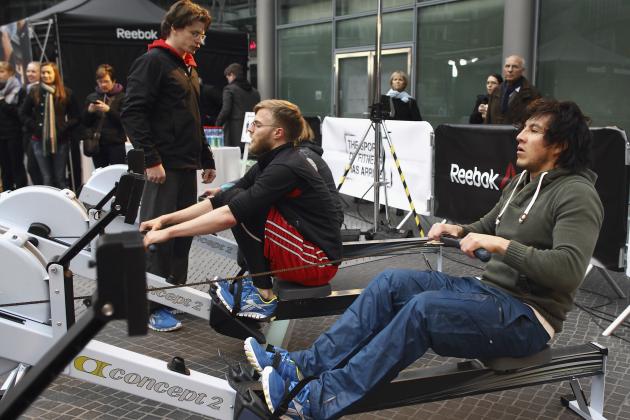 Andreas Rentz/Getty Images

Although you may not realize it, you will get a workout today. All the jumping around, screaming and stress of willing your favorite team to win takes a toll on your body and burns calories at an accelerated rate.
Don't believe me? Check back tomorrow after your head hits the pillow tonight and you don't move until the alarm sounds.
Christian Petersen/Getty Images

Remember all those stupid shirts and random charms you've amassed with your team's logo? Today it all comes out.
You can't be ridiculed for your orange helmet or your leprechaun shoes or whatever else you need to help bring your team good luck.
Well, you can be ridiculed, but you'll get over it. Our teams need all the cosmic energy they can get.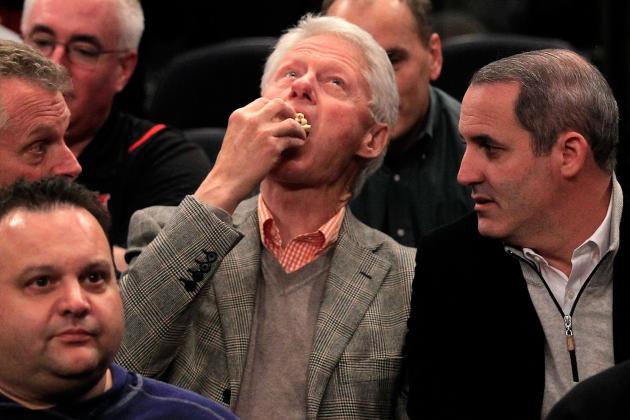 Chris Trotman/Getty Images

On this day, diets go out the window.
Today I'm eating brisket inside a taco shell, covered with every cheese in the house, and you can too. It's a time to celebrate, and I can't be reduced to healthy snack crackers and yogurt. I need the energy that only real food can provide, so, sorry honey, today the diet is off.
It's tournament time!