L.A. Angels Trade Scenarios: Odds on Which Prospects Might Get Traded in 2012
March 15, 2012

Jeff Gross/Getty Images
The Angels have made their share of deals these past few years, mostly dealing away prospects for veterans they believed could help them now.
This year, however, all signs point to a team that is content with the group they have and believes it can go all the way as presently constituted.
As a result, barring any setbacks or injuries, I don't expect them to be very active on the trade front this season.  But if they were to make a deal, they would likely have to surrender one or more of the 10 prospects listed below.
To that end, here's a breakdown of which of these youngsters might be on the move.  (Odds of being dealt in parentheses.)
(2B) Alexi Amarista (10 to 1)
Amarista, 22, hit .296 for the big club in 16 games last season, and he's hitting .438 this spring, so he's shown he can handle the bat.  The problem is he lacks power, and the Angels have Erick Aybar and Maicer Izturis around to fill the "light-hitting middle infielder" role. 
With other more heralded prospects in the pipeline, Amarista seems to be a prime candidate to be moved in exchange for bullpen help.
(RP) Daniel Tillman (20 to 1)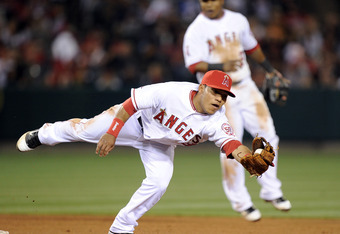 Harry How/Getty Images
Tillman, 23, is a closer by trade, and the Angels might need one if incumbent closer Jordan Walden doesn't drastically cut down on his blown saves.  He was 6-3 last year with 14 saves between Class A and AA.  If Walden does improve and locks up the job for the next several years, then Tillman can still be a valuable Scott Shields-type bullpen asset, either to be utilized on the field or as a trade chip. 
(3B) Kaleb Cowart (35 to 1)
The team's first-round pick in 2010, Cowart saw action this past Sunday, pinch-running and scoring a run and then striking out in his only at bat. He'll likely be sent down soon, however, as he is still at least three to four years away from the show.
The Angels are in no hurry and can afford to wait for him to develop, but if fellow prospect Taylor Lindsey continues his rapid development and Mark Trumbo proves he can handle the hot corner, then the 19-year-old Cowart could prove to be an attractive trade piece this year to acquire a quality reliever.
(C) Jett Bandy (50 to 1)
Bandy played most of his debut season in rookie ball but did manage a guest appearance on the team's AA and AAA affiliates.  He finished the year batting .308 with a .492 slugging percentage.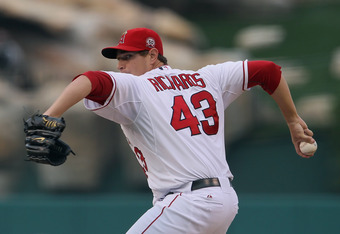 Jeff Gross/Getty Images
Much of his future depends on fellow catcher Hank Conger's development, as Conger struggled offensively at the plate last year in his first extended stretch in the majors, hitting .209.  Conger rebounded down in AAA, hitting .300, but the fact that the team went out and got Chris Iannetta doesn't signify a great deal of confidence in Conger, which actually helps the soon-to-be 22-year-old Bandy's value to the organization, thus making him less likely to be traded. 
I would venture to say that if any young catcher were to be traded, it wouldn't be Bandy, not at the rate he's progressing.
(2B) Taylor Lindsey (55 to 1)
Lindsey, 20, was a first-round (supplemental) pick in 2011 and wasted little time showing why, taking home MVP honors in the Rookie-Advanced Pioneer League. That earned him an invite to spring training so he could rub elbows with the big boys. 
He's done more than that, however, playing in four games and posting a .714 average with two extra base hits.  With the team having signed Howard Kendrick to a four-year extension, they can bide their time with Lindsey and allow him to mature physically, much in the same the way they did with Kendrick.     
(1B/DH) C.J. Cron (60 to 1)
The team was so enamored with Cron that they drafted the first baseman 17th overall last year out of the University of Utah despite him having a shoulder injury at the time. He was able to play through that injury but suffered a dislocated kneecap in September, which required surgery.
Cron, 22, was tearing up the rookie league at the time with 13 HRs in 37 games but considering the team already has three slugging first basemen/DH types on the 25-man roster, they might be willing to listen for offers on Cron if it nets them someone who can help them now while their window is wide open. But it would likely have to be a special someone.
(SP) Garrett Richards (75 to 1)
Win the team in "win-now" mode, Richards, 23, is being given every opportunity to claim the fifth spot in the rotation and even if he doesn't secure it, he's the first person in line should someone suffer an injury. This increases his value to the team and thus makes it very unlikely he'll be traded.
Plus, he's too good and his ceiling is too high to be included in a package for anything less than an All-Star. At this point, if the Angels do make any moves, they will likely be for veteran role players.
(SP) Nick Maronde (90 to 1)
Drafted out of the University of Florida in the third round of the 2011 draft, Maronde had a very impressive debut season, going 5-0 with a 2.14 ERA in 11 starts at the rookie league level.  Hard-throwing left-handers with nasty sliders are hard to come by and Maronde, 22, definitely fits that description, so he's much more likely to be in the Angels' five-man rotation in 2012 than he is to be traded.
(SS) Jean Segura (100 to 1)
The team signed Segura, who turns 22 on Saturday, when he was 16 years old and has invested a lot of time developing him.  Those efforts are still a couple of years away from paying dividends but with the Angels thin at shortstop, they have plenty of incentive to keep Segura around so he can fulfill their expectations. 
If all goes according to plan, they could have their very own Jose Reyes, a dynamic leadoff hitter who causes mayhem on the basepaths and sets the table for the middle of the order.  Those impact players are very hard to come by, so it's highly unlikely he gets dealt in 2012. 
(OF) Mike Trout (200 to 1)
The 20-year-old "Boy Wonder" is borderline untouchable. 
Considering how high everyone in baseball is on Trout, and how relatively inexpensive it's going to be for the Angels to keep him over the next several years, it would truly take a blockbuster deal for him to be traded.  However, the team has been burned before by "can't-miss" prospects who missed (Brandon Wood, anyone?), so if the opportunity arises to acquire a proven superstar who won't cost a fortune and the team is right in the thick of things playoff-wise, then they would at least consider dealing him. 
Absent that, though, the west coast version of Bryce Harper isn't going anywhere in 2012 except the outfield for the Angels.