NFL Free Agency: Cincinnati Bengals Lose Frostee Rucker and Jon Fanene Quickly
March 15, 2012

Andy Lyons/Getty Images
The Cincinnati Bengals made it known that their priority during the NFL free agency period was to bring back their own players instead of spending excessive money on big names.
The plan thus far has backfired.
Two of the free agents the Bengals had made a priority were defensive ends Frostee Rucker and Jonathan Fanene. They both played exceptional last year on a rotation, thus allowing the Bengals to finish the season with a top 10 ranked defense.
Yesterday Fanene signed with the New England Patriots. The deal was worth a reported $12 million over three years. Rucker is close to a deal with AFC North divisional rival Cleveland Browns on a reported $21 million over five years.
Last season Rucker and Fanene combined for 10.5 sacks out of the Bengals total 45. Rucker recorded 44 tackles and four sacks on the season while Fanene compiled 24 tackles and 6.5 sacks.
Joe Reedy of The Cincinnati Enquirer heard speculation that the Bengals' offer to Fanene was $7 to $7.5 million over three years—a little short of what the Patriots officially gave him.
After the moves head coach Marvin Lewis released a statement saying the Patriots and Browns have one thing the Bengals don't—more playing time:
Frostee and Jon have had productive careers here and have been great teammates, and their contributions in our line rotation have made them attractive to other clubs.They both seem to have the opportunity to play a larger role with their new clubs, and we understand that. We wish them well and we look forward to being able to replace their snaps with the depth we have and with players we may acquire through the draft or free agency.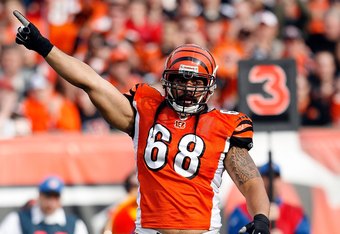 Andy Lyons/Getty Images
What Lewis says makes sense. It would be questionable to pay Fanene, someone the team considers a rotational player at best, $4 million a year. It would also be questionable to pay Rucker a massive contract such as the proposed one offered by the Browns because last season was the first time Rucker managed to play in all 16 games.
With that being said, it goes against what the Bengals have been saying all offseason about retaining their own players. Add in the fact they have the most cap room in the league, and it's hard to understand what is going on in the minds of Bengals brass.
With the loss of both ends, retaining free-agent defensive tackle Pat Sims must now be a priority. So far teams have shown little interest, and the team could use his run-stuffing abilities back now.
Another free agent that must be made a priority now is safety Reggie Nelson. Like Sims, the market hasn't been exactly large for his services. This works in the Bengals favor if they truly view him as a starter and want to bring him back.
Geoff Hobson of Bengals.com believes the Bengals will address the recent losses on the defensive line through both free agency and the draft.
Former Miami Dolphins' defensive end Kendall Langford is scheduled to visit Cincinnati today. Langford is essentially the same player as Fanene in that he can rush from defensive end or line up as a defensive tackle.
The team also appears to be ready to give ends Michael Johnson and Carlos Dunlap a bigger role next year, but only if they can stay healthy and productive. Using an early pick on a defensive end in the upcoming draft could potentially revitalize the depth issue that is now a major concern.
For Bengals fans, it may not be time to hit the panic mode-—just yet. While Lewis' comments can be considered a spin, they also make a degree of sense. How the next week plays out in regards to other Bengals' free agents will be a telling sign of if the Bengals can successfully build off of their surprising season a year ago.