WWE: 7 Ways Poor Booking Has Hurt Dolph Ziggler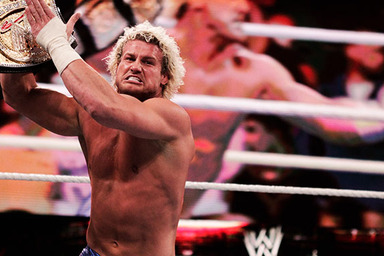 Photo courtesy of WWE.com
Dolph Ziggler has been a victim of a major crime.
That crime is something that has destroyed the careers of countless WWE superstars in the past. You and I know it simply as poor booking.
Though Ziggler had a fantastic 2011 and looked poised to have an even better 2012, the creative team hasn't done him any favors in helping him rise up the card. I know that it's WrestleMania season and that not everyone can get the spotlight, but Ziggler deserves better than what he's getting right now.
The guy was an absolute workhorse for the WWE, and the company's booking should be helping him, not hurting him. Yet, that is exactly what's happening.
Here are seven ways that poor booking has and still is hurting "The Showoff," Dolph Ziggler.
Begin Slideshow

»
Photo courtesy of WWE.com
Dolph Ziggler had a very solid 182-day reign with the United States Championship from June to December of last year, one that was highlighted by a pretty good feud with Zack Ryder.
But the US title has been treated like an absolute joke since Ziggler dropped it to Ryder at WWE TLC.
Ryder was squashed by Jack Swagger in their title match and lost the belt just 29 days after winning it, and Swagger then went on to hold the belt for only 49 days before losing it to Santino Marella, who's almost purely a comedy character.
So, Ziggler lost the title to a guy who lost it to a mid-carder that never earned a title shot who then went on to lose it to someone whose finisher is the Cobra?
Well, it didn't exactly make Ziggler look good when he lost the United States Championship to Ryder, who has been booked like complete crap since their feud has ended, and Ziggler only looked worse when the belt wound up on Santino.
Although Ziggler held the US title for a while, both of the WWE's mid-card titles have been nothing more than props over the last several years, and the creative team has certainly proven that with the way the US title has flip-flopped from champion to champion recently.
Other than that promo you're looking at, Dolph Ziggler has had to get his "Showoff" character over almost entirely on his own.
Ziggler's ridiculous headstands and mid-match sit-ups are easy things to do that generate a good amount of heat, and he pulls them off really well. But the creative team has failed to capitalize on Ziggler's arrogant character at all.
This doesn't have to be a real complicated process, either.
All the WWE has to do is give Ziggler a microphone and some short promo time every once in a while, and it'll help him establish himself more as a hated heel. Heck, just do some ridiculous pre-taped vignettes that really highlight the cockiness of his character.
I'm not too particular on exactly what creative has to do with Ziggler. The idea is just to stress his "Showoff" character in the same way that Daniel Bryan's vegan/role model character is stressed.
If people see Ziggler doing more arrogant things on a more consistent basis, they're much more likely to hate him than they would be if he just wrestles a match and then leaves the arena every week.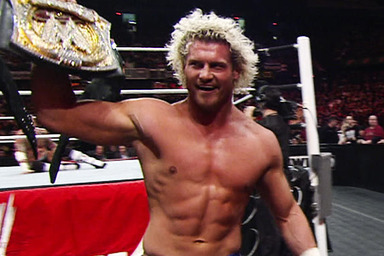 Photo courtesy of WWE.com
Dolph Ziggler moved to Raw on March 7, 2011, and he's certainly been given some great opportunities since moving to Monday nights, such as his WWE Championship match at the 2012 Royal Rumble.
But for almost the entire year, Raw's main event and World title scene was taken up by four men: The Miz, John Cena, CM Punk and Alberto Del Rio. That severely limited Ziggler's chances of rising up the card, becoming a full-time main eventer or even getting a run with the WWE title.
If you look at what happened on Smackdown, however, three guys who were really given World title opportunities during their WWE careers before 2011 actually wound up winning the World Heavyweight Championship that year: Christian, Mark Henry and Daniel Bryan.
In other words, Smackdown was the land of opportunity, while Raw was the land of "let's let these four guys dominate the title scene the whole year."
Had Ziggler remained on the blue brand instead of randomly transferring to Raw last March, I'm fairly confident that he would have spent a lot more time in the main event scene and probably would have gotten a run with the World Heavyweight title.
I know they say that Raw is the WWE's "A-show," but what would you rather be, a mid-carder on Raw or World champion on Smackdown?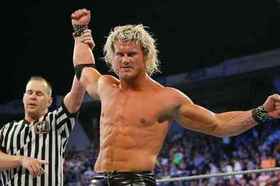 Photo courtesy of WWE.com
Although CM Punk and Dolph Ziggler put on a very good WWE Championship match at the 2012 Royal Rumble, that pay-per-view still did nothing good for Ziggler's career.
We all already know that Ziggler can have a good match with just about anyone on the WWE roster, but no one's going to take him seriously if he loses all of his biggest matches...especially when he loses two matches in one night.
Sure, having Ziggler pull "double duty" for the third time in the last several months shows that the WWE knows he can work, but why even put Ziggler in the Royal Rumble match if he's not going to win it?
Better yet, why have Ziggler get squashed by an established veteran like The Big Show in that Royal Rumble match? Show eliminated Ziggler (and three other superstars) with incredible ease in a matter of seconds, in what was clearly one of the dumbest booking decisions of the year.
We get it, WWE: The Big Show is big, and he can destroy anyone in his way. But this is 2012, not 2002, and we don't want Show's push to come at the expense of up-and-comers like Ziggler.
When the "Showoff" walked out of the Royal Rumble pay-per-view this year, all of the momentum that he had built up in the latter half of 2011 was completely killed.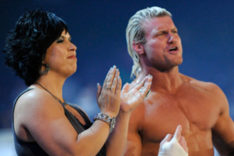 Photo courtesy of WWE.com
Vickie Guerrero is an absolute heat magnet, and when Dolph Ziggler was still struggling on the mic a bit early last year, it was definitely wise to pair the two together.
But there comes a point when a manager and wrestler have gotten pretty much everything that they can out of each other, and Ziggler and Guerrero have reached that point. It's time for Ziggler to move on.
If you take a look at all of the superstars that are at the top of the WWE, the common link between every single one of them is that they can work a mic and do not have a manager. They do both their walking and their talking.
Now, a year ago, Ziggler probably wasn't ready to do that. But he stepped up in the promo department in a major way in 2011, effectively making Guerrero expendable.
While there's no doubt that Vickie is a great heel manager who can help get just about any heel over, Ziggler is never going to truly be a top star until he can prove that he can get over on his own and stay over on his own.
The creative team has to split these two soon, or it runs the risk of Ziggler staying in his current spot and being stuck alongside Jack Swagger for the foreseeable future.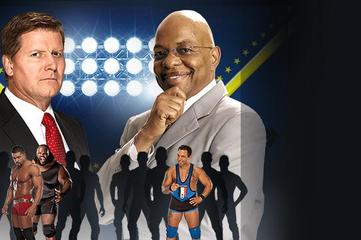 Photo courtesy of WWE.com
WrestleMania season is a tricky time for guys like Dolph Ziggler, who should be involved in high-profile matches but often just don't fit into the creative team's plans.
I realize that Ziggler was probably never going to get a World title match at the big pay-per-view this year, but just 16 days away from the show, he literally has nothing to do.
Chances are that he'll be involved in the Team Long vs. Team Laurinaitis match, but that's a far cry from where he was just a couple of months ago: Competing for the WWE Championship.
Instead of highlighting Ziggler, giving him a nice singles match and putting him over, the creative team is throwing him in a random mid-card that features a whopping 11 other competitors. Especially if the bout is not an elimination-style match, it's going to take a lot even for Ziggler to stand out.
He may be relegated to only a few minutes of action at WrestleMania 28 when he should be one of the stars of the show.
The WWE can somewhat make up for this if Ziggler gets the win for Team Laurinaitis, but that's about the only thing that justifies putting one of your best performers in a match that is generating little to no interest from a good chunk of WWE fans.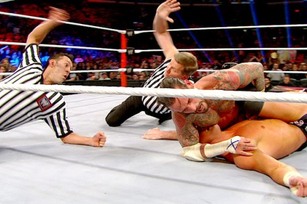 Photo courtesy of WWE.com
Just a couple of months ago, Dolph Ziggler was feuding with CM Punk over the WWE Championship. Or was he really?
Although Ziggler was indeed the No. 1 contender for Punk's WWE title, the real feud at the time wasn't Punk vs. Ziggler. It was Punk vs. John Laurinaitis.
The interim GM of Raw and Punk had a heated rivalry going on back then, and even though Ziggler was involved in it, he was still nothing more than the third wheel. The creative team built up 25 times more animosity between Laurinaitis and Punk than it ever did between Punk and Ziggler.
And guess what? That Laurinaitis/Punk feud basically went nowhere.
There was no major payoff in that rivalry, and the only thing that it really accomplished was completely overshadowing Ziggler during his first-ever WWE Championship feud. Even if the matches were good, no one cared about Ziggler/Punk, and no one ever thought that Ziggler was going to beat Punk for the title at the Royal Rumble.
Maybe we would have, though, if the creative team booked Ziggler like any type of a threat to Punk's reign as WWE Champion. But they didn't, and Ziggler has still yet to recover.
Drake Oz is a WWE Featured Columnist for Bleacher Report. You can follow him on Twitter and ask him any wrestling-related questions on Formspring.