March Madness 2012: 5 Reasons the Georgetown Hoyas Can Make the Final Four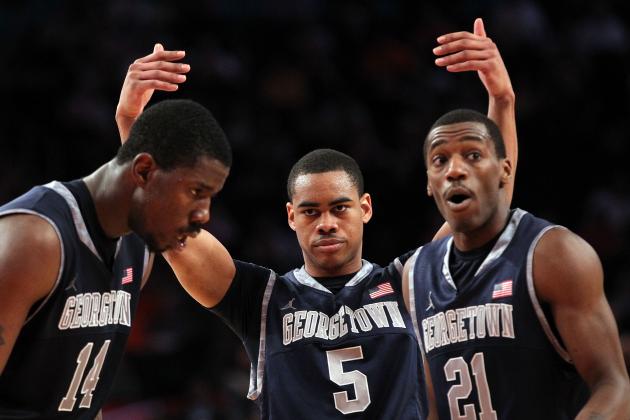 Michael Heiman/Getty Images

Belmont is this year's sexy sleeper. Everyone seems to jumping on the Belmont Bruins' bandwagon and thus discounting the Big East battled-tested Georgetown Hoyas.
Mark Titus over at Grantland went as far as to say, "The truth is that I would've picked Belmont to beat any of the 3-seeds in this year's tournament, because they've got that classic upset-minded mid-major feel to them..."
Sure, we all pick on feeling to some extent, but such reasoning isn't fundamentally sound. More importantly, it overlooks the fact that Georgetown is a very dangerous team capable of coming out of the Midwest bracket and reaching New Orleans.
Here are five reasons more people should start paying attention to the Hoyas.
Begin Slideshow

»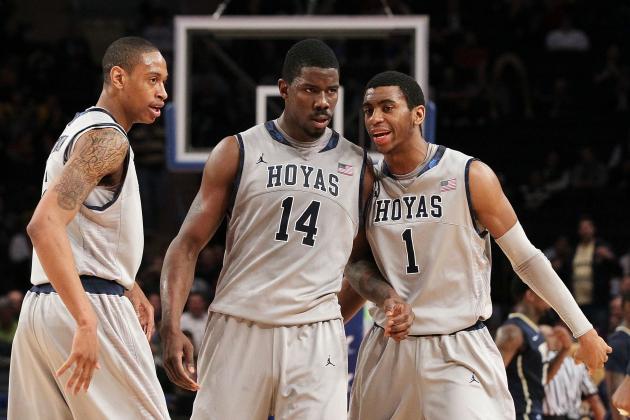 Jim McIsaac/Getty Images

Come March, successful teams are built around four key ingredients.
1. Senior leadership
The rise of Henry Sims has been remarkable, and coupled with fellow senior and leader of the team Jason Clark, the Hoyas have a strong veteran presence and two experienced captains that an otherwise youthful team can turn to down the stretch.
2. Dangerous shooters from deep

One of the best pure shooting forwards in the country, Hollis Thompson leads a Hoyas attack that is more than capable of filling it up from deep. Plus, as is evidenced by his late-game heroics against Memphis, Alabama and Marquette, the Hoyas have a clutch scorer to turn to when the game is on the line.
3. A presence down low when those shooters go cold

Coming into this season, one of the biggest question marks for the Hoyas was whether or not they'd get production from Sims down low. After consecutive 20-plus-point and 13-plus-rebound averages, Sims has more than answered any lingering doubts.
4. A close-knit team with heart who believes in each other
Looking back on it, the brawl in China was a blessing in disguise, as it brought the Hoyas together and instilled in the team the importance of having each other's back.
Coach Thompson has praised the players, particularly the freshman class, all year for sacrificing for the good of the team, playing unselfish basketball and pushing each other to get better. Sounds like a winning formula.
So...check, check, check and check.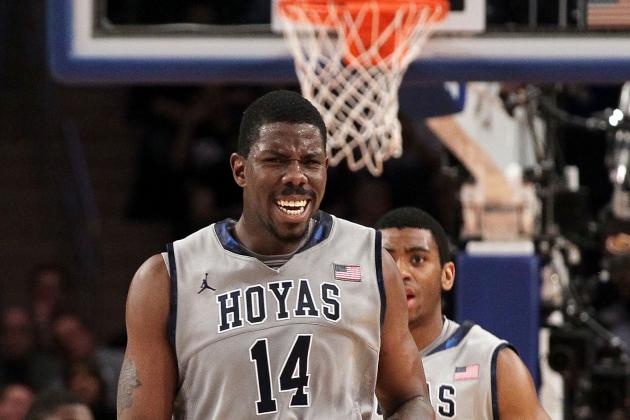 Jim McIsaac/Getty Images

To say the Hoyas are peaking at the right time might seem a little strange considering they are only 6-4 in their last 10 games. It's individually more so than team-wise, as guys have taken significant strides and are living up to their expectations.
Henry Sims is finally playing up to his potential and has particularly exploded as of late, averaging close to 14 points and 10 rebounds over the past five games. Freshman Otto Porter is showing why he is one of the best freshmen in the country, averaging 15 points per game, and similarly, fellow freshman Greg Whittington is also finally hitting his stride.
Meanwhile, Jason Clark and Hollis Thompson have been uncharacteristically off their games. Should they regain their scoring touch, Georgetown—who hung with Cincinnati without major contributions from either—will be a very potent offense with a balanced inside/outside attack.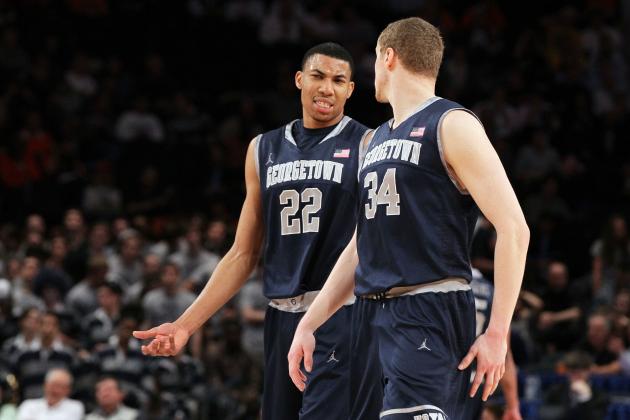 Jim McIsaac/Getty Images

Come this time of year, playing styles and matchups become increasingly important. Small mid-major schools suddenly become overnight darlings because they present matchup problems, can space the floor and shoot the three from all over the court. Top seeds, meanwhile, march through the draw with better teams who can wear smaller lineups down.
For Georgetown, matchups aren't a problem, as the Hoyas are one of the most versatile teams in the country.
Against the run-and-gun Belmont Bruins, Georgetown can comfortably employ a smaller lineup of Porter, Whittington, Thompson, Clark and Starks, if need be, to keep pace.
Later in the tournament against Kansas, the Hoyas will just as easily use a bigger lineup of Sims, Lubick, Porter, Thompson and Clark.
The fact that Georgetown has three 6'8" wing players who can play guard or forward, a 6'10" center in Sims and a 6'5" point guard in Jabril Trawick coming off the bench makes the Hoyas one of the most difficult matchups in the tournament.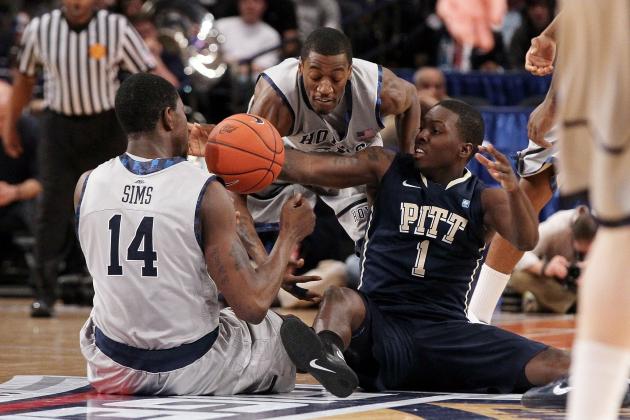 Jim McIsaac/Getty Images

In keeping with the discussion of versatility, over the course of the season the Hoyas held 18 teams to 60 points or less this season.
Eighteen!
That kind of smothering, suffocating defense almost always translates into wins in the tournament. Driven by the energy of the freshmen, the Hoyas take as much pride (or more) in their defense as they do offensively, which keeps them in just about every game. And, in close games where opposing teams might tense up and crumble, Georgetown tends to thrive.
Five times Georgetown won by three points or less, meaning, as a young team, they should already know how to handle the pressures of March.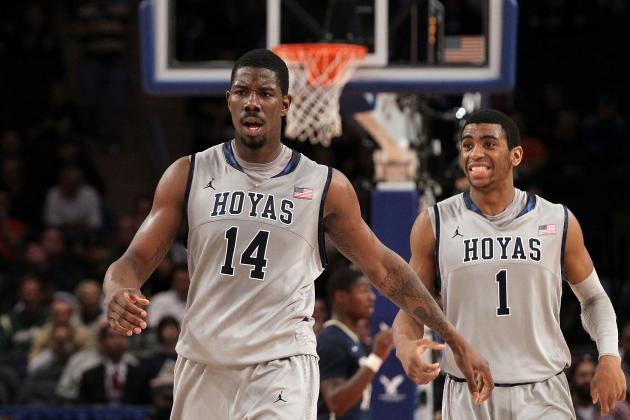 Jim McIsaac/Getty Images

A lot of coaches will tell their teams that it is a new season and to forget about the league play before the tournament begins. Often that is good advice.
But there is something to be said for being battle-tested heading into the Big Dance, and no league will get you more prepared than the Big East.
This year was no different for Georgetown, as the Hoyas won an impressive eight games over tournament teams and five games over Top 25 teams.
Jim McIsaac/Getty Images

Five years ago, the Georgetown Hoyas faced off against a far superior North Carolina team and won, upsetting the Heels in stunning fashion.
They did it with a team very similar in style and makeup to this year's squad.
The 2006-07 Hoyas had Roy Hibbert down low, Green and Summers on the wing, and the steady play of Jon Wallace at the point.
This year's team has all the same components, and while Sims and Porter might not be at quite the same level of Hibbert and Green, this year's group has more depth, toughness and stronger role-players in Starks, Whittington and Lubick.
If both Georgetown and Carolina were to advance to the Elite Eight, UNC would be favored, but don't sleep on the Hoyas.