Chipper Jones Retirement Talk: Why He's a First-Ballot Hall of Famer
March 14, 2012

Kevin C. Cox/Getty Images
With comments like, "I don't know if I can make it through this year," Chipper Jones made headlines earlier this week. And while he has since said that he was joking and put retirement talks on the back burner, there is no denying that the end is near for the soon-to-be 40-year-old.
He is entering the final guaranteed year of his current contract; the Braves hold a $7 million team option for 2013, which automatically bumps up to $9 millions if Jones appears in 123 games this coming season. So, if he stays healthy, it is conceivable that Jones could play next season at the very least.
Nonetheless, his body of work is impressive without adding anything more to it. If he were to retire today, he would be a sure-fire bet for the Hall of Fame and, in my opinion, a first-ballot Hall of Famer for a number of reasons.
First, let's take a look at how his career numbers stack up all time, and against third baseman with 3,000-plus career plate appearances.
BA: .304 (156th, ninth)
OBP: .402 (53rd, second) 
SLG: .533 (46th, first)
HR: 454 (33rd, third)
RBI: 1,561 (40th, third)
R: 1,561 (53rd, second)
Simply looking at that quick overview of his career stats shows that Jones was not only one of the greatest offensive third baseman of all time, but simply one of the greatest hitters to ever play the game.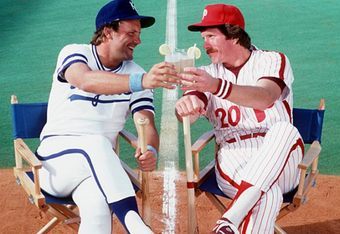 As far as where he falls all time among third baseman, most would consider Mike Schmidt and George Brett to be the unquestioned 1-2 of that argument. But after that you could certainly place Jones in the running with the likes of Eddie Mathews, Wade Boggs and Brooks Robinson for No. 3.
To stop there and call Jones a top-10 third baseman hands down—and perhaps top-three—would be enough to call him a Hall of Famer, but his resume goes beyond his rank at his own position.
Jones is also one of the greatest switch-hitters to ever play the game, and a truly dual-talented hitter, as he holds identical .304 averages from each side of the plate. He is certainly in the category of Mickey Mantle, Eddie Murray and Pete Rose as truly elite switch-hitters, with Tim Raines and Lance Berkman worthy of mention as well.
While those statistics are hard to ignore, some people prefer the eye test and comparing a player to his contemporaries when deciding whether or not someone is Hall of Fame-caliber.
A seven-time All-Star, two-time Silver Slugger winner, 2008 batting champion, and 1999 NL MVP, Jones has the accolades to match his impressive numbers.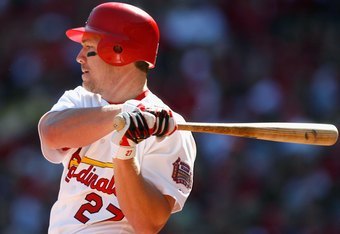 Dilip Vishwanat/Getty Images
As for contemporary third baseman, Jones shared his prime with guys like Scott Rolen, Vinny Castilla, Robin Ventura, Ken Caminiti, Aramis Ramirez, Wade Boggs, Matt Williams, Troy Glaus, Mike Lowell, Adrian Beltre, Travis Fryman and converted shortstops Cal Ripken and Alex Rodriguez.
Among that group, the only player who gives Jones a run for premier third baseman of the era would be Rolen, who was not only an offensive force, but a fantastic defender as well. But given Rolen's inability to stay healthy, it is safe to call Jones the best third baseman of his era.
Looking deeper at his playing days, though, Jones managed to establish himself as a legitimate superstar during the Steroid Era, yet there are no suspicions surrounding the Atlanta great. His longevity and consistency helped the Braves make the playoffs year in and year out, as Jones has compiled a line of .288 BA, 13 HR, 47 RBI in 11 postseasons.
So, not only does Jones pass the statistical comparison aspect of being Hall of Fame-worthy, but also the contemporary comparison that many people like to point to.
Of the current Hall of Fame third basemen, only George Brett (98.2 percent), Mike Schmidt (96.5 percent), Brooks Robinson (92.0 percent) and Wade Boggs (91.9 percent) received the required 75 percent of the vote for election their first time on the ballot. And once Jones decides to hang it up and becomes eligible, he should become the fifth member of that group.