Brandon Carr to Dallas Cowboys: Deal Analysis, Grade and Twitter Reaction
March 14, 2012

Wesley Hitt/Getty Images
Cornerbacks flew off the market left and right to start the NFL's free agency period, but when the dust was all settled, the Dallas Cowboys had finally got one of their free-agent targets. 
According to ESPN's Adam Schefter, the Cowboys agreed to a five-year, $50.1 million deal with cornerback Brandon Carr Wednesday afternoon. No immediate details were released on the guaranteed money involved in the contract.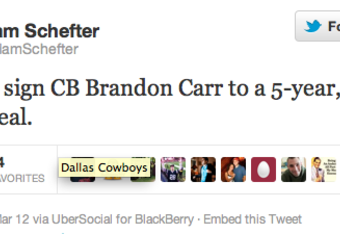 The $50.1 million Carr has received is no typo, as the Cowboys gave the former Kansas City Chiefs cornerback the top free-agent deal at the position thus far this offseason. The St. Louis Rams gave Cortland Finnegan $50 million over five years on Tuesday. 
The Cowboys, who desperately needed to upgrade in the secondary, were running thin on options at cornerback as Finnegan, Carlos Rogers and Eric Wright all wrapped up deals early in free agency. At 26 years old, however, Carr may end up being the best signing of the bunch.
According to Pro Football Focus, Carr allowed just 39 receptions and a 61.7 passer rating in over 1,000 defensive snaps in 2011. The Cowboys didn't have a cornerback on the roster last season that could match what Carr gave the Chiefs last season.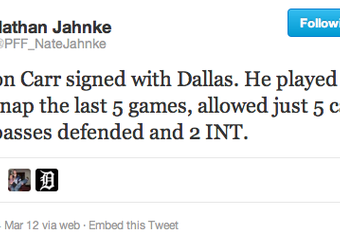 He's also 6'0", 210 lbs., which made Carr a tough cornerback in press man coverage. Under defensive coordinator Rob Ryan, the Cowboys defense has leaned more towards that kind of coverage from its cornerbacks.
Carr will replace Terence Newman—another free agent this spring—in the Cowboys' starting lineup starting next season. That's a major upgrade for the Cowboys secondary no matter which way you look at it.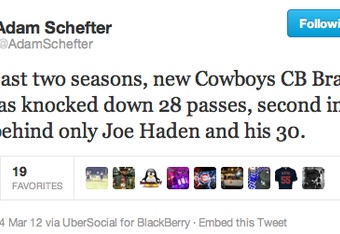 Give the Cowboys credit for having some patience and getting one of the top players in free agency at a major position of need. While Carr has never been a No. 1 cornerback at the NFL level (Brandon Flowers was the main guy in Kansas City), he's going to give the Cowboys a talented player that should help the pass defense improve on its 23rd overall ranking last season.
In the end, the Cowboys signing of Carr represents one of the best fits of free agency so far. It cost owner Jerry Jones a good chunk of change, but it should be worth every penny.
Grade: A