Atlanta Braves 2012: Each Player's Role in Winning the East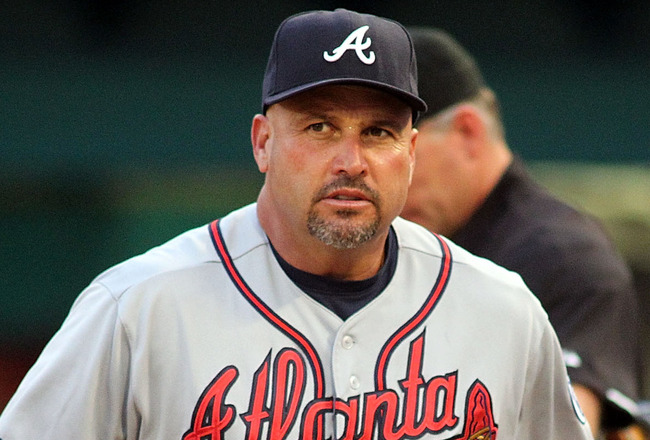 Marc Serota/Getty Images
Unfortunately, the Atlanta Braves had a New York Mets type collapse at the end of last season. The Cardinals made the best of the situation and turned their gift wrapped invitation to the playoffs into a world championship.
Every player in the Brave's club house remembers the way last season ended and vows that this one will end quite differently. In entering the season with almost the exact same team as they ended with last season, each player needs to do their part to find a way to win that elusive one more game.
What follows is what Frank Wren and Fredi Gonzalez expect out of each member of the team this season if they intend to be sipping champagne in October.
Matt Diaz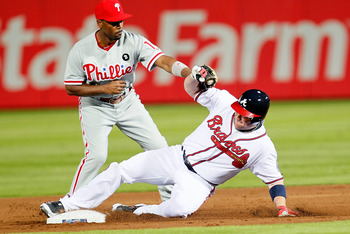 Kevin C. Cox/Getty Images
Diaz has one very desirable skill that has kept him in Major League Baseball since 2005.
The guy can mash left handed pitching.
The Braves again provide him the perfect format to showcase that talent with Jason Heyward as the starting right fielder. Heyward has consistently struggled against lefties in his young career, meaning when it's time for a day off the Braves will wait for a left handed opposing starter and plug Mattie D. right in the line up.
Jose Constanza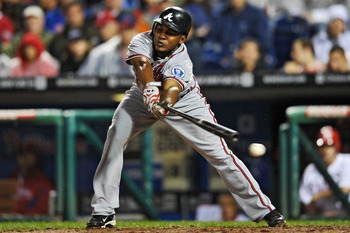 Drew Hallowell/Getty Images
Constanza is a pesky little reserve outfielder who consistently prevents quick innings for opposing pitchers.
When he is inserted into the line up, it will most likely be in the bottom of the order. Last season Constanza showed an ability to slap his way onto base and gives the Braves an effective tool to "small ball" runs together in the weak part of their order. He'll look to do so once again in 2012.
Eric Hinske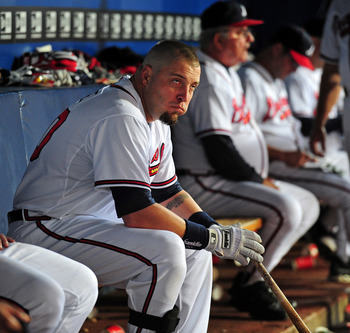 Scott Cunningham/Getty Images
Hinske helps the Braves win in two different ways.
First, he is an effective bat off the bench late in games and for the last two seasons has been the team's preferred pinch hitter.
Secondly and probably more importantly, he gives the Braves a veteran presence and is thought to be a team leader. This is the type of guy that teammates respect and listen to during those occasional four game losing streaks.
David Ross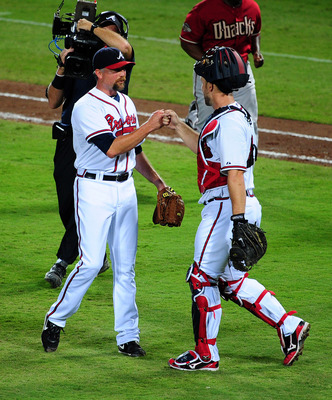 Scott Cunningham/Getty Images
Ross gives the Braves one of the better back up catchers in the league.
His game calling experience in professional baseball and strong arm allows him to effectively handle a pitching staff at any point during the season.
That coupled with a decent amount of pop in the box gives the team a good player to put on the field every 5th or 6th day when Brian McCann needs a breather.
Martin Prado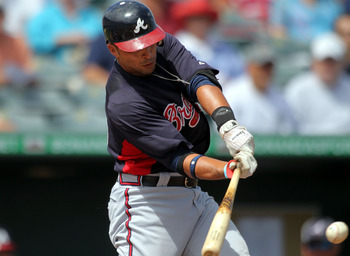 Marc Serota/Getty Images
Martin Prado is a far better hitter than he showed last season.
Even after an uncharacteristic .250 average, he remains a career .293 hitter. Expect Martin to get back on track in 2012 and hit over .300 with around 100 runs scored.
He also plays with excellent bat control and consistently moves runners already on base, making him a great two-hole hitter.
Michael Bourn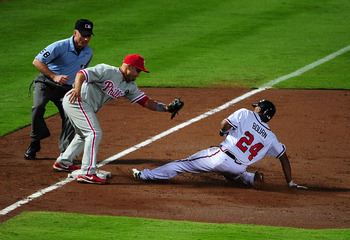 Scott Cunningham/Getty Images
Bourn's reputation is primarily as a base path burner who is in the league mostly to run fast. However, what many people forget is that what got Bourn his first shot in the majors was superior defense, and that remains a strong suit.
The two time gold glover still strikes out a bit too much for a lead off man (140 times last season) but does manage to get on base consistently and averages around 50 stolen bases per season.
And really it's just fun that the Braves have a true base stealer at the top of their order for the first time in 15 years.
Jason Heyward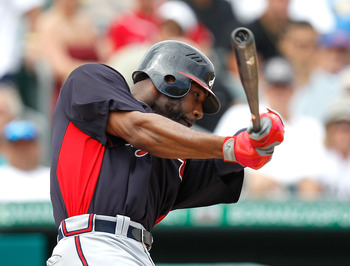 Sarah Glenn/Getty Images
Braves fans all want to know if this is finally the year Heyward breaks out in a big way. I would say definitely maybe.
After a solid rookie campaign, Heyward regressed considerably in his sophomore season, ending up with a .227 average and only 42 RBIs.
Heyward remains a patient hitter at the plate, drawing 142 walks in what amounts to a season and a half of big league at bats in his young career. However, he has trouble lifting the ball (55% ground ball rate) and that just doesn't work for a guy who strikes out a quarter of the time.
On the bright side, there's no questioning the talent so there's always hope this could be the year.
Chipper Jones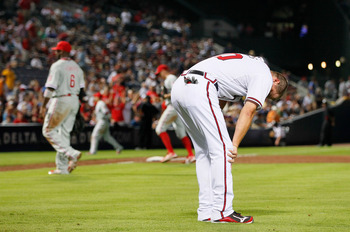 Kevin C. Cox/Getty Images
We all know Chipper Jones is in decline. His last season of 145 games or more was 2003, so you know he is going to miss time once again this year. Luckily when he does play, Chipper still hits the ball better than most third basemen in the league.
In a great world, the Braves would get 125 games of solid production out of the aging Jones.
In a perfect world, he would just retire, leaving the Braves with an extra $10 million of payroll availability.
Tyler Pastonicky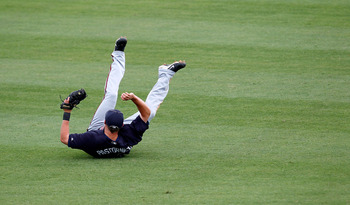 Sarah Glenn/Getty Images
I'll be honest. I have no idea how to pronounce this kid's name, which if fine because neither do the announcers.
Pastornicky is in a bit of a tough situation this season. The Braves intend to trot him out on the field as the opening day shortstop and see what happens. The problem is that he just doesn't appear to be a big league caliper starting shortstop.
He has no power and is a .278 hitter in the minors, largely inflated by last season's .314. Braves fans should be patient with their young shortstop as he struggles to adjust to National League pitching.
Be happy with what hopefully will be solid defense.
Dan Uggla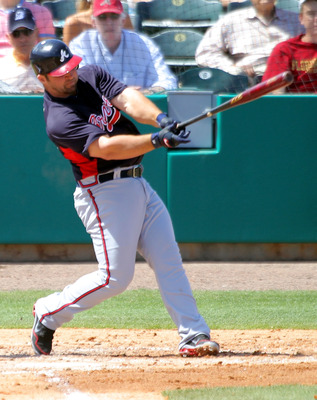 Marc Serota/Getty Images
For better or worse, you know exactly what to expect each season with Uggla. He's a near lock to post around 30 home runs with an average around .250, which is not bad production out of a second baseman.
He also will strikeout around 150 times, go through horrible slumps that seem to never end, and play just plain bad defense.
But at the end of the day, this is the closest thing the Braves have to a true power threat and that is an important part of a winning club.
Freddie Freeman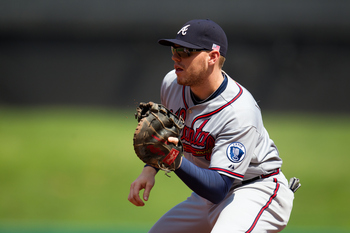 David Welker/Getty Images
Freeman is an integral part of the Braves chances for success in 2012. Without question he will be in the middle of the order on a daily basis and needs to produce in a big way.
He is still developing as a power hitter and does strike out frequently, but overall the team should get a fair amount of production from their young first baseman.
Freeman is a very close comparison to Adam LaRoche throughout his prime years with the club and you should expect comparable production, consistency, and gold glove caliber defense.
Brian McCann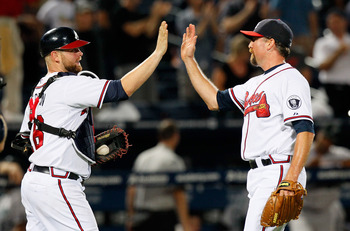 Kevin C. Cox/Getty Images
The six-time All Star McCann is the centerpiece of the Braves offense this year. Typically a durable and predictable player, he is all but a lock to catch 140 games and hit .275 with over 20 home runs.
McCann handles the young pitching staff well and is seen as a leader of the team despite his mild personality. Expect another solid showing and a 7th All Star game appearance.
Tim Hudson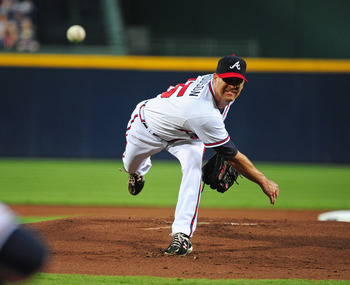 Scott Cunningham/Getty Images
Tim Hudson is still a very good pitcher. After an injury filled 2008 and 2009, Hudson has looked back to form as the unquestioned ace of the Atlanta staff for the last two seasons.
Unfortunately the injury bug hit Hudson this spring and he looks to miss a portion of season after back surgery. The Braves expect to have their ace back by the start of May so we should expect around 30 solid outings out of the veteran by seasons end.
Jair Jurrjens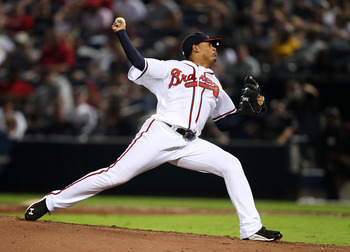 Mike Zarrilli/Getty Images
Jurrjens has been effective at what he does throughout his 4 year career.
Not blessed with overpowering stuff, the righty pitches to contact and induces a good amount of ground balls, allowing him to avoid a lot of big innings as evidenced by his career 3.40 ERA.
If the Braves decide to hold on to Jurrjens, we should expect him to post statistics comparable to his other three seasons in the majors—solid but not amazing.
Tommy Hanson
Kevin C. Cox/Getty Images
Hanson is another stud on the Braves young pitching staff.
When he first arrived on the scene in 2009, the hype was comparable to what we saw the following year with Stephen Strasburgh. Hanson really does possess the stuff to become a front line pitcher in the league.
Last season he struggled a bit to locate his fastball, leading to quite a few big innings for the opposition. If he can improve his command, we could see the first All Star appearance for the young star.
Brandon Beachy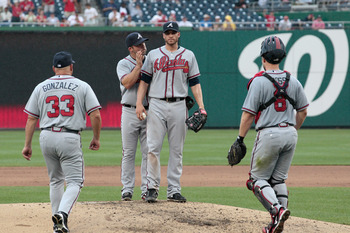 Rob Carr/Getty Images
With a fastball that sits in the low to mid 90's, Beachy meets the qualifications of a power pitcher. Indeed, he had 169 strikeouts in 141 innings last season and held opposing hitters to a .236 average.
The rookie righty spent a bit of time on the DL, but was equally effective before and after the injury.
Not bad for the number four man in the rotation.
Mike Minor
Patrick Smith/Getty Images
Mike Minor starts the season in competition with two other young arms for the fifth spot in the Braves rotation, and is my personal favorite to win the assignment. Minor features power stuff from the left side and a good frame to endure the grueling 162 game schedule.
In parts of two seasons, Minor has been plagued by simply allowing too many baserunners with a career WHIP of 1.52. If he can limit the amount of jams he has to pitch out of, the Braves could have one of the better end of the rotation starters in the league.
Julio Teheran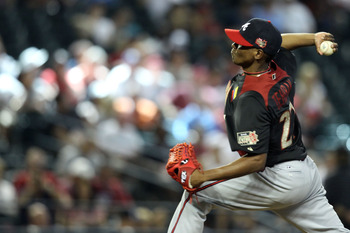 Christian Petersen/Getty Images
Want to bring a highly touted prospect back down to Earth? March him out in his first spring game of the season and let him give up six home runs in two innings of work.
After the disastrous spring debut, Teheran pitched much better in his second appearance.
In his late season call up last year locating pitches proved to be his undoing. If Teheran can control his electric stuff and avoid injury, he could shape up to be quite an asset for the Braves immediately.
Randall Delgado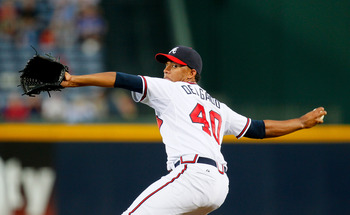 Kevin C. Cox/Getty Images
After pitching very well in a seven start audition at the end of last season, Delgado rounds out the three competitors for the fifth spot in the Braves rotation.
While Delgado does not possess quite the arsenal of Teheran, he outpitched the more highly touted prospect at the end of last season, posting a 2.83 ERA and holding the opposition to a .220 average.
Delgado will probably make the transition to long relief with an occasional spot start this season, but he's a good young arm that can help the Braves contend for the next several seasons.
Anthony Varvaro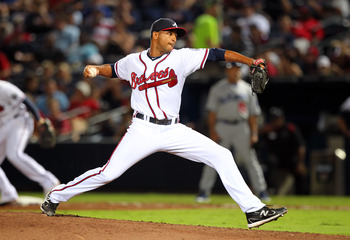 Joe Murphy/Getty Images
The Braves bullpen was the best in baseball last season and I don't think anyone can really make an argument to the contrary.
The pen is built around a bevy of young power arms and there's no reason that they can't be equally as effective this season.
Anthony Varvaro is one such pitcher and may well lose out because of numbers. Despite being very effective in 18 games last season, Varvaro will likely begin the season in Gwinett but will definitely see action by season's end.
Kris Medlen
Kevin C. Cox/Getty Images
Medlen is the guy that saves the bullpen when the starter's day goes horribly wrong. And it annoys hitters to be struck out by a guy who looks like he's ten.
He has the ability to eat up innings when the inevitable blow out occurs. If the injury bug rears its ugly head, you could also see Medlen start a game or two.
Every team needs a Kris Medlen.
Arodys Vizcaino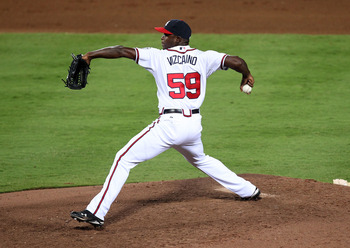 Mike Zarrilli/Getty Images
Vizcaino ranks second only behind Teheran on the Braves' prospect ratings and has the stuff to back it up.
The hard thrower will most likely spend the season in middle relief for the Braves and hopefully will help bridge the gap from the teams starting pitching to the three game changers at the back end of the bullpen.
Christian Martinez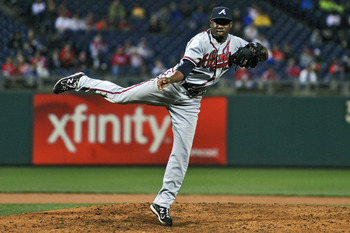 Drew Hallowell/Getty Images
Martinez profiles to pitch in long to middle relief for the Braves this season. He possesses very good control (roughly 1.5 BB/9) and induces a lot of ground balls.
Most likely we will be seeing the young Dominican in the 6th inning the majority of the time this season.
Eric O'Flaherty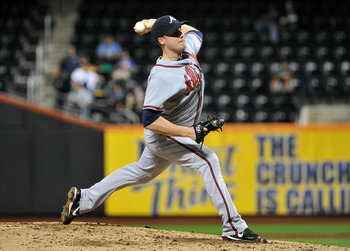 Christopher Pasatieri/Getty Images
O'Flaherty is step one in the Brave's three headed monster to finish out games.
While he doesn't strike out hitters at quite the frequency of the two pitchers to follow him, he is nevertheless very effective, allowing just over one batter per inning to reach base.
With O'Flaherty, a lead in the 7th inning is generally safe.
Jonny Venters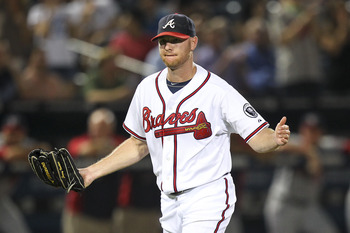 Daniel Shirey/Getty Images
The second piece of the Brave's show stopping trio is lefty Jonny Venters.
The one flaw in Venters' game is his control, as he allowed 43 walks in 88 innings of work last season. Of course this rarely hurt him as he held opposing hitters to a .176 average for the season and struck out just under 10 batters per 9 innings.
Since the lead is still safe, we move on to the 9th inning.
Craig Kimbrel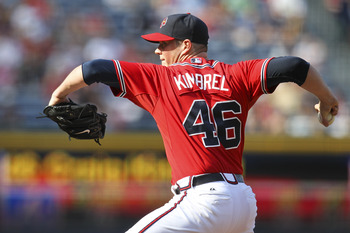 Daniel Shirey/Getty Images
Kimbrel had one of the best seasons of any closer in history in 2011… as a rookie.
He saved 46 games and had a mind blowing K/9 rate of just under 15. This didn't come as too much of a surprise after posting a 0.44 ERA (not a typo) and 18 K/9 in 20 innings in 2010.
Kimbrel is currently the best closer in Major League Baseball and while the Braves won't be able to afford him once his contract does finally run out, it will be a lot of fun to watch while he is there.
Keep Reading

Atlanta Braves: Like this team?